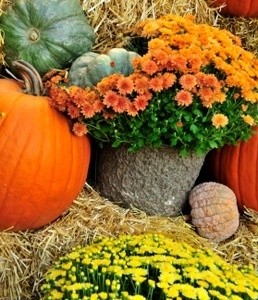 Perhaps no sight signals the coming of fall to gardeners more than a pot of brightly colored mums. Here are some tips for keeping yours looking their best this fall.
Determine Use-Annuals vs. Perennials
The first thing to determine when selecting your potted mums is whether or not you eventually want to transplant them to the garden after they are done being displayed. If growing them as perennials, make sure you choose hardy fall mums or garden mums that have been raised locally and are rated for your hardiness zone. If you plan on using your potted mums as annuals, simply choose whatever plants strike your fancy. Keep in mind that hardy garden mums, as opposed to florist mums, will be much more able to withstand cool crisp nights if you plan to display them outdoors. Florist mums, on the other hand, may start to develop black leaves if exposed to temperature below 60 degrees F.
Selecting Your Plants
Select only those with deep green leaves and vigorous growth. Pay special attention to the flower heads. They should be well-formed and pristine with no signs of wilt. If even a single flower head exhibits one or two wilted petals, make sure you perform the thrip test before plunking down your hard earned money (see below).
The thrip test: If you plan to display your potted mums indoors, the last thing you want is to introduce your houseplants to a pest problem. A florist taught me to check potted mums for thrips by using the following test ( a good idea when introducing any new houseplant) and save me from a what could have been a big headache.
Take a small piece of white paper with you to the store. Before making your purchase, carefully tip the potted mum on its side so that the paper is positioned under the flowers. Brush your hand across the tops of the flower blossoms, sweeping any loose debris down onto the paper. If you see anything resembling a tiny (and I mean tiny) black speck running for its life, discard the plant immediately. It has Thrip.
Potted Mum Care
Potted mums can drink considerable amounts of water-especially when kept indoors. Whether youre displaying them indoors or out, check their moisture levels several times each week. Keep the soil slightly moist (never wet), and make sure the pot is never allowed to stand in water for more than a few hours. Good soil drainage is essential.
Fertilizing potted mum is not necessary when they are blooming. If you buy plants that are not blooming yet, feed them every other week with a water-soluble organic fertilizer.
Tips for Extending Blooms
You can extend your total bloom time by picking plants with tight buds (the more the better) rather than those with wide-open flowers. The flowers will also last longer if you keep them out of direct sunlight while they are in bloom.
When displaying mums indoors, keep them away from heat vents and cold air returns. Remove (deadhead) spent blooms as soon as they fade to keep plants well groomed.
Troubleshooting
Lack of flowers: If buds are small or fail to open, try giving the plant more light.
Black leaves: Your mums may be too cold. More them to a warmer location.

Yellow leaves: You mums may either be too wet or receiving too much humidity. Let the surface of the soil dry out to the touch before watering again and move the plant to a drier location.
Gray, fuzzy leaves: This could signal a fungal disease. Move your mum to a drier, warmer location and allow it to dry out some before watering it again.
Mums fail to survive winter or fail to bloom following year: You may have planted mums that were not hardy to your zone. For example, florist type mums (those available year round) are typically less hardy than garden mums. Because they take longer to bloom (bloom later in the season), their flower buds may suffer fall frost damage before they have a chance to open.
November 10, 2013
0

found this helpful
I have been raising Mums for many years and this is an excellent article. I would add though, that some florist Mums are very Winter hardy and will last for years in the garden, particularly in well drained soil. If you have one, do plant it in the garden after flowers are spent. You've nothing to lose and maybe years of enjoyment to gain.
December 1, 2015
0

found this helpful
I bought mums & looked so
Beautiful
If you like fall Mums this tip is for you! This is a pass on tip, it's been recommended to me to trim your mums down to 4 inches on or close to the 4th of July. This keeps your mums nicely shaped by the time they bloom in the fall and encourages more flower heads also. A lot of people know about this tip.
But the tip that is not as well known is that what you trim off can be planted and will root by fall, if kept watered. It also has the added benefit of supplying you with the same color mums you purchased for that area or where ever you want to plant the cuttings. I like to plant some of my flower beds with certain color combination and have tried to find plants the same color in following years and have failed at times. This way I know what I'm getting and have found an inexpensive way to increase the color in my flower beds.
I've also learned that you can do this with your Autumn Joy Sedum plants, you may not want to go to 4 inches on those, but by topping them before their fall bloom you encourage more flower heads from them also and they are not as inclined to break due to being top heavy.
By looneylulu from Ocean City, MD
December 17, 2010
1

found this helpful
Do you mean you do not root the mums that are cut off before you plant them? You would have to water them a lot, I would think in order to get them to root.
October 11, 2016
0

found this helpful
so i plant the cut stems in dirt and keep watered and they will develop roots on their own?
My mum looks dead and it's October. It is a potted mum, I got it early October. I don't understand what to do with it. I have never had one before. It looks dead, no leaves, no flowers, just dry brown sticks. What do I do? I have researched this a lot and have found nothing. I was told to cut the stems an inch from the soil I was also told to throw it out, but I don't know what to do.
By Bridgett S.
November 6, 2013
0

found this helpful
The Chrysanthemums you buy in october have been forced to bloom by using artificial light, warmth and a lot of fertilizer. This makes the plant extremely weak.The soil it is grown in is not proper soil either it is only peat and polystyrene.
To save your Chrysanthemum, try to let it stay in a bucket of water until the soil is completely soaked and it sinks to the bottom of the bucket, get it out of the water, change the water and repeat the process one more time to get rid of the extra fertilizer then put it in a larger pot with proper soil. Do not cut it back as the dry parts of the plant protect it from the cold weather. Protect from frost if you put it outdoors and do not water.
If indoors, keep it in a cool place and do not water. New shoots will appear in spring at the feet of the dry parts. Once the weather is warm enough you can cut the dry parts. It will bloom again in late october or early november the blooming being a reaction of the Chrysanthemums to the shortening of day light. Hope you will save it!
I have mums in containers that are turning brown. They are not getting a lot of sunlight or water. Is that the problem? What does it mean to pinch them back?
Hardiness Zone: 5a
By Andria from Harvey, IL
September 11, 2010
0

found this helpful
Yes, they need water and sunlight. Pinching back is done in the spring and early summer, to shape the plant and get it to form more branches and thus more flowers. The pinching should be stopped by mid-July.
Mums will not survive in a container outdoor through the winter. In fact, many mums sold now don't survive in northern climates planted in the ground. The growers are choosing less hardy varieties and we get to purchase them every year. If you do plant them in the ground, do it asap and be sure to mulch the plants heavily after the ground freezes. This will protect them and keep them from heaving out of the soil in freeze/thaw cycles, which exposes the roots and kills them. If they pull through the first winter, they should be better established next year and not need as much protection.
September 12, 2010
0

found this helpful
Are you talking about the flowers turning brown? The flowers on my mums are turning brown and I am hoping someone has some feedback on this. My mums are planted in the ground and get plenty of water and sunlight.
My chrysanthemums grow nicely and bloom beautifully, and then promptly collapse! Am I supposed to pinch them back as they're growing so they're shorter on the outside of the plant and more supportive?

Polly from Cedar Springs, MI
December 1, 2008
0

found this helpful
I pinch mine back every summer when they get to be about a foot tall, to about 4 inches. It's pretty extreme, but they recover nicely and don't tend to flop. If you wait to pinch them after that, you'll lose your flowers. (I've heard that you never should pinch them back after the summer solstice for that reason, but I just go by height) Same for a lot of other flowers like asters and bee balms. If they still get too leggy (mine did this year because we had SO much rain!) I'd stake them with bamboo and string. Sometimes if I want the stakes to be really subtle, I'll reuse bamboo skewers (like you'd make kebabs with) or wooden chopsticks. These can be hidden by the stems and leaves. Hope that helps! Happy gardening.
December 2, 2008
0

found this helpful
Keep cutting them back with the hedge clippers so that they never grow taller than 6 " until about July 4th. Then let them go. They should grow alot bushier & stronger. You could always gather them together with a piece of string too.
Linda