It now is February 5. I have a little surprise for some of you. Once, I told a friend something I had read. She found that something very hard to believe. She replied, 'Doug, don't you know a piece of paper will lay there and let you write anything on it? Of course, she was right.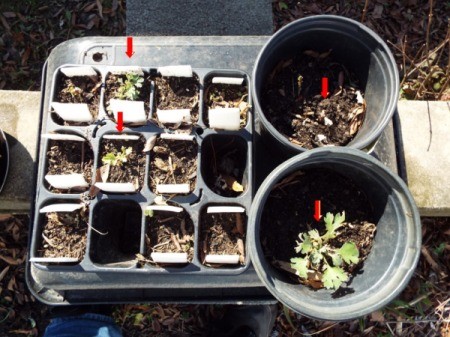 These days everybody is going paperless. And on the Internet, in digital form, you'll find those same erroneous statements being written. Case in point: Those garden mums you buy at garden centers were grown in a hot house. They were not bred to withstand the winter. They should be treated as annuals and discarded after the blooms are spent. They won't survive.
I'm here to tell you differently. Most of these mums are lost due to poor drainage. Their feet sit in soggy soil and a hard freeze will burst the roots. If not that, the roots will simply rot due to constant wetness.
However, if there is adequate drainage and the plants are kept a little on the dry side, most of these plants will survive the winter. My proof is in the picture. Here are some rootings I never got around to putting in the ground.
These plants were not protected. They sat above ground in shallow containers. They were recently exposed to a 3 degree temperature. They are alive and well. And as the weather warms, they will begin to grow at a fast rate. I will then move them to larger containers.
If you want to throw away perfectly good plants each winter, so be it. Just know that these mums can be successfully overwintered under the right conditions, and those conditions involve very little care. It could be that you never have to buy a garden mum, again.