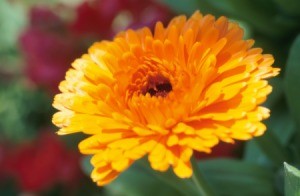 Question:
I seem to have good luck with mums. Do you think I should take cuttings from existing bushes (need season suggestion and ideas) or just buy a new and improved variety at the nursery (need variety suggestions). Rain is irregular. I use a sprinkler and hand water. We have hot summers (low 100's) and it gets to below freezing during part of the winter. Sometimes it doesn't snow, but we get a lot of ice storms.
Hardiness Zone: 8a
Holly from Richardson, TX
Answer:
Why not do some of both? Mulch the mums growing in your garden this fall to protect them over winter. Cover them at the base with about 3 inches of compost or other organic matter (e.g. straw) to protect them from freezing or rotting. Apply the compost as loosely as possible to allow for some air circulation. Don't cut back dying foliage, wait until you see new growth in the spring. Another strategy is to dig up plants, cut them back and store them over winter in a basement or garage until spring.
Around April (when you see plenty of new growth), take several cuttings (6 to 8 inches in length) and insert them 3 to 4 inches into a pot filled with a mixture of moistened sand and peat. Mum cuttings root incredibly fast compared to most other types of herbaceous cuttings, so look for roots within 10 to 12 days. Once a good set of roots is established they can be transplanted if desired. You can also increase stocks of garden mums in the spring by simply dividing them.
Texas is famous for growing beautiful mums and there are hundreds of varieties to choose from. Because mums come in so many colors and forms, it's difficult to know what to recommend. Growing requirements are similar for many types of mums, so which kind you grow becomes mostly a matter of personal preference. Because Texas heat can delay blooms, it might be best to select later blooming varieties in order to beat as much of the late summer/early fall heat as possible.
I would recommend contacting your local chapter of the American Chrysanthemum Society to find out what new and exciting varieties grow best in your area. They can also tell you about upcoming shows and events in your area.
http://www.mums.org/chapters/tx.htm
Ellen