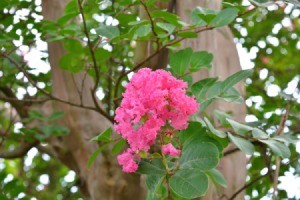 By Ellen Brown
Question:
I have a crepe myrtle. I am moving and wanted to get a start of the tree. I am wondering when is a good time to take a cutting?
Hardiness Zone: 8a

Thanks,
Rita from Dallas, TX

Answer:
Rita,
Crepe myrtle trees can be propagated by both hardwood or softwood cuttings.

Hardwood cuttings from dormant plants root easily in the winter, especially with a bit help from some rooting hormone. They can be taken in December.

Softwood cuttings root easily in the summer (May). I would recommend taking several cuttings in the event that some fail. If you end up getting several cuttings to root, you can always give them away to your new neighbors.

Take 4-inch long cuttings, each with a bud 1/4 of an inch from the top end. They should be about as thick as a pencil.

Dip the bottom of each cutting into a rooting hormone and insert the cuttings into a pot filled with a moist lightweight potting soil or soil-less mix.

The cuttings should be kept humid and moist (not wet) until they have developed several sets of leaves. This can be accomplished by placing the top half of a 2-liter bottle over the pots.
If things start to get too moist, just remove the covering for a few minutes to allow them some air. Keep the cuttings in a warm, bright location, but out of direct sunlight.

Good luck with your move!
Ellen

More Answers
Starting a Crepe Myrtle from a Cutting
I have been rooting crepe myrtles for 9 years and they are so easy to propagate. I have rooted, planted and given away in excess of 100 crepes. Trust me it's easy.

The following information is from University of Georgia Cooperative Extension.

Crape myrtle is easily propagated from semi-hardwood cuttings taken during the growing season. June, July and August are excellent times to root cuttings. Take cuttings from new growth of the season, leaving three to four nodes per cutting and several leaves. Rooting hormone is generally not necessary, and cuttings should root in three to four weeks. Place cuttings in a well-drained rooting medium in a shaded area and keep them moist by enclosing them in a clear plastic bag.


Cuttings also can be placed in prepared outdoor rooting beds. Thoroughly cultivate the soil to a depth of 10 to 12 inches. Add 4 to 5 inches of organic matter such as peat moss, leaf mold, or pine bark to the surface and thoroughly mix it into the soil.


Place the cuttings approximately 6 inches apart. Insert them one-half their length into the soil. Mulch with 2 to 3 inches of pine straw, leaf mold, or pine bark to conserve moisture. Keep them moist with regular misting. The young rooted plants can be transplanted to their permanent location during the fall and winter.
(09/18/2006)

By texylady
Starting a Crepe Myrtle from a Cutting
I also make cuttings from my own purple crepe myrtles. I take semi hard cuttings that are 12 inches with 3 or 4 branches on each cutting, removing all the leaves. I have a glass jar that holds 3 to 5 cuttings that is large with a wide opening. I always keep 3 inches of water in it. By keeping them in the water, I can see the white nodules begin to grow and turn into roots.
I do this with my Confederate Rose, also. I have white ones and the pink, too. It works for me every time. After I see the roots I plant them in pots of potting soil. Here is a pic of a pink Confederate rose of mine. I did this with cuttings from a seven Sisters Rose, also Sherry Hampton. (10/12/2006)