Pruning a Crepe Myrtle Tree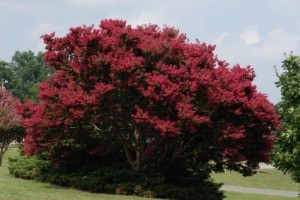 I planted a crepe myrtle tree last fall, it is about 8 feet tall and does not appear to need pruning or shaping.
If I do not prune it will it have flower blooms? Or does it need to be pruned to create the flower blooms?
Tom
Hardiness Zone: 9b
By Tom Loucks from Thousand Oaks, CA
Answers

January 21, 2011
0

found this helpful
We live in Florida, our crepe myrtles bloom without pruning but I gotta tell you, it's hard not to prune them :) the thing about pruning them is you will always see where you pruned from do you know what I mean? And I like the tree looking kind better than the bushes. Really tho, it's personal preference. Happy Gardening.

January 21, 2011
0

found this helpful
Crepe Myrtle trees are planted for both the flowers and the beauty of the trunk. Incorrect pruning, "Crepe Murder" is the widespread practice of topping trees that should grow between 20 and 30 feet tall. This is incorrect and will eventually damage the tree, not to mention make it ugly most of the year.
If you want to see over it, then buy a bush or a dwarf variety. Topping does not produce more blooms. Proper pruning removes unwanted trunks and branches from the inside. If you want to see through it, that's fine, but don't remove the top beyond reachable spent flowers.
Answer

this Question
12 More Questions
Ask a QuestionHere are the questions asked by community members. Read on to see the answers provided by the ThriftyFun community or ask a new question.
I had my crepe myrtle cut back and now I keep getting new growth all the way up the trunk. It is a tree form and I don't want it to start growing except toward the top not from ground up on trunk. What can I do? I have cut them off, but they keep coming back. I live in Texas and there is a lot of sun.
By Pat R
Answers
You've done irreparable damage to the tree by topping it. It will never be the same. You can let the suckers continue to grow and have a large bush. Or, you can remove the tree and plant another. Decide how high you want the tree to be and buy one that will grow to that height and width.
Give it proper space and you may not have to ever prune it. But, if you do, them do it as you would a dogwood or any other deciduous blooming tree. There's a lot of good information on how to properly prune trees on the net.
Answer

this Question

I have a crepe myrtle tree that looks like it started growing sideways, is there anyway I can trim or prune it so that it will grow up straight?
I live in Zone 7-8 when is the best time for pruning it?
By Nancy from central AL
Answers

September 27, 2015
1

found this helpful
There is no 'best' time. If you top it then you'll have sucker growth from below, and for every sturdy limb you cut back you'll have three or more weak whips sprout. If it's crooked maybe you need to remove a limb or two back to the trunk.
Answer

this Question
I have 3 crepe myrtle trees on the south side of my house. The bark on all 3 trees is gone, just dried up and fell off I guess. The plants seem tall and spindly with very little leaf or flower growth. What could this be and should I prune back the trees dramatically? Please let me know what I can do.
By Dawn B.
Answers
DON'T PRUNE THEM! Peeling bark is a normal function of a crepe myrtle and some other trees and shrubs. It will be fine.
Answer

this Question
I was told to clip the green berries off to produce more flowers. I thought those were the pods that bloom.
By Shirley

Answers
Yes, they are the buds. When the buds have finished blooming most of them will fall off. You can cut the dead buds off but it isn't necessary.
Answer

this Question
I am not of the Pollard school of thought regarding crepe myrtles. I want a large open arching tree. I am also a neat-nik. If I remove the green berries (November) will I get fewer or more blooms? I prefer fewer blooms (less mess and berries), how do I achieve that?
By Gail
Answers
I suppose that might work but how can you get to them? If you remove only the flower buds that should be fine. They are very messy trees dropping spent blossoms, seed pods, peeling bark, and leaves in the fall.
But they're some of the most beautiful trees as well with their smooth shiny bark and sculptural limbs.
Answer

this Question
Crape myrtles can successfully be started from both hard and soft wood cuttings. This is a page about starting a crape myrtle from a cutting.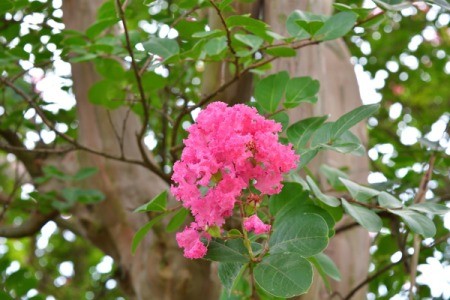 Archives
ThriftyFun is one of the longest running frugal living communities on the Internet. These are archives of older discussions.
I planted crepe myrtles this past summer. I need to know when and how to trim them. I have 26 trees along my driveway.
Read More...
When should I prune a crepe myrtle? We had a hard frost for 5 nights, but it was above freezing during the day.
Read More...
I planted a crepe myrtle tree 4 feet from my house. It's 4 yrs. old now. Should I be worried the roots will do damage to the foundation of my house?
Read More...
I have some Crepe Myrtles in my yard and I would like to keep them short. What shall I do?
Read More...
What is the best way to remove dead branches from crape myrtles? Should I cut at the base, or higher up if it is green?
Read More...
What month should you prune a crepe myrtle tree?
Read More...
Published by ThriftyFun.
© 1997-2022 by Cumuli, Inc. All Rights Reserved.
https://www.thriftyfun.com/Pruning-a-Crepe-Myrtle-Tree-1.html