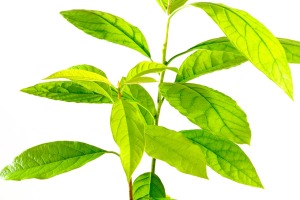 Question:
I have grown an avocado seed and it is 2 years old and approximately 9 feet tall. I have had it outside and need to bring it in for the winter, but it is too tall for the ceiling. Can I cut it back or should I just leave it alone?
Thanks,
Michelle
Answer:
Michelle,
This is a tough one, as I would hate to see anything slow down a 9 ft. tall avocado tree. I'm not sure how a 9 ft. tall avocado will respond to being pruned. Is it tall and spindly or have you pruned it back before to encourage branching from below? I'm going to assume since it has grown so tall in just two years time that you may have never pruned it before. If you have a fair number of strong, leafy side branches I wouldn't worry about cutting it back far enough to fit it indoors.
If the plant consists primarily of one stem, you might want to let the top bend at the ceiling and cut a few of the side branches back to try to encourage more branching. If new branches start to emerge, you can safely cut back the top. You don't say what zone you're in, but if you live in 9b or above you probably won't have to keep it indoors long enough to worry about causing a permanent change in its appearance.
As long as there are enough leaves left on the plant to maintain food production and the plant is in good overall health, I wouldn't worry too much about cutting it back. Clearly you have a knack for growing avocado plants. If something should happen to this one as a result of you cutting it back, you might consider keeping any future plants to ceiling height with regular pruning.
Ellen