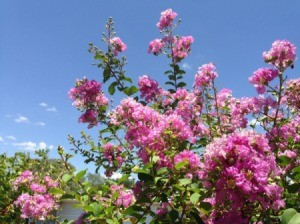 By Ellen Brown
Question:
I have a young crepe myrtle tree. It bloomed beautifully this spring, and I've trimmed the old flowers, and I'm already seeing new flowers. Many leaves of the tree are turning orange and falling off. When I first noticed this, I pruned to get rid of the bare spots. New growth has been vigorous.
But I'm noticing that it's losing leaves again. We're dry here, but there's a good layer of mulch, and I don't think it's getting too much or too little water. Also, I fertilized it once this spring. Any idea why the tree seems to think it's autumn?
Hardiness Zone: 8a

Kim from Niceville, FL

Answer:
Kim,
It's sometimes hard to explain why trees suddenly start to drop healthy leaves, especially in your case, when you're fairly certain you've been maintaining proper moisture levels. In certain trees (maple, birch, elm, tulip trees) this is actually considered normal behavior. It might be normal for your tree, too, as you said its new growth has been vigorous this year. After a period of hot, dry weather following an optimal spring with wet, lush growing conditions, trees can actually develop an overabundance of leaves. When the tree comes under stress (your recent dry spell), it sheds some of its leaves rather than trying to maintain all of the excess foliage. What it may be doing is trying to maintain a balance between its above ground (foliage)and below ground (roots) growth.
What concerns me about your situation is the fact that your tree is young and that its leaves are turning color before dropping. The change in leaf color so prematurely is usually an indication that the tree is experiencing substantial stress-not necessary dying or even severely damaged, but in need of some special attention. You should check for signs of root or trunk damage and insect problems. A disease that causes premature discoloration and leaf drop is verticillium wilt. This disease causes blockages in the tree's vascular system. In the early stages, a few branches may start to decline and drop leaves. As it progresses, whole branches start to die. The disease can take several years to develop or it can happen all at once. Once underway, this disease is difficult to control in trees. Crepe Myrtle trees are not known to be susceptible to this disease, but it's something to watch out for.
Ellen

About The Author: Ellen Brown is our Green Living and Gardening Expert. Ellen Brown is an environmental writer and photographer and the owner of Sustainable Media, an environmental media company that specializes in helping businesses and organizations promote eco-friendly products and services.
Answers:
Leaves Falling Off a Crepe Myrtle Tree Early
I have about 11 mature (over ten years old) crepe myrtles all over this large corner residential lot, and have learned that in north Texas where the tempersture is high in summer, often humid, this is the most rewarding longest flowering plant of all times, at least for Texas. This is what I do:

Choosing only good stock, about 4-5 feet tall, I plant them in rich soil, 1/3 peat-1/3 compost-1/3 sandy loam. I seldom water them, only about 1-2 times monthly, and less in the rainy seasons.
Watch carefully for white mildew, carefully and immediately removing (paper sacking) any leaves, stems, or blossoms that show early signs of this. It is one of their few or only problems and an indication that they don't like their location, that they may be overcrowded or near too much water or other infected plants. Wash hands carefully after handling, because each "spore" will reinfect the tree. Seal and toss the infected, sacked leaves, stems, and buds into the garbage.

I clip off every single dead stem, small to large, all season, especially any unwanted suckers off the base, letting the plants rest during the winter. I do not fertilize much at all, but about every third year I give them blooming food. I allow the leaves that fall from them to become their nitrogen for the following year unless there is any powdery mildew on them.
I prefer to keep each plant to either a single stalk like a standard tree, or to no more than 5-8 main stalks for the largest blooms, even though this takes longer to train. I have the healthiest trees in the whole city. My neighbor, however, likes the over-bushy look with lots of smaller blooms and which takes up a lot of ground space.

I find that the tree tolerates and enjoys a medium 1 inch layer of finely chopped pine bark mulch or grass clippings during the driest times.

My mother paid $7,000 for a 20 foot lavender blue crepe to be moved from one property to the next, which was the most elegant highlight of her front yard since she planted it within a 12 foot circular cutout from the large amount of aggregate cement/stone wide walkways that lead from her tall contemporary home's entry. It is the envy of all her neighbors, they each stopped to say. It lives today after her having had it for over 20 years.
The single worst thing a person can do to a crepe myrtle is to clip the end of a healthy branch any more than 6-8 inches. It destroys the whole plant. California municipalities mutilate their trees by cutting whole branches off, Bonsai-style. Few survive or remain healthy, appearing over-stunted, and grossly distorted, in my opinion.

The second worst mistake a person does is to plant several separate trees together allowing or encouraging them to intertwine and grow together into a single "tree". This is a disaster for the uninformed grower who thinks this is how others got their crepes into a single stalk. There is no short cut other than to keep all unwanted side branches and leaves clipped off the one stalk until it becomes a small growing tree, perhaps 5 years or more.

The third worst mistake is to feed them too much growth fertilizer which usually produces mostly leaves and few blooms. I have had great results with spraying the leaves with sea kelp from Garden's Alive mail order, about once a month the first three months each year, if the leaves look a bit puny or the growth sparse on each branch.

The fourth is to trim them any time except the fall or spring. Remember too, that they are always the last plant to bloom yet blooms the longest and most faithfully, with no pests, little maintenance, and are very forgiving. Never transplant except in the very early spring.

Established plants tolerate hotter weather and reflected heat from concrete very well. They "must" have "full sun in order to bloom", even though they will live in part shade, but not bloom.
(Some growers have indicated that they cut the blossoms "right after they finish blooming", which may be good practice, but I have "never" done this. )

Note: "Dwarf crepe myrtles" can get to be 18 feet tall and 4 feet in base growth after many years. I prefer the smaller leaf varieties to the large leaf. White blooms are seldom as "showy" as other colors. Pale to medium pinks are lovely against a dark green shrub or hedge. Lavenders and reds do well to stand alone. Also, "do not" plant too near a vegetable garden, brick fence, house, or other foundation because the roots can seriously crack the foundation. Some growers have successfully placed a 24 inch deep solid thin metal flashing underground "fence" around the roots to "contain" it. This is done prior to enriching the soil, but right after planting and spreading the roots from the ball. I have no experience in this technique.

Remember to give each plant it's own space of about 6-8 feet around it and to not allow any branch to grow or drape too closely towards a building structure, or guttering, because the roots mirror the top growth. Should this happen, the whole tree must be destroyed to save the structure poor planning might have damaged.

Because crepes drop blossoms all seasons, it can get messy beside a patio, drive, pool, or walkway, so keep this in mind planting at least 6-8 feet away from such locations. The blooms, when left to rot, will discolor patio furniture or cement. The trees will produce new plants from underground runners, but are not as rampant as, say, privet tree or Chinese tallow tree roots. Being soft wood, crepe myrtles are easy to prune, trim, and bundle trimmings. The bark is wonderfully light colored and smooth after each "shedding" which I gather as mulch for other locations in the garden. The growth habit is easy to maintain, in my opinion. I trim each tree's old blooms and dead wood in fall and again in spring for anything I missed or is not planned for it's future shape.

Hope this helps someone? You can't go wrong with this plant unless your soil is chalk, too acidic, hard clay, boggy, or shady. Common sense works in all parts of the garden or landscape. It always pays to research and know the history and requirements of your plant, soil and area.
Enjoy. (07/10/2006)

By lynda