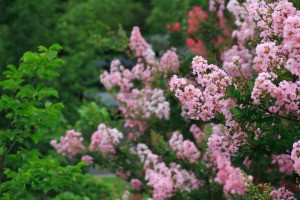 I have Crepe Myrtles on both sides of my front porch entrance. During the summer, these are normally plagued by Japanese beetles feasting on their leaves. This year, however, there are almost no beetles.
My blessing turned to dismay when literally hordes of common houseflies are all over my Myrtles. They appear to be not only stripping the flowered buds, but the flowers are very pale pink, when normally vivid pink.
Anyone experiencing problems with Crepe Myrtles this year? Any advice for the hordes of flies? I've been swatting relatively few, compared to the vast numbers of them (flies).
Hardiness Zone: 7a
By ck from Huntingtown,MD
Answers

August 10, 2009
0

found this helpful
Best Answer
You can get yellow sticky traps that will attract small insects and trap them. Or you can spray them with insecticidal soap, being sure to get the underside of the leaves. Good luck.

August 10, 2009
0

found this helpful
Best Answer
I also mix 1 tablespoon of liquid soap in a quart of water in a spray bottle. Spray for almost any insects in garden & flowers. Good luck.

August 11, 2009
0

found this helpful
Best Answer
I tried the soapy water this evening. Seems the flies are attracted to the sweet, excretions from the hard to see aphids on the leaves. On close examination, I can see the aphids moving with a squirt of the soapy water! Also, the flies didn't appreciate the water spray. I'm gonna repeat this several times.
I have several of the sticky strips hanging very nearby, They seem to help. Thanks for all your help. I was fearing having to remove my Myrtles.

August 3, 2017
1

found this helpful
Best Answer
Yesterday I heard a loud buzzing when I walked by the crepe myrtle in my yard. I though there may have been a honeybee swarm, but it was 100's, 1000's of flies. I sprayed it (from upwind) with some home made peppermint spray (homemade Rodent Sheriff = 1qt. spring water + 2 tbsp peppermint (cornmint) oil + 1/4 tsp organic dish soap ~$2 to make). A swarm of flies took wing.
I also use the spray in the garage for spiders, especially in corners, and the underside of tables benches, plastic chairs, etc. to keep away black widow spiders from where I may reach. Repels the rats and mice too. Lots of rats in central Florida, even in a nice clean neighborhood. No cold weather to keep the population down. Damn things breed year round. Need more rat and black snakes to eat the rats and mice.
Answer

this Question

Question:
I've got a new crepe myrtle tree, and I believe japanese beetles are eating the leaves. Can anyone offer suggestions? I need an easy remedy. Thank you!
Hardiness Zone: 7a
Maggie from Virginia
Answer:
Maggie,
Adult Japanese beetles are easy to identify. They are about _ inch long and have a metallic green/blue head and body and copper colored wing covers. They like to feed on foliage and flowers, and roses and crape myrtles are two of their favorite plants. From June through August the adult beetles enter the soil to lay their eggs.
The eggs hatch into white, comma-shaped grubs that feed on grass roots. As the weather cools, the grubs move deeper into the soil, remaining there over winter. They pupate the following June and leave the soil as adult beetles to start the cycle over again.
There are chemical sprays available for controlling the adult beetles, but I don't recommend them. They harm beneficial bugs like butterflies, bees and ladybugs and are bad for the environment. Your goal should be to disrupt the beetles mating cycle, so for trees, a better method is to purchase a bag trap designed especially for Japanese beetles. These traps are placed about 50 feet away from your tree in June to mid-July and use pheromones to lure the beetles into an hourglass-shaped trap. Once they fly in, they can't fly back out and they die. These inexpensive traps last for 4-6 weeks and are designed to take replacement bags so you can reuse them.
Adult beetles can also be removed by handpicking. Milky spore, Bacillus popilliae, is a disease-causing bacterium that is somewhat effective against Japanese beetles while in the grub stage. Milky spore isn't noticeably effective until the second year of treatment and needs to be applied yearly to remain effective.
Ellen
Answers

July 4, 2006
0

found this helpful
Best Answer
Go to Wal-Mart or hardward store and buy SEVIN. They die immediately after you spray it on; and usually one treatment does the trick. (Doesn't harm plants and trees)
Answer

this Question

My crepe myrtle has only been planted about two weeks and something is stripping the plant of its leaves leaving only the stems. I haven't seen any insects or aphids on the plant. Do rabbits or squirrels eat on these type of plants?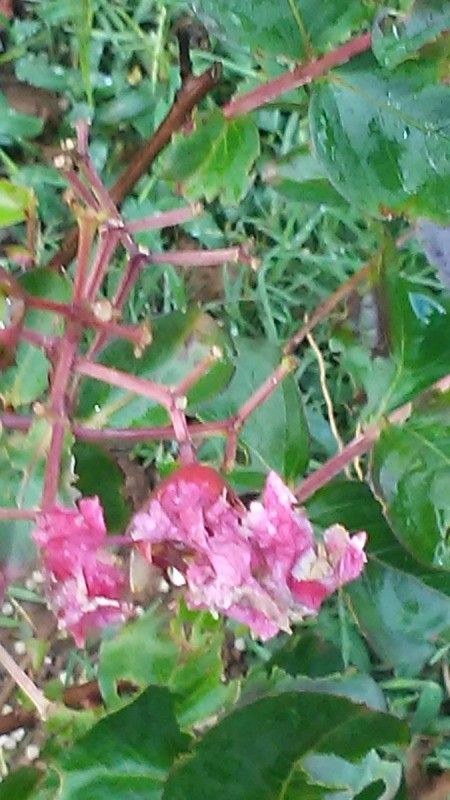 Answers

Pghgirl40
Bronze Feedback Medal for All Time! 196 Feedbacks
September 12, 2018
0

found this helpful
Any time we had issues it was always insects or caterpillar type creatures or even grasshoppers and other hopping creatures--whose name escapes me...plus the horrible Japanese bettles that pop up on occasion. UGH.
Squirrels, bunnies and deer typically avoid these plants. Some where I read that the bark is even poisonous for bunnies.
It is always possible it was a desperate deer...we have had deer in our area eat things they don't usually eat because the tulips and such were gone from the crappy weather. My friend even had one on its hind legs getting into her bird feeder from the source! Quite the picture!!!
Your home extension office may have a better solution or answer since they know exactly what is happening in your area.
You can find yours at this link:
www.gardeningknowhow.com/extension-search
Good luck!!

Judy
Gold Post Medal for All Time! 677 Posts
September 12, 2018
0

found this helpful
Just spray with insecticidal soap and you will take care of all insects

September 18, 2018
0

found this helpful
I spray my young Crepe Myrtle with a solution of 1 TBL blue Dawn in a one quart bottle of plain water (distilled/bottled is best if you have heavily chlorinated water).
It is best to spray early in the morning before the sun gets hot so as not be burn your plants.
Insecticidal soap is best but the Dawn will help until you purchase your other remedy.
Insecticidal soap can be found at any store that has a garden center or even online if you wish to order it.
You can make your own but it may be best to just purchase a small bottle unless you have other plants that will be needing a good spray (safe for all plants (I've been told).
"The recipe for homemade insecticidal soap requires only three ingredients: Dawn dish soap, vegetable oil and soft water. Mix 2.5 tablespoons of the Dawn dish soap and 2.5 tablespoons of vegetable oil with 1 gallon of warm soft water.
The Dawn dish soap used in the recipe must not contain bleach, which could harm the plants. Furthermore, you should always use soft water when diluting pesticides. Hard water contains minerals, which interfere with the insecticidal soap, reducing its effectiveness."
Check out this site for more information:

March 7, 2021
1

found this helpful
We have resident wild cottontail bunnies, and unfortunately, they have devoured a crepe myrtle we planted last season.
Answer

this Question