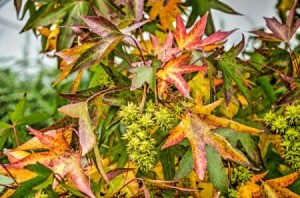 Question:
We have a very large sweet gum tree. A large area of bark has come off the tree and a lot of the roots are exposed. Is this tree dying from the loss of bark? How can I cover up the roots? The roots have ruined my front yard.
Margie
Answer:
Hi Margie,
Sorry to hear about your Sweet Gum tree. The outer layer of bark on a tree functions to protect the living layers that lie just beneath it. This means that any damage sustained to the trunk that results in a substantial loss of bark will certainly have an effect on the performance of the tree. Bark loss that extends all the way around the girth of the tree spells certain death. A large loss limited to one side of the tree may only affect that side of the tree in the same way an amputation would. I would recommend calling a professional tree service to schedule an onsite inspection. They will be able to assess your situation and give you a good idea of your tree's chances for survival.
Much of the root system of a Sweet Gum tree is shallow (just beneath the surface of the soil. As the tree gets older, the roots become larger around in size and start to push up through the soil. Over time, these exposed roots can lift sidewalks, interfere with mowing, and create a tripping hazard in the yard.
Most tree experts would advise you to NOT cover the exposed roots of your tree with soil. This is because the addition of soil will change drainage patterns around the tree's root zone, thereby changing the way oxygen and water are distributed to the roots. Sudden or severe changes in oxygen availability can spell disaster (even death) to your tree, and given that it may already be in trouble, it's not worth taking the chance. Cutting the roots can have a similar disastrous affect. There is no way to know how much of the root system that tree can afford to lose without adversely affecting it. Any wounds you make in the bark can also create a road in for insects and disease.
A better solution may be to plant an interesting ground cover nearby that will spread and grow over the roots. A coarse mulch like woodchips may also allow enough air and water to penetrate to the root zone, but again, a professional will be able to better advise you after an onsite visit.
Good luck!
Ellen