Growing Fruit Trees in Pots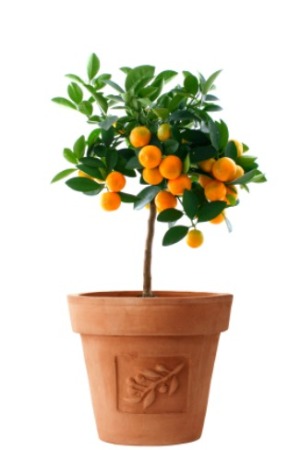 In cooler climates or homes with no garden space, it is often preferable to plant fruit trees in pots. This is a guide about
growing fruit trees in pots.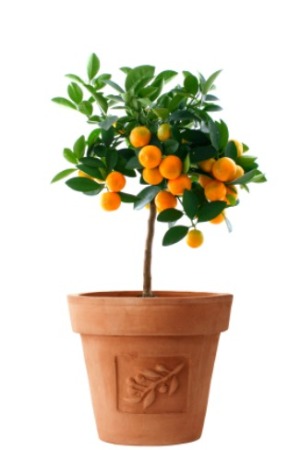 Solutions
Share on ThriftyFunThis guide contains the following solutions. Have something to add? Please share your solution!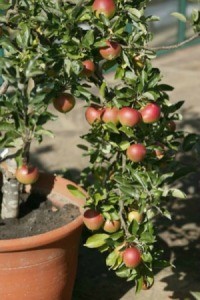 Container gardeners (and fruit lovers) rejoice! You don't need a big yard to grow delicious apples, plums, or pears. With the right fruit, the right pot, the right compost and the right care, you can create your own little fruit orchard right on your balcony or terrace.
The Right Fruits
There isn't really any "wrong" fruit to grow in pots. Apples, pears, plums, and cherries grow well, as do tender fruits like apricots, citrus, nectarines, and peaches. Figs can also be grown in pots providing their roots are kept in check. And most soft fruits like strawberries, blueberries, gooseberries, currants, and grapes work well, too. In most cases dwarf rootstock or compact varieties are available, but they are not necessary. Usually the restrictive nature of the pot will suffice in limiting the size of growth.
The Notable Exceptions: Blackberries and certain hybrid berries are difficult to grow in pots because they can't seem to "contain" themselves due to vigorous growth. Autumn fruiting raspberries are fine, but plan on replacing them each year. To avoid a disappointing fruit crop, check the pollination needs of the type of fruit your growing. If it isn't self-pollinating (e.g. apples and pears), you may need to grow more than one plant in order to see fruit.
The Right Pots
The best containers for growing fruit are those only slightly larger (2-3 inches) than the existing rootball. A good size for most fruits is 18 inches in diameter and at least 16-18 inches deep. Soft fruits like strawberries can be grown in much smaller pots and work well in hanging baskets or window boxes. Set large pots on casters to make moving them around the yard and in and out of the house easier.
The Right Compost
Most fruit prefer a nutrient-rich growing medium. Blueberries prefer soil with a low pH (4-5.5). Add builders sand or vermiculite to ensure adequate drainage. The top 2 inches of potting soil should be removed each spring and replaced with fresh compost. If necessary, repot plants every 2 years (in winter) by potting up one size.
The Right Care
Feeding: Like all container plants, fruit grown in pots need to be fed and watered more often than plants grown in the ground. Start feeding plants a high potassium fertilizer (like pot ash) as fruit starts to develop. Switch to a fertilizer high in nitrogen in late summer. For citrus fruits, feed them a high-nitrogen fertilizer starting in the spring and through to midsummer. Then switch to a balanced fertilizer until fall. Remember, how often and how much fertilizer will depend partly on the type of fruit your growing. Too much fertilizer can be counter-productive (even lethal) so err on the side of caution.
Watering: Keep compost moist, but not wet during the active growing season. This may require watering plants multiple times daily to prevent the growing medium from drying out.
Sunshine: In general, fruit grown in pots should be placed outside in the summer in a warm, sheltered location with plenty of sun. Depending on the fruit, plants will need to be brought indoors and protected from cold in the winter.
Growing Hints
Rotate pots on a weekly basis if they are placed near a wall or fence.
Thin the fruit or give the tree extra support to avoid damaging branches from the weight of growing fruit.
Never allow the growing medium to dry out. Ever!
Don't allow roots to stand in water. Make sure pots allow for proper drainage.
Bring frost sensitive fruit trees indoors for the winter.
Related Content
(article continues below)
Questions
Ask a QuestionHere are the questions asked by community members. Read on to see the answers provided by the ThriftyFun community or ask a new question.
My husband and I are living in our first house where we expect to stay for another 2-3 years before moving to a house further out of the city with a bigger garden. We'd like to invest in some fruit trees which can be grown in large pots now (possibly trained against a fence) and then planted out to grow into bigger trees once we buy the "Forever House".

Is this a realistic proposition? Do folks have good ideas about fruit trees which might work like this and particular types? Although our hardiness zone is 9b, UK summer temperatures are nowhere as high as those US States with 9b ratings. We might just get away with hardy figs or apricots, but peaches for instance aren't an option. Think northern Florida in winter, but Chicago in summer. Grateful for any help you can suggest!
Hardiness Zone: 9b
By guest (Guest Post)
Flag
August 26, 2008
0

found this helpful
Best Answer
Hi Jenny, hello from Oz. First I would say check out at a reputable nursery as to what will grow well in pots. I say reputable, because some will tell you anything (remembering a time when a nursery person assured me what I was buying were small shrubs, what I got when I planted them were trees soaring up into the blue.)
Citrus fruits grow well in pots, lemons, oranges, mandarins, etc. A neighbour of mine has a fig tree in a very large pot, but it may not be warm enough where you are for figs. Pears and apples another thought.
By guest (Guest Post)
Flag
August 28, 2008
0

found this helpful
Best Answer
Make sure it is not a variety that needs free roaming root systems. Some will strangle themselves off, like an over stuffed potted house plant.
Again, tell the nursery you get them from what your idea is to move them when established. There may be limited trees that tolerate that. They also may have a dormant time frame if they are moved.
August 26, 2008
0

found this helpful
Yes that is a great idea, practical, economical, and forward thinking. There is no reason not to try and grow what you want - what you think may work in the area you are in. Do some research and really explore your possabilities. There are trees you may want to consider and varieties that you haven't. (like nuts and hardier variety of fruits you can send off for and/or start in your house/present yard) that are just not talked about because no one has done that - that way before! Try and see what works for you, remember to have fun and keep it exciting this is for your future and future joys! Great idea - great possabilities!
August 28, 2008
0

found this helpful
Growing fruit tress in pots is a good idea! Look for "miniature" varieties and Google the plant to see what kind of growing mix you will need... Buy a BIG pot, they will grow into it... Just remember that potted plants need water almost daily, depending on the rainfall.
Jim in Jax
I would like advice on growing dwarf fruit trees in a pot.
Hardiness Zone: 6a
By Greg B from St. Louis Mo
May 8, 2009
0

found this helpful
There are lots of good tips right here at ThriftyFun.
Archives
ThriftyFun is one of the longest running frugal living communities on the Internet. These are archives of older discussions.
Question:
I recently purchased ultra dwarf fruit trees stating they will only grow 5 to 6 feet. I want to put them in 15 gallon pots. What is a good commercial potting mix? I would appreciate some specific feeding and watering schedules.
Hardiness Zone: 10a

Oorah from Oceanside, Calif
Answer:
Almost any commercial potting soil should work just fine for growing dwarf fruit trees. Also, if you want to mix your own, just use a 1:1:1: ratio of sand, peat and vermiculite or perlite. You want the soil to be loose enough for adequate drainage, without being so loose that water runs right through the pot every time you water. Refresh the soil by replacing the top 2 inches of soil with fresh compost each spring.

As far as feeding, any plants confined to a container will need to be fed more frequently than those grown in the ground. Look for a fertilizer especially formulated for citrus trees or fruit trees to use from spring through mid summer. Start by feeding once every two weeks and adjust the frequently according to how the plant is responding. I always recommend using a liquid or water-soluble fertilizer at half strength to start with for plants in containers. Most people tend to overdo it, and in the case of fruit trees, too much fertilizer will give you lots of plant growth, but be detrimental to fruit production.

When watering, keep compost moist (not wet) during the active growing season. Do not allow the roots to stand in water. Check water daily to prevent the soil from drying out, and remember that the plants will require less water in the winter. Poke your fingers down through the top two inches of soil. It should always feel on the dry side of moist.

Over time, the overuse of fertilizers (or water containing soluble salts) may result in excess salt building up in the soil. A white crust on the soil or inside of the container is your indicator. Use a liquid or water-soluble fertilizer according to package directions and when in doubt, go light. To flush out excess salts, pour water slowly over the soil for several minutes until the water drains freely out of the bottom of the pot.

Good luck!

Ellen

About The Author: Ellen Brown is an environmental writer and photographer and the owner of Sustainable Media, an environmental media company that specializes in helping businesses and organizations promote eco-friendly products and services.
You are viewing the desktop version of this page:
View Mobile Site
.
© 1997-2017 by Cumuli, Inc. All Rights Reserved. Published by
ThriftyFun
.
Page
generated on March 29, 2017 at 11:23:39 AM on 10.0.0.233 in 2 seconds. Use of this web site constitutes acceptance of ThriftyFun's
Disclaimer
and
Privacy Policy
. If you have any problems or suggestions feel free to
Contact Us
.