I currently have 5 avocado trees no taller than 1 foot. It seems, no matter how hard I try I can't keep them alive past 1 year. The leaves have fallen off all 5 plants. I only water them every 10-14 days. As we speak the soil is comfortably moist. It's so aggravating because I literally can grow anything. Perhaps I'm paying them too much attention?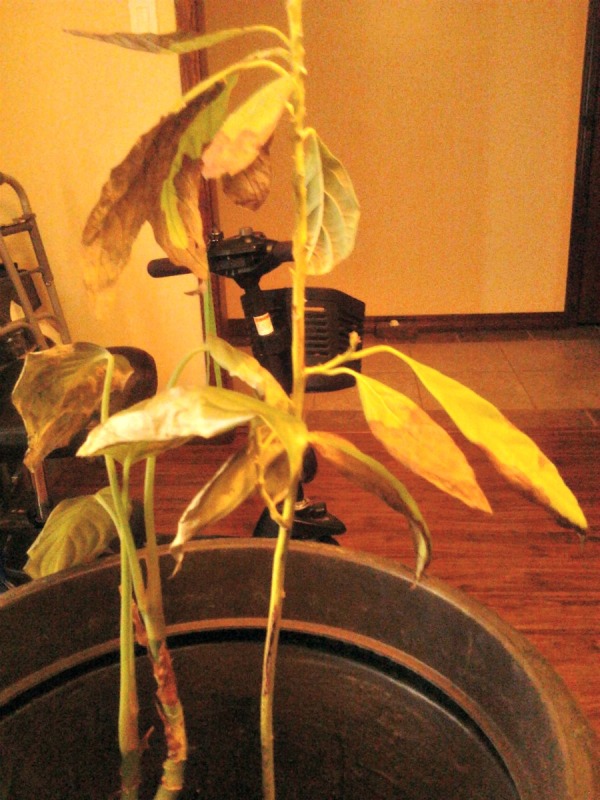 By Lorelei N.

August 2, 2015
9

found this helpful
Best Answer
I can't really tell much from the pictures, but I have a few suggestions. I've had a lot of luck growing avocados indoors in Canada and I'm pretty familiar with some of the problems that you can run into with these plants (e.g., root damage, sciarid flies). Although I can't quite tell what the problem is from the pictures, I have a few suggestions that might help.
First, you should no plant multiple avocado plants together in the same pot. Avocado tree roots like to spread out and do not deal well with crowding. If planted together in the same pot, the plants can strangle one another (untangling them when this happens is horrible, trust me). Planting them together in the same pot can also mean that any diseases are easily transferred between the plants. The pot can also become root bound extremely quickly with multiple plants, meaning that the plants will stop getting adequate water and nutrients in a matter of months. For example, if you put two avocado trees in a pot that is the ideal size for one plant, the pot become root bound in half the time (i.e., 6 months instead of 12); the smaller the pot (or the less soil in the pot) the bigger a problem this becomes. It is best to put each seedling in its own pot that is fill 9/10 with fertilizer.
Second, you need to put the plants in a window that gets a lot of direct sunlight. If the plants don't get enough sunlight, they won't be able to produce enough nutrients to support their leaves (extra fertilizer will not fix this, either). A lack of sunlight can cause the leaves to yellow, then brown and fall off. If you live in a basement or anywhere that doesn't get at least 6 hours of sunlight in the spring and summer, the avocado trees won't last long.
Third, if your plants are on the ground floor directly adjacent to the window, you will eventually end up with sciarid flies. These flies look like fruit flies, but they have black, vein-less wings and kind of aimlessly flutter around the pots. If you can't catch one to examine to check if it is a sciarid fly, breathe on them. Sciarid flies are attracted to carbon dioxide and will fly all around your face when you exhale. The adult flies will munch on any dead leaves that are in the pot and will lay eggs in moist soil. The larvae are what you really need to worry about: after hatching, sciarid larvae eat the roots of the plant. These larvae can be devastating for seedlings. The easiest way to protect against them is to put up sticky fly traps and apple cider vinegar traps to kill the adults, and put a 1-2 inch layer of pebbles in the last 1/10 of your pot. If the adults can't reach the soil, then they can't lay their eggs, and then the larvae can't destroy your plants' roots.
Fourth, avocado trees require a more nitrogen rich fertilizer than most plants. The nitrogen helps support growth. Most fertilizer bags will have three numbers on the front to indicate the percentage of nitrogen, phosphate, and potash. Well-balanced potting soil for indoor plants (considered safe to use on a variety of houseplants) typically has about .2% nitrogen, which is extremely low for an avocado tree. Avocado trees will require something closer to 6% nitrogen to really thrive. Adding fertilizer to your potting soil every month or so can help give your plants the nitrogen they need.
Fifth, avocado trees like fast draining soil; they like it when the soil is moist, but they don't want to be in a puddle. There are a lot of people who suggest putting gravel at the bottom of pots, but DO NOT DO THIS. Avocado tree roots grow down as well as out, and they will seek out areas in the pot that have the most moisture (i.e., the bottom of the pot). In addition to limiting the amount of space the roots have to grow, if you put gravel at the bottom, the roots will very likely wrap themselves around the rocks, making it more likely that you will damage the plant when re-potting. Having drainage holes at the bottom of the pot is fine for draining excess water.
Finally, sometimes you just get a bad seed. Last year I sprouted five avocado trees. One of the sprouts, no matter what I did, would grow a few leaves and then lose them a couple weeks later. It ended up dying after about a year. The other four trees, however, that were grown in identical conditions, are all fine (one of them is more than 4 feet tall). For whatever reason, every now and then you'll get a seed that just doesn't take.
I hope this helps!
Cari