May 18, 2004
2

found this helpful

After removing the pit from an avocado, don't throw it away. Wash the pit. Stick three toothpicks around the pointy upper third of the pit. Then fill up a jar water and rest the avocado pit on the rim with the large portion of the pit in the water and small portion above water. After five days, place the jar in a spot where the pit can receive sunlight. It won't be long before you see roots appears and leaves sprout. Once you have a healthy system of roots and several leaves you can transplant to potting soil. Water once a week.
Comments
By Racer (Guest Post)
September 18, 2004
0

found this helpful
Top Comment
Avocadoes make excellent trees, I just stick mine on nails or toothpicks, three of them, and point them towards the sky and wait. They all have their own time. Some of them never grew, some of them did.
I never pinch mine back either.
They are so wonderful! I have had my most recent plant since last spring, while it was still cold. I also put tomato seeds in the soil of my other potted plants. I have become kind of tomato crazy, I love them! After they sprout, I move them to another plant holder. They kind of keep the soil happy and the avocado plant seems to love having plants growing around it.
Mine is now three feet tall, and I talk to it each day. They like it a lot, and they like being in a pot which is big enough so they don't become pot bound. OK I admit it, I occasionally name mine.
By Dan in Oregon (Guest Post)
July 27, 2008
1

found this helpful
Top Comment
Hi everyone, you should all try starting the pits in soil. I have been growing these things for years and soil makes them a far more solid and sturdy plant.
Just tuck it about 3/4 of the way into some good potting soil pointy side up and keep moist. I always use bottled water because they don't seem to like the chlorine that's in tap water. Have fun!
November 13, 2009
0

found this helpful
Top Comment
My mom has an avocado tree in her back yard that she started from a pit, and now she gets so many avocados she hands them out to all her neighbors. Of course she lives in the California Bay area, so that may help.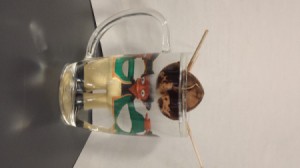 I have been growing an avocado pit suspended in a glass of water for about 8 weeks now. The pit has split and I see the beginning of a root, but now fine white hairs can be seen on the bottom of the pit. Does this happen? or is this algae? Has this happened to anyone else? I have been changing the water once a week.
Answers
December 5, 2017
0

found this helpful
You could go ahead at this point and put it into soil.. Dip the bottom of the pit into rooting hormone first. I change the water in mine daily. Weekly is too far between.
December 5, 2017
0

found this helpful
It looks good. I dont think you will ever get a tree out of it any time soon.
Answer

this Question

...