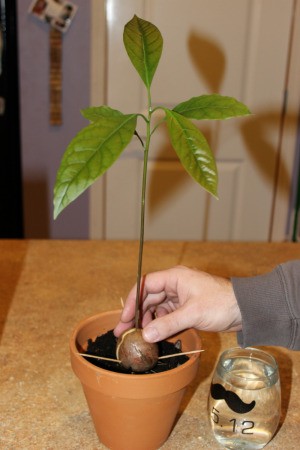 If you were lucky enough to have your avocado seed sprout, then you will now need to plant it. Choose a pot that is big enough that you won't have to repot it right away. Use a potting soil that is somewhat sandy, to allow for good drainage.
Add some soil to the pot and then test fit your seed, making sure that the top half of the seed will remain above the soil. Be very careful not to break the roots.
You can just cut or break off the toothpicks. Then gently work soil in and around the root, making sure that the seed is well support underneath. Then finish filling up the pot, leaving the top half of the seed sticking out. You may need to stake your plant up.
Your plant will do best if you mist it regularly. When watering your avocado plant, allow the soil to dry out slightly between waterings. Place your plant in a warm location, out of direct sun light. Pinch back growth as necessary. Wait a few months before fertilizing.