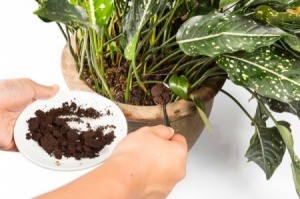 Question:
I read that you can give coffee and the grounds to plants. Does anyone have a list of plants that I can use coffee?
Hardiness Zone: 5a
Dawn from Elmira, NY
Answer:
Dawn,
I'm glad you asked this question. Most gardeners assume that because it's slightly acidic, fresh coffee grounds or leftover brewed coffee can be sprinkled over the soil of any acid-loving plant. Not true. It's actually a bit more complicated than that.
First of all, not all acid-loving plants are created equal. Plants like Azaleas, Gardenias,Hydrangeas, Roses, Rhododendrons, and Blueberries all seem to respond well when grounds are mixed in with their soil.
Acid-loving African Violets, on the other hand, do not. Most edible garden crops also prefer slightly acidic soil, but adding coffee grounds also seems to affect them in different ways.
For example, lettuce seems to benefit greatly from the addition of coffee grounds, but tomatoes are actually affected somewhat negatively.
Plant scientists are not exactly sure why some acid-loving plants respond differently to fresh grounds than others, but it could be because coffee contains allelopathic chemicals that actually inhibit growth in some plants.
This might be helpful when you're trying to control weeds, but unfortunately, coffee grounds can't tell the difference between the plants you like and the plants you don't.
Secondly, mixing fresh grounds in with the soil has a tendency to tie up some of the nitrogen while the grounds decompose. Once the fresh grounds are fully broken down, however, a modest amount of nitrogen is released back into the soil. Mixing small amounts into the soil probably won't affect your plant's nitrogen uptake too much, but it's still better to add the grounds after they have fully decomposed or just sprinkle a small amount on top of the soil.
Finally, a word of caution on using coffee grounds for houseplants: Moist grounds encourage fungus growth that can be detrimental to your plants. If you use them on houseplants, do so sparingly and avoid watering your plants unless the soil is dry to the touch.
Unfortunately, there's no real recipe for how much is too much. Your safest best is to add leftover coffee and used grounds to the compost pile (it's unlikely you could add too much).
If you don't compost, you'll have to rely on trial and error. A cup or two around shrubs and a tablespoon or two around potted plants now and then should do no harm.
Because coffee is somewhat acidic, adding grass or leaves (browns) as mulch can help neutralize its acidic affects around plants that prefer more alkaline soil.
Ellen