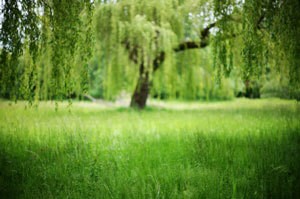 Question:
Can someone please tell me how to take a cutting from a willow tree and how to get the cutting to grow? I live in CT.
GRAYCAT926 from Bolton, CT
Answer:
GRAYCAT926,
Willow cuttings root easily because the tissues contain a natural root-promoting hormone. They can be started any time of the year in pots, or outside in late winter or early spring.
To start a tree from a cutting, select a healthy branch that is approximately 1/2 inch to 1 inch in diameter, and about 10-15 inches long. If planting outside in the spring, pound the branch into moist soil with a rubber mallet, leaving two or three leaf nodes exposed above ground. The site should receive at least a small amount of shade during the day to allow the roots to develop properly. Roots will start to form within a few weeks, and by fall the cutting can be carefully transplanted to a permanent site-ideally as far away as possible from foundations, water pipes and sewer lines.
To root a cutting indoors, simply stick the branch in a small pot of moist soil and transplant it outside as soon as the danger of frost has passed.
Good luck.
Ellen