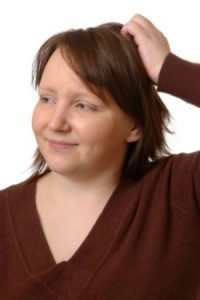 You don't have to buy commercial dry scalp treatments; you can make your own using ingredients you may already have around the house. This is a guide about homemade dry scalp treatments.
Ad
---
Solutions: Homemade Dry Scalp Treatments
Read and rate the best solutions below by giving them a "thumbs up".
Ingredients:
ginger root
1 teaspoon sesame oil
1 teaspoon lemon juice
Directions:
Squeeze ginger root through press to obtain one tablespoon of juice.
Mix all ingredients.
Apply to scalp and let dry before shampooing.
Repeat three times a week.
By Ellen Brown
Note: Some recipes are not suitable for sensitive skin. Each person is different, so test on the inside arm or wrist for any possible allergic reactions before using these recipes.
Give a "thumbs up" to the solution that worked the best! Do you have a better solution? Click here to share it!
Questions
Here are questions related to Homemade Dry Scalp Treatments.
I have very dry scalp and hair problems. What are some homemade secrets to fix this? It is very embarrassing and I need help!

Chrissy
AnswerWas this interesting? Yes No
Ad
---
---
Most Recent Answer
By erin 1 04/12/20100 people found this helpful
It's hard sometimes to come up with the money to see a Dermatologist and the pay for a script to treat dry, itchy, flacky scalp. I have the worst dry scalp and winter time is always the worst, I would get those huge flakes and I would never wear my hair down so nobody could possibly see any... But I found the best stuff ever! You can get it in a beauty supply store like Sally's. Its called "Hair One" but get the kind for dry scalp. Its a totally new way of cleaning your hair, its NOT shampoo.

All shampoo even the most expensive salon brands all contain the one ingredient that makes dry itchy scalp worse, yes even the (dry scalp anti dandruff) has it to. Its (Sulfate) this is the stuff that makes the suds and lather, but this stuff strips your scalp of all the moisture which actually irritate your scalp even more... I haven't used shampoo in 6 moths, this stuff is Awesome! I have gotten all my female coworkers and family using it and loving it as much as I do. Its about $10.00 for a bottle and it lasts me 3-4 weeks.
---
Can olive oil which is used for preparing food be used as hair massage therapy for dry flaky scalp? If so, how long do you need to massage it in? After how many minutes do you wash it off?
By Neena
AnswerWas this interesting? Yes No
Ad
---
---
Most Recent Answer
By Roopa Chandrasekhar [2] 01/30/20110 people found this helpful
Olive oil works wonderfully on dry hair and scalp. if your natural hair color is light (eg. blonde) then ypu can wash it off after an hour, but if you have dark colored hair, then I would suggest to keep it on longer, maybe overnight, and wash it off next morning. That's because dark hair is more coarse than light hair. I would agree with the others who have suggested to warm the oil first, as it will be absorbed easily.

If you want to try something else, you can mix 1 egg, 2 teaspoons of lemon juice and 1 cup of room temperature olive oil. mix well and saturate your hair with it. then wash it after 1 hour. Hair will be amazingly soft and shiny. (Do not heat the oil as that will cook the eggs!) Good Luck!
---