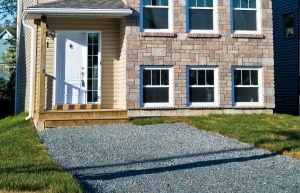 Questions
Here are questions related to Inexpensive Alternatives to Paving a Driveway.
Any ideas for a driveway? I read the one about the gravel which is great except that my driveway is on a slope and a good shower of rain would wash a lot of it to the road.
By Siobhan O
I live in a mobilehome park and the owners don't want us to have asphalt driveways for plumbing reasons.
Does anyone have an idea what I could use that isn't expensive to put down? Right now there are ruts and mud holes.
By Lorraine S.
---
Most Recent Answer

By Louise B. [5]01/20/2013
Gravel is what you want. It comes in different grades. Regular gravel which has a mixture of sizes of stones and sand is the cheapest, and is quite satisfactory. If you can afford it, crushed rock, which is exactly what it sounds like - gravel made from larger rocks, no sand to track in and lasts longer - is better.

Look up people who actually sell this stuff in your area - who will deliver it in a truck and sell it by the "yard", not in bags. This will be your simplest and most efficient solution. It wouldn't hurt to go look at the product you are buying, and to take someone with you who knows what gravel is.
Solutions: Inexpensive Alternatives to Paving a Driveway
Do you have knowledge about this guide topic? Feel free to share a solution!