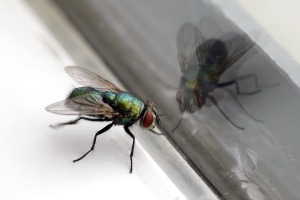 Keeping bugs from getting into your house can be a challenge. This is a guide about keeping bugs from coming in the house.
Ad
---
Questions
Here are questions related to Keeping Bugs from Coming in The House.
No-seeum season is about to happen up here in northern New England, and I'm getting nervous. These tiny bugs fly through my screens at night and bite the heck out me while I'm asleep. They don't touch my husband! They bite me mercilessly and I often get covered with ugly bites and then scars on my arms and legs. Does anyone have any advice about how to *prevent* them from coming in through the screens on warm spring and summer nights? I live in a rural area with ponds and streams all around, so there's no stopping their breeding around the house. HELP!

Sylviecyn from Vermont
AnswerWas this interesting? Yes No
Ad
---
---
Most Recent Answer
By Ace [4] 08/28/20130 people found this helpful
In RE: Keeping Bugs from Coming in The House. Try not to wear any perfumes or scents as I have found that bugs are attracted to scents. Hope this help you to not get bit. Also use unscented soaps.
---
My terrace has an overgrown tree close to the screen which blows insects onto the terrace and into my apt. I am spraying the screen with vinegar, but it is not a complete remedy. I have a monthly extermination service, but no relief. I have even found tiny insects in my denture water. Thanks.
By Julie C.
AnswerWas this interesting? Yes No
Ad
---
---
Most Recent Answer
By Louise B. [6] 07/12/20130 people found this helpful
Vinegar, in my experience, does nothing to repel insects. And it certainly doesn't have any lasting effect. If these insects are so tiny that they get through the screen, I am not sure what else you could do other than close the doors and windows. Are you sure you don't have fruit flies? They grow in your house in places like recycle bins with juice boxes and pop cans, fruit bowls, etc.
Right now our AC is torn up and we are having to sleep with our bedroom windows open and fans in them. But when I go to lay down I have bugs flying all over bugging the life outta me. If that's not bad enough they're in, on, and under my cover annoying me. What can I do to keep them outside and out of my bed? I really need help. I need a great home remedy and something other than saying close the window.
By Lisa M
AnswerWas this interesting? Yes No
---
Most Recent Answer
By cybergrannie [32] 08/12/20130 people found this helpful
Hi - I did have a similar problem many years ago and the only solution I found was to find some gauze like material and cover the fan (all openings) on the inside or the outside.

Mine covered the outside from bottom to top over the ac and attached to the window and window sill. I used tape to secure the material but some types of tape are very difficult to remove after they have been applied for a period of time. Material will have to be checked often and replaced when "dirty" with bugs.
This will give you a little less ac air but it did solve the insect problem.

Gauze cannot be too thick as no air can be pulled through by your ac and that might burn up the AC. This worked better than some plastic screen material.

Bugs will continue to come in through the ac unit if some type of cover is not present to stop them. It does not matter if the ac is on or off.

I did read where someone solved this problem by covering the complete outside of the window and ac with this type of material. May be overkill but?

Your local Lowe's or Home-depot may have some suggestions or try Goggling your question as you are not the only one with this type of problem.
---
I have a very close tree infesting my terrace screen with insects, which come into my apt. How can I be rid of the insects? The condo management will not take the tree away. Trimming and spraying helps, but never solves the problem.
By Julie
AnswerWas this interesting? Yes No
---
Most Recent Answer
I have an outdoor terrace tree that blows, insects into my condo and I believe mites as well. I have monthly extermination, but it has been no help. How can I keep my apt. clean and void of this problem? I spray the screen with vinegar and insect spray, but it is only a temporary fix for a day or two. Live in Florida which makes it a year round problem. I have been to the emergency room twice because of insect bites. Lawyers want a retainer with no guarantee of success. Thanks.
By Julie C. from Tamarac. FL
How do you get rid of rolly pollies in the house? I live in Texas, so it's pretty hot, but the A/C is always running. This is the first time any of us have been hit with rolly pollies. Any suggestions?
Hardiness Zone: 9a
By Rita from San Antonio, TX
Solutions: Keeping Bugs from Coming in The House
Do you have knowledge about this guide topic? Feel free to share a solution!