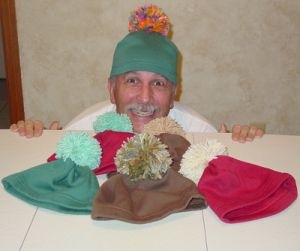 Keep warm during the cold winter months with easy to make fleece hats. This is a guide about making fleece hats.
Ad
---
Solutions: Making Fleece Hats
Read and rate the best solutions below by giving them a "thumbs up".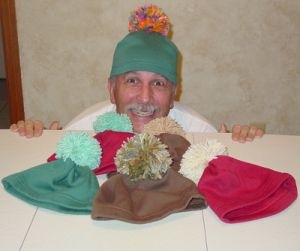 After altering 3 pairs of fleece pants for my mother-in-law, I was left with 3 pairs of pant leg bottoms (about 7 inches each). I made these hats from them. The pom-poms are made from left over yarn I had.
By bugsley from TX
These little baby hats are quick and easy to make. Your local neonatal unit will be delighted to have them. Use the softest finest fleece you can find, in white, blue, pink.

Cut a chain from store fleece into pieces, approx 10 x 12 inches. Fold in two = size 5 x 6 inches. Stitch the 6 inch sides. Fold a 1 inch hem and stitch. Turn out, add a little motif such as a bow, etc. at the center.
A basic piece of fleece will make 40 plus hats. I have made these with a group of young adults who have learning disabilities. They hold the sewing machine foot in their hands and I advise them when to press, and when to stop. They visit the hospital to drop the hats off; this gives them great pleasure.
Approximate Time: 15 minutes each hat
Yield: 40
By Mary H. [6]
A useful rewarding project.
Supplies:
1/2 yard of fleece fabric
matching thread
sewing machine
scissors
18 inches of strong thread, ribbon or yarn.
Directions:
Measure the circumference of the head the hat will be worn on and add two inches. Cut the length of the fabric to the measurement.
Fold the fabric in half "hamburger style" pretty side in, and pin edge.
Sew a 1/2 inch seam but stop about 6 inches from the bottom and back stitch. Cut a 1/2 inch slit side ways into the the fabric right under where you stopped sewing.
Turn right side out, and sew a 1/2 inch seam on the last 6 inches. The last 6 inches is the brim of the hat.
Now fold the last 5 inches of fabric up and again to hide the cut edge. To keep the brim from unfolding sew a couple stitches in each side.
Put the hat on the head it is being made for and bunch the excess fabric together and tie tightly with strong thread, yarn or ribbon.
With the remaining fabric sticking out of the top, cut 1/3 inch strips all the way around to make a pom pom top.
Now the hat is ready to wear! This hat is super simple to make, warm and adorable. Suitable for children and adults alike!
By Stella Bui-Rivet
Give a "thumbs up" to the solution that worked the best! Do you have a better solution? Click here to share it!
Questions
Here are questions related to Making Fleece Hats.
I am looking for a free pattern or tutorial on how to make a bomber hat or winter hat with ear flaps. I want something that will cover the neck and attach under the chin with velcro.
I want to make these for my daughter and grandkids for Xmas. I have searched the net, but only found one however the instructions were a bit confusing. I can't figure out how to attach the ear flaps to the cap.
Maybe someone out there in cyber space can help me or maybe make me a pattern. I hope to hear from someone soon and thanks in advance.
Marian
By Marian from Danville, VA
AnswerWas this interesting? Yes No
Ad
---
---
Most Recent Answer
---
Please, what is a "hamburger" style?
By Wendy
AnswerWas this interesting? Yes No
Ad
---
---
Most Recent Answer
By frances 1 99 07/16/2012 Flag
I'm not sure if this would apply to making hats, but maybe it will give you an idea. When you fold a piece of regular notebook paper in half horizontally, that is referred to as "hamburger." Folding the paper in half lengthwise is referred to as "hotdog." My students at school taught me this one.
I'm looking for a pattern to sew fleece cancer/chemo caps. The pattern I'm looking for is for a cloche style cap with gathers up the front center of the cap.
If we can't find a pattern to sew, I'm willing to buy one. I've already seen the Paula Young website, they didn't have anything.
2 cancer patients near and dear to me will send their thanks, and I send my thanks along with them.
By Karen
AnswerWas this interesting? Yes No
---
Most Recent Answer
Do you have any patterns for fleece hats for children and babies?

Helen from California
AnswerWas this interesting? Yes No
---
Most Recent Answer