Homemade door wreaths can be tailored for any season or special occasion. This is a guide about making homemade door wreaths.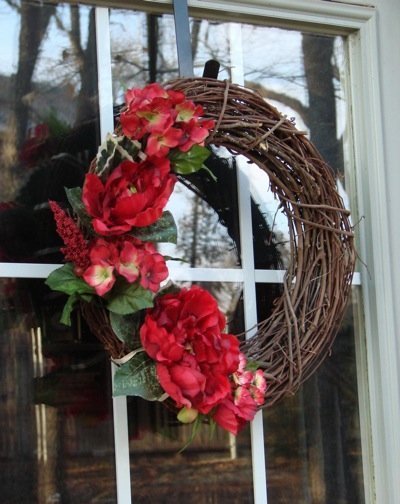 Filter

: All Articles
Sort

: Relevance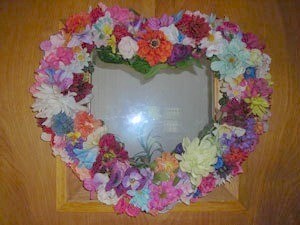 Have flowers all summer long with this easy-to-make wreath.
Crafting Time: 30 - 60 minutes
Materials
straw wreath base
This can be any shape or size. The sample is a large heart, as I found the base at a garage sale.
variety of silk flowers
The larger your base, the more you will need. My flowers were also a garage sale find, when a crafter was cleaning out her inventory.
scissors and (possibly) wire cutters
straight pins
wire or dental floss
Instructions
Use scissors to remove flower blossoms from stems. For some stems, you may need to use wire cutters.
Use straight pins to attach the flowers to the front and sides of the wreath. Completely cover the straw and place flower types and colors randomly to create a flower garden effect.
Cut a piece of wire or dental floss. Tie this to the top of your wreath to create a loop for hanging.

By Marie from West Dundee, IL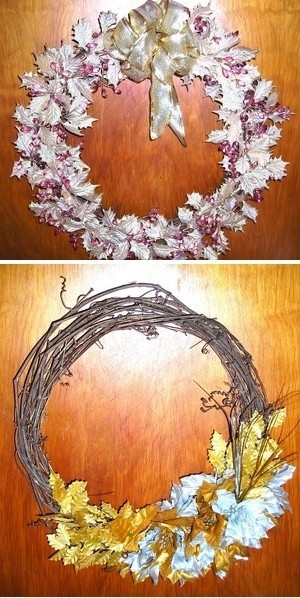 This are pictures of what I call Anything Wreaths, just to show you can make your own wreaths very inexpensively out of just about anything. Both are made using grapevine bases, which I picked up for pennies at yard sales, and a glue gun. The larger "gold" one is filled with gold holly leaf sprigs that had pink jewels attached, which I got free from a friend who was going to throw them out. It is now on my front door.
For the second smaller one I cut apart four sprigs of poinsettias, two gold and two silver, that I had also picked up at a yard sale - smaller pieces go farther than keeping them in one piece. The ribbon bow on the first is also homemade from yard sale ribbon. I got two beautiful wreaths for next to nothing. If I can do it, you can too!
Have a great holiday!
By Marie from West Dundee, IL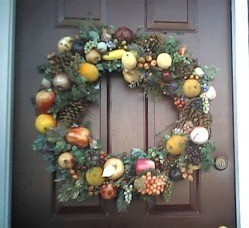 I am an avid garage saler and yard sale person. I collected plastic fruit for several months I purchased at yard sales to make this Della Robbia wreath. It cost me less than $10 to make and is very nice for your front door. I also purchased the evergreen wreath to attach everything to for less than a dollar.
By Connie from Ballwin
Does anyone on here make homemade door wreaths?

Donita from MO
Answer
Was this helpful?
Helpful?
Yes
Hi, do you make these & sell them? Also do you know how to do the Christmas tree made from 6 wire coat hangers? email me at precioustaylor AT stjoelive.com
Reply
Was this helpful?
Helpful?
Yes
Read More Answers...
Need to change out your tired door wreath? Don't have time to get out the craft wire and hot glue? Love to be creative in a short timeframe? This craft is for you. I often make these as gifts.
Approximate Time: 10 minutes
Supplies:
one grapevine wreath form, stripped
plastic greenery, flower picks, plastic grapes, etc.
organza or other easy-to-tie ribbons
Instructions:
Prepare Your Wreath:
If your wreath still has old decorations on it, clip or pull them off. If the stripped wreath is dirty, take it outside and spray it clean then hang outside to dry completely before redecorating. Lay your wreath out flat and check for stray strands and clip.
Note: If you just want to buy a new wreath that's fine, you will be recycling it as you redecorate it later. You can also pick these wreaths up easily at Goodwill or garage sales.
Assemble Your Arrangement: Cut your flower picks up as needed to emphasize individual elements, arrange flowers, greenery, or plastic fruits as desired on the top of your wreath laid flat on a table or the floor. Arrange and rearrange until you are happy with the styling. Cover the entire wreath or just a corner according to your preferences. You can either buy the arrangement pieces or recycle them. Thrift stores and sales at craft stores are good sources.
Secure Your Arrangement:
Cut 5 - 7 lengths of the organza or other ribbon in a complimentary or neutral color. Be sure your lengths are long enough to tie either a knot or a pretty bow around your grapevine wreath. Tie your ribbons tightly at strategic points to hold the weight of your decorations, tie bows if desired or just knot firmly. Add a larger bow for decoration if you like.
Hang Your New Creation.
This wreath is inexpensive, can be changed with the seasons and can be refreshed as needed easily by pulling or cutting off ribbons.
By Nhe from Denton, TX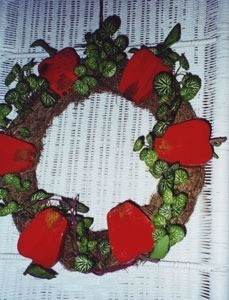 any wreath (straw, wooden)
ivy
5 apples (I used wooden flat ones)
Quick and easy wreath, take wreath, hot glue apples around the wreath as evenly as possible. Take ivy and hot glue around apples.
Add a bow if you like and hang.
By Carol from MA
I am looking for instructions to make dog bone wreath.
By Elysecil from Harwinton, CT
Answer
Was this helpful?
Helpful?
Yes
I am looking for instructions for how to make wreaths.

Ev from Walla Walla, WA
Answer
Was this helpful?
Helpful?
Yes
I purchase wreath forms from thrift shops for very little. I wrap the form with duct tape to allow for better adherence. Then I hot glue pine cones, acorns, seed pods, etc., to the wreath form. Once finished, I clear all the "glue strings" off after the glue cools. I hang the wreath in a well ventilated area, and spray the wreath with clear spray paint. Let it dry and you have a gorgeous wreath!
Reply
Was this helpful?
Helpful?
Yes
Read More Answers...
You can spiff up boughten wreaths with natural elements. I got a small basic wreath with a few ornaments for 99 cents then wrapped pine around it and added some seasonal berries, all held on with a good ribbon for a neighbor. It's amazing how well it turned out!

By Pamphyila from Los Angeles
Comment
Was this helpful?
Helpful?
Yes