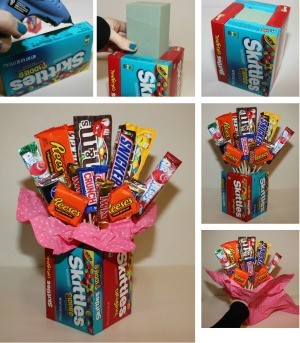 A fun gift to create for a special candy lover. This guide is about making a candy bouquet.
Ad
---
Surprise your sweetie with this candy bouquet on a special day. Check out this video and learn how easy it is to make.
Check out how easy it is to make your own candy bouquet in this short video. Candy bouquets are a great gift on any special occasion.
Solutions: Making a Candy Bouquet
Read and rate the best solutions below by giving them a "thumbs up".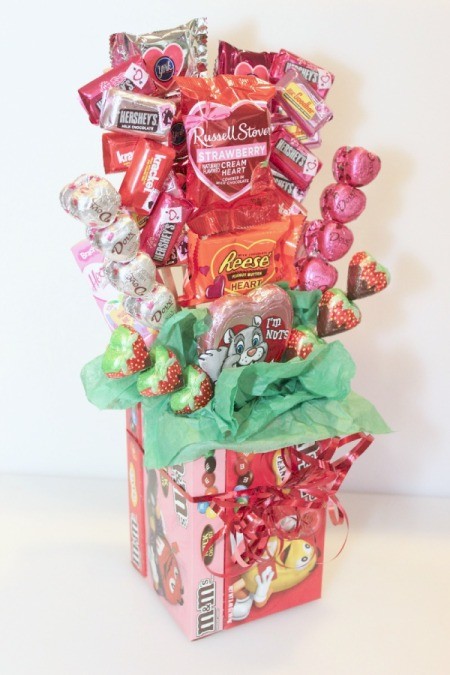 A candy bouquet is a fun alternative to flowers on Valentine's day. You don't need to spend a lot of money on one at a store either. They are super easy to make and making your own allows you to customize it for your loved one!
Supplies:
4 boxes of Valentine's M & Ms
Dove hearts
Hershey's mini candy bars
York peppermint hearts
Reese's PB heart
Russell Stover's strawberry heart
boxes of conversation hearts
chocolate heart lollipop
other assorted candy
wooden dowels
floral foam block
knife
curling ribbon
scissors
tissue paper
hot glue gun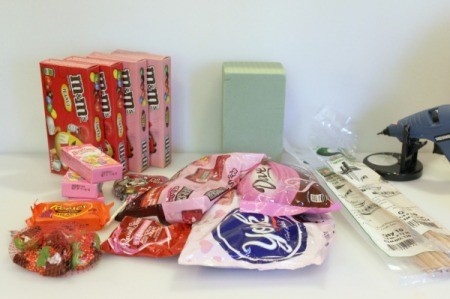 Ad
---
Steps:
Glue the M & Ms boxes together to form a vase.
Cut the floral foam block down to fit inside. Cut it to be about 1 inch below the top of the vase.
Cut two squares of tissue paper and use them to cover the floral foam.
Use a pencil sharpener to sharpen the end of the dowels.
Glue mini candy bars to the dowel. Then glue a second layer on to cover the dowel completely.
Glue Dove hearts onto the dowel. Then turn the dowel over and cover the backside with more hearts.
Glue bigger candy onto dowels. You may need to use extra glue to keep them on the dowel, since they are heavy.
Begin arranging the candy, by pushing the dowels into the foam block.
Tuck additional tissue paper around the bottom of the candy to cover up the exposed dowels.
You can glue additional candy onto shorter dowels to fill in empty spaces.
Wrap curling ribbon around the vase and tie it. Create a bow and curl the ends.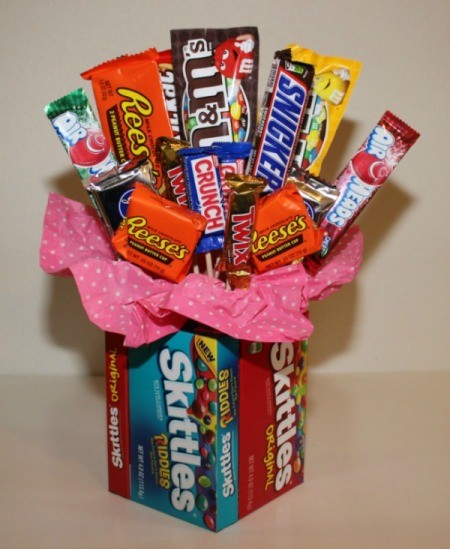 Candy bouquets are a fun gift to give or receive, but they can be expensive to buy! Luckily they are easy to make yourself and much cheaper.
Approximate Time: 40 minutes
Supplies:
4 "movie boxes" of candy (all the same size)
full size candies
miniature candies
wooden dowels
floral foam block
hot glue gun
tissue paper
Ad
---
Steps:
Run a line of glue down the side of one box, then attach it to back of a second box. Repeat until all four boxes are attached to form the vase.
Measure the opening in the vase. Cut the floral block down to fit inside. Cut it about 1/2 inch shorter than the vase, too. Insert it into the vase.
Run a line of hot glue down the back of each large candy bar. Attach the dowel and allow to dry. Repeat with the mini candy bars. NOTE: If you glue the dowel onto the loose flap on the back of the candy bar, you may want to put a small amount of glue under the flap to hold it in place. This will keep the candy from flopping around on the dowel.
Arrange the candies into a bouquet by poking them into the foam. Once you are happy with the arrangement, carefully remove the foam block from the vase.
Set the foam block onto a piece of tissue paper, then pull the sides up to cover the block. Gently side the foam block back into the vase. Arrange the tissue edges to cover up the exposed dowels.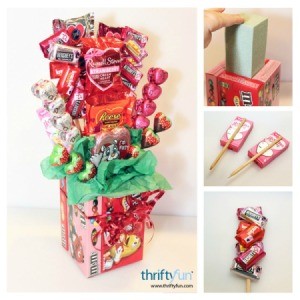 Flowers are beautiful and a delightful gift to receive, but you can't eat them. Try this candy bouquet instead or in addition to the traditional bouquet of flowers. This is a guide about making a Valentine's Day candy bouquet.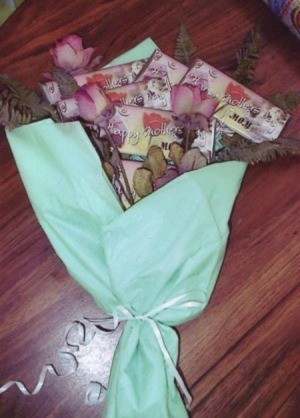 Materials:
2 fern silk flowers
3 silk roses
6 candy bars
6 candy bars wrappers from professional or make up
your own with computer
6 plastic floral card holders
green tissue paper
curling ribbon or cloth ribbon
Instructions:
Take candy bars and wrap with professional candy wrappers as I did. I sell these glossy wrappers, but you can do something similar with your computer or gift wrap and lettering.

Wrap bars and attach to plastic floral picks the kind similar to when you purchase real flowers and there is a card attached, but these are a bit wider to hold candy bar.
Place several sheets of green tissue at a diagonal and place ferns and candy bars and flowers. Wrap tissue and tie with bow. This can also be done for graduations, birthdays, whatever.
By Carol from MA
Give a "thumbs up" to the solution that worked the best! Do you have a better solution? Click here to share it!