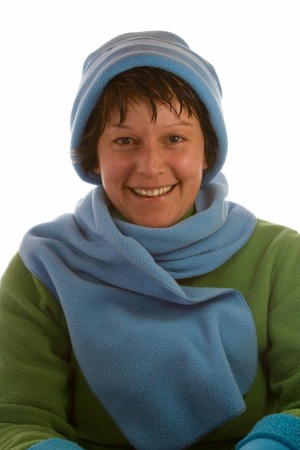 A inexpensive, cozy wrap can be made with this material. This guide is about making a fleece scarf.
Ad
---
Solutions: Making a Fleece Scarf
Read and rate the best solutions below by giving them a "thumbs up".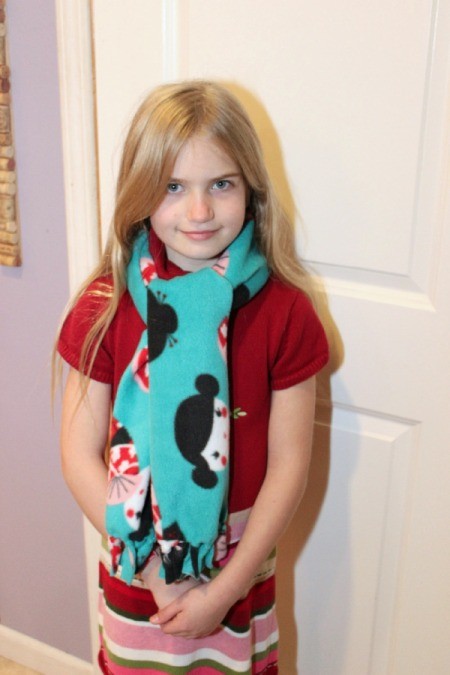 I always find myself looking at fleece at the fabric store, but I can only make so many blankets. So I decided to start making scarves so that I could still buy the patterns I like. They take up less space too! :)
Supplies:
8 in piece of fleece (58"-60" wide)
scissors
ruler
Ad
---
Steps:
Trim off the selvage edges of the fleece.
Use a ruler to cut fringe that is 1" wide and 3" long.
You can either finish the fringe by knotting it or leave it alone as it will not fray.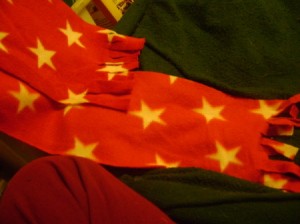 I have made beautiful red scarves out of the fleece from the remnant bin at Walmart. I thought this pattern and design might be beautiful and I was right!
I dearly love to make fleece scarves, and I wear them all the time because they are so soft and warm. I buy the yard remnants and I was able to make five scarves out of a remnant that cost less than five dollars.
A good tip would be to buy a new pair of scissors each year that you plan to make scarves. The kids wear out my scissors, so it is easiest to buy a cheap but new pair of scissors.
I fold the fabric in half and cut the scarves as wide as I like to have them. They are all a yard long. I like to make the wider scarves. I have made less wide ones, but the wide ones are warmer and more popular!
Then I cut the fringe on each end. I like my fringe to be as long as my index finger at least. I don't really measure, I just estimate it from sight.
The scarves they sell at Walmart are beautiful, but we chose to buy fancy hats and make our own scarves this year. Fleece from the remnant bin is so warm. The scarves for sale at Walmart are not as warm as the ones I make, they are more for fashion.
I saw on here how a reader made a felt flower she planned to put on her fleece scarves. I am going to do that also. Soon I will make pink scarves for Valentine's, although I might have to buy the pink fleece.
By Robyn from Tri-Cities, TN
Go to the fabric store, and buy one yard of pretty fleece, preferably in a neutral color. Ask the sales person to cut it in 12 inch increments. Take one of the cut pieces, lay it out, and trim off the ends. Then make fringe about one inch apart, six inches long on each end. Tie a knot in each fringe. Now you have a nice, pretty scarf to give as a gift. Duplicate your efforts on the remaining two pieces. You now have three Christmas presents to give, at a cost of under 10.00!

By Gloria H.
Give a "thumbs up" to the solution that worked the best! Do you have a better solution? Click here to share it!
Questions
Here are questions related to Making a Fleece Scarf.
Does anyone know where I can get a print out for some of these projects? I would love a picture also, so that I know what I am doing. There are a few different kinds I would like the plans for.
Can you tell me how to make a fleece scarf?
By Chris from Fall River, MA
AnswerWas this interesting? Yes No
Ad
---
---
Most Recent Answer
By cheryl 2 1 10/28/20090 people found this helpful
Cut a 7" wide scarf, fold in half lengthwise,cut half inch fringe 3" deep, tie a knot in top 2 pieces of fringe,tie a knot in next 2 pieces on opposite side of scarf repeat until all fringe is tied. These make cute scarves you can dress up or down.
---
When making a fleece scarf, do you or can you double the fabric?
By Yvonne from Lumberton, TX
AnswerWas this interesting? Yes No
---
Most Recent Answer
By Joan 13 1,482 11/28/20100 people found this helpful
I have seen directions for making double layer scarves out of fleese. I used to have a pattern for that. Google making fleece scarves or else look for site called sewing with nancy, I think she might have something like that.
How do you make fleece scarves with loops?

Trish from Indianapolis,IN
AnswerWas this interesting? Yes No
---
Most Recent Answer