Before discarding t-shirts you no longer wear, consider making a lightweight scarf out of them. This scarf is light enough to wear year-round and would make a great, inexpensive Christmas gift for that hard-to-buy-for teen on your list!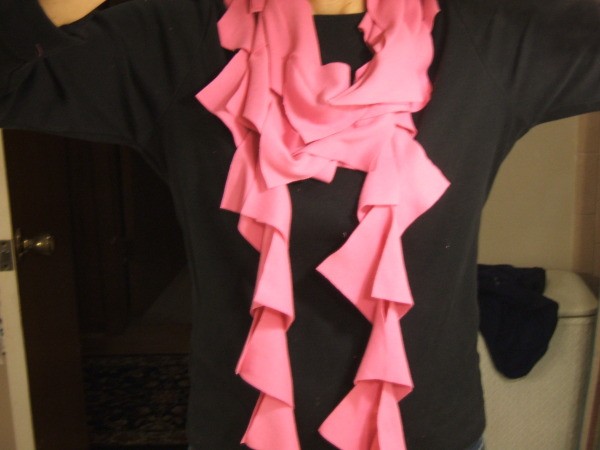 Approximate Time: less than 1 hour
Supplies:
1-2 t-shirts
rotary cutter and mat
sewing machine
Instructions:
Note: If you don't have a rotary cutter and mat for this project, you could use scissors and a ruler to cut out your squares, but it goes quicker using the cutter and mat.
First, spread t-shirt out on cutting mat and use rotary cutter and trim away neck band, hem, and sleeves. Cut the body and sleeves of the shirt into 4-inch squares. (It takes about 35-40 squares. You could add more if you prefer a longer scarf.)
Place the squares, one by one, on top of each other in a diamond pattern. The tip of one square should be centered on the middle of the square underneath it. Pin squares in place until all squares have been pinned together.
Sew a zig-zag or straight stitch down the middle of the entire scarf.
By Rachel's Mom from Wilkesboro, NC