My dad passed away earlier this year. I couldn't give his clothes away and now I want to recycle them into something else. I want to make things with them to give to my sister and mother in his memory. I have flannel pajamas, ties, grey tracksuit pants, shirts. I also have his suits that he had made himself. I hope you can give some ideas. Thanks.
Patricia from Sydney, Australia
Answers

November 17, 2008
0

found this helpful
Best Answer
Do you make quilts? Maybe you could craft some nice throws or even decorative wall hangings from some of the clothing.
If you know how to make scrapbooks, you could incorporate some of the fabric from his clothing into them to honor your father's memory.
Other ideas: fabric covered picture frames with a photo of your father or other family picture (link follows, making fabric covered picture frames)
Or you might make a special pillow for each of your family members
By Pat (Guest Post)
November 17, 2008
0

found this helpful
Best Answer
Lay out pieces. Make a template out of cardboard. Four and a half or six and a half inches are a good size. Cut squares out of clothing. Sew these squares together. Place an old blanket or boughten batting between fabric and a sheet cut to size. Take yarn and tie the three layers together. You could have pictures copied onto fabric and add to the project.Cut long strips of fabric to sew around the sides.

Marty Dick
Bronze Post Medal for All Time! 169 Posts
November 17, 2008
0

found this helpful
Best Answer
The flannel pajamas will make wonderful pillows or even pillow cases, especially if you are in a cold climate.
By londa (Guest Post)
November 17, 2008
0

found this helpful
Best Answer
Neck ties make wonderful quilts! If you don't have enough to make a blanket, do pillows.
It's very sweet of you to use them this way.
Londa
By MommytoAll (Guest Post)
November 17, 2008
0

found this helpful
Best Answer
Make deorative pillows out of his ties by placing them on backing and sewing or weaving. Throws/small quilts. Maybe, making very small suits that could fit a teddy bear out of the suits he had made for himself--- a little can go a long way.
Good luck and many blessings.

bryguy
Bronze Feedback Medal for All Time! 167 Feedbacks
November 18, 2008
0

found this helpful
Best Answer
Make a memory quilt or panel. When the AIDS crisis was at it height, loved ones made fabric panels in memory of the deceased. Eventually, the The Names Project spread across the US and the world, and the Quilt now has 40,000 panels. Parts of the Quilt are on display in various parts of the world every December 1st. It is such a powerful symbol that many other causes have copied the quilt to memorialize their deceased.
The quilt is such a powerful symbol because making one was often a group project. Early in American history, women from the neighborhood would often gather at a home to socialize, with each woman making a panel. As such, it would be a great family project. Those who can't sew can use fabric glue and fabric markers, i.e. to write their thoughts. Even boys can participate. And you can even ask faraway relatives to mail you panels to assemble into the final quilt. While you can certainly use the quilt for warmth, it's even better as artwork to be put on the wall -- and passed on to the next generation (some people continue adding panels as it is passed on). And of course, you can send photos to all who participated.
Here is a link for the project:
www.aidsquilt.org/about.htm
Here are hints for making the panels:
www.aidsquilt.org/makeapanel.htm
You can view sample panels here (some are heartbreaking):
www.aidsquilt.org/view.htm
Google Image search on "The Names Project" for sample panels.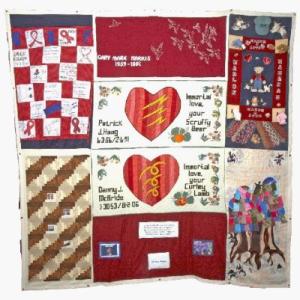 By kellymammamia (Guest Post)
November 18, 2008
0

found this helpful
Best Answer
Looks like we all do the same things!
I work with suicide survivors. I meet lots of moms who have not much of thier childs belongings except clothing. On several occasions I have made teddy bears using the deceased clothing, I will add something personal like... a pin that says "I love dad "or something like that.
My son passed away 5 years ago on Christmas morning, my family loves having some of his clothing and hats to wear as "good luck" pieces, A favorite uncle always wears my sons long underwear skiing.
These little things helps us all feel closer to my son and each other.
I wish you luck on your wonderful project kelly

November 19, 2008
0

found this helpful
Best Answer
Print a favorite picture of your father on PRINTED TREASURES (material that will print in your computer printer. Use that picture for the center block of your quilt.
You can also use the material to make placemats and/or potholders. Personalize your work with embroidered designs of something your father liked to do - like fishing, basketball, football, watching TV. A small picture of your father in your work would remind others of your father.
These would make gifts that your family members will treasure for many years.
By Katmak (Guest Post)
November 19, 2008
0

found this helpful
Best Answer
You can use nice soft t-shirts for pillow cases, cut the bottom part of jeans (or any pants) put a piece of elastic about 2" fron top & one 2" from bottom to form circle around the leg, make a hoop (handle) on top and use it to keep the plastic grocery bags in. Dad will always be in your kitchen. Cut blocks of his ties out as patches and sew them on the pant leg.
Use all clothing and cut in to quilt pieces and make one for everyone. Use the flannel for the back of the quilt. If you still hang clothes out to dry, stitch up a shirt to a short length to make a clothespin holder. Make pin cushions with sections cut from his clothing. Hot pads for the kitchen by cutting large squares and inserting herbs & spices in it so you when you set something warm on it, it will give off a good aroma. Same thing for sachets for your drawers & cars.
Many things that will keep memories of your dad close by. Glue material on a picture frame with a picture of your Dad in it wearing the material you covered the frame with. Have fun. Let your imagination run.
By Sharon (Guest Post)
November 19, 2008
0

found this helpful
Best Answer
A friend's husband passed away and she wanted to keep some of his things around. He had some old boots that were almost worn out. She lined them with small plastic bags, filled them with dirt, and planted a vining flower in each one. She put one on each side of her back door--a place where he often left them. They really looked neat! After seeing what she'd done, it made me wish I'd have kept my father's old boots that we'd ended up throwing in the trash.
By (Guest Post)
November 19, 2008
0

found this helpful
Best Answer
I have chronic neck/headaches and use flannel bags stuffed with rice or field corn and microwave them to soothe the aches. I think it would be very sweet to share your loved one's jammies for heat therapy bags. Then the person using the heat bag will feel a little extra love and comfort from your Dad. I have a flannel patch lap robe that I lent to my Dad in the hospital to keep his legs warm. He ended up having a cardiac arrest after hip surgery and passed away unexpectedly.
Now each time, I cozy up with that flannel blanket I think of my Dad. Our newborn grandson is now sharing the love when he naps in the living room. Amazing how powerful a simple act of comfort can mean to a family. I told my Mom that Ethan naps on Great Grandpa's quilt and she was very touched indeed. Bless you as you use your love for your Daddy in such a sweet way. I am sure he is very proud of you!

November 23, 2008
1

found this helpful
Best Answer
I made wreaths from my deceased pappap's flannel shirts. I used a wire wreath form cut 6" x 3/4" strips and tied them to the form. Everyone including the men in our family LOVED them

October 1, 2015
2

found this helpful
Best Answer
My Daddy passes away 1/20/2015. I asked my Mom if I could have his shirts to make her a quilt. She sent me 2 big boxes and I made quilts for my 4 older sisters and my twin brother (we are the babies of the family). I never made or even thought I could make a quilt. But I did it I made my Moms first, then my sisters and my brother. I got the shirts at the end of March and was able to get my moms done for her birthday in April. The rest I got done by July. I was so pleased to see that everyone loved them. We all cried together remembering the pictures I put on them and a special note I had tucked in a pocket that I had put on every quilt from my Daddy's shirts. The note was a poem my Dad had written years ago. It was called "Daddy's recipe for Life". I printed it out on material and tucked it into the pocket. They loved it! I got on a lot of web sites, you tube and Pinterest to help me make these. I made each quilt with a picture of my Dad and the sister I made it for, to personalize it just for them. I am so sorry for your loss and know what it feels like to lose someone you love so much. These quilts will keep the memory's of our Daddy for as long as we live.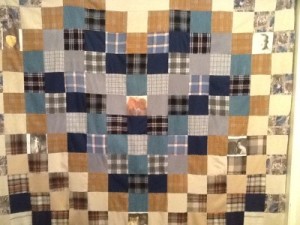 Answer

this Question

My daddy passed away on the first of this month and his birthday was yesterday he would have been 80. He was my everything. I do not know how to make a quilt, but he has ties, shirts, and suits. I want to do a project where my mom, my daughter (his first granddaughter), and I can make something. This is the toughest thing and the pain is so real. Part of my heart left March 1st. I am still trying to even believe he's gone.
Thanks in advance.
Answers

attosa
Diamond Post Medal for All Time! 1,246 Posts
March 20, 2017
1

found this helpful
Best Answer
Quilting is extremely difficult-- definitely need a professional if you're not experienced. But you can always have your mum's and your daughter's and your own hand in it with some personal finishing touches. If there is a great abundance of his clothing, you could make a few smaller pieces together as a team. I am so very sorry for your loss. I know how awful this feels. I don't know you but I'm sending you hugs!

March 21, 2017
0

found this helpful
Best Answer
I'm sorry for your loss.
We took my fathers bath robe and had teddy bears made - the lady was able to get 4 bears out of the piece of clothing. This was in 1991 ...We each have our teddy bears in our homes. My teddy bear has attended 2 (grand)daughter's weddings and 2 graduations. He's in all the photos too!

Lewissan
Bronze Feedback Medal for All Time! 141 Feedbacks
March 22, 2017
0

found this helpful
Best Answer
My wife made shadow boxes with items that were passed down to me from my mom and dad. They are in our living room. One has my mom's Christmas stocking from when she was a kid. I have another with a compass and a few other items that my dad gave to me. There may be a nice way to incorporate a few of your dad's ties into a shadow box.

March 23, 2017
0

found this helpful
Best Answer
First - I am very sorry for your loss.
Do you have a photo of your dad wearing one of his favorite ties? My sis-in-law and I wanted to do something similar to your thoughts but we wanted it to be in full view so all of his family, friends and quests could remember him along with us. We decided on using a photo where he was wearing one of his favorite ties and make a "picture" with the photo and the tie.
Everyone made so many comments about it (I remember him wearing that tie - This looks just like something he would have done - so lifelike - and on and on) that we decided to do several for close members of our family. We even did one with his "cook's" apron.
You can probably come up with your own ideas but I know from experience this is a very good way to remember your loved one . We continuously have different friends ask up to help them do this but there is no skill involved - just find a suitable picture frame as most ties will fit inside (we actually had just the front in the frame and the rest of the tie taped to the outside back of the frame).
Think about your dad and try to decide on something that really makes you remember him and also how much you loved him.

March 26, 2017
0

found this helpful
Best Answer
I am so very sorry for your loss. I never met my dad, as he died before I was born. Treasure what time you had with him.
You can make a shirt pillow, and add a tag that reads:
This is a shirt
I used to wear.
Whenever you hold it,
Know that I am there.
Love Dad (His name, Grandpa, or whatever the reciepetant called him)
I wish I had had this when my grandpa passed away.
Answer

this Question