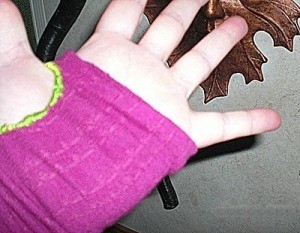 Easily extend your wardrobe by adding hand/arm warmers!
You will need:
a pair of socks (either crew or knee)
embroidery floss (or other cording or thread) and needle
sharp scissors
Directions:
Cut both socks off where you want them above the heel. It's much easier to cut one then cut the second one by laying the first one on top of the second one so they are both the exact same length. If you want to use the foot part of the sock for footies just whip stitch the top and add a pompom or something if you want to help keep it from slipping down into your shoe.
Decide where you want your thumb to come through and snip. Be careful, socks are stretchy, so even a small snip can be too much sometimes. You can always enlarge the thumb hole.
After cutting the first one, do the same thing with one sock on top of the other to cut a second thumb hole. Machine or handstitch to finish edges.
Add embellishments if you like : buttons, lace, ribbons, or sequins for example. Have fun!
I haven't finished the top edge of my hand warmers yet; I have the tops turned under.
By melody_yesterday from Otterville, MO
It was extra cold today and when I was getting ready to go out I thought how nice it would be to have some arm warmers. There was a gap between my sleeves and my gloves. So I put to use an old pair of socks.
I cut off the toes and pulled them up to cover my wrists and forearms, then put my gloves on but wore them underneath. The slightly elasticated tops of the socks kept the gloves warmly in place. If you are handy with a needle you could hem the cut part to keep them from fraying.

And, by the way, no one would have realized they were made from my brother's old socks!

By Monique from Somerset, U.K.