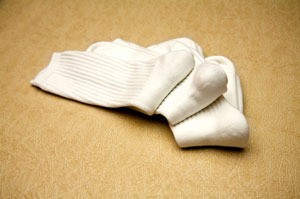 I had to cut some of my husband's socks down, he is having problems from a heredity problem and has to stay off his feet. Has any one got any idea what I can make out of the tops. Thank you.

Angie from Lily, WI
Answers:
Sweat Bands For Rubber Gloves
I've used them for "sweat bands" around the tops of my rubber gloves when cleaning up high with water to catch the water that would otherwise run into my gloves or down (up) my arms. Also for bands around things I roll up to store: rugs, mats, etc. They work great, last forever, and don't leave creases in things. In a pinch, you can use them for hair bands, too (nylon ones).
Wrist Heat Packs
I have worn them on my wrists with heat packs stuffed inside when I have an ache or sprain. I also used black ones to slip-cover my neon colored ankle weights so I can wear them at work.
By Londa
Hair Scrunchie
When my daughter came back from AF basic training, she showed me how they had to put their hair up by rolling the top part of a sock into a 'super scrunchi'. It was the darndest thing! She could use it just as a ponytail holder, and/or wrapping her hair around it to make a perfect bun.
By doodles
Drawer Sachets
You could turn them into little sachets for your drawers, a seam across the bottom; drawstring across the top.
By doodles
Garden Ties
You might be able to use them in the garden. Cut into circular strips and fold them in half to make a figure of 8. Then use them to to stake up bushes to a bamboo cane. You might have to twist them round twice.
By Carole
Knee Pads
If they are thick, how about knee pads for when you scrub or garden. Or beanbags for kids by sewing one end shut, fill with beans or rice (which is lighter and doesn't hurt when they throw them at each other) and then sew the other end closed.
By Linda
Cup Cover For Soda
This is similar to the cup covers. I used to take kids old socks , cut off feet, hem the raw end, then use them over cold pop bottles or cans. Makes them easier to hold, not so cold anymore, and absorbs the water from the sweating bottle or can.
By Linda
Use As Weaving Material
Depending on the size of the sock tops, you might be able to cut them into loops and weave them on a pot holder loom.
By JJS
Soap Holder
Sew a seam across one end, add velcro tabs to the other end, put in leftover ends of soap bars, and use them for scrubbies in the tub. Better than the ones you buy.
By Joyce
Heat Packs
You could always across the top and bottom, leaving an opening to fill it with feed corn or rice to make hot packs. All you need to do is microwave the packs when you need a heat pad.
By Marty
Use For Quilting
My mother in law made a quilt out of the tops of woolen socks, back in the day when reuse/recycle was the only way to make ends meet.
Another idea, if they are cotton socks, is to use them for small disposable cloths, such as you might use for shoe polishing or something like that.
By Louise B.
Add To Coat Hangers And Other Tips
I have to cut off the tops my socks too, Angie. I use them to put round the ends of coat hangers to stop silky tops etc from slipping off. Also if the tops are a dark colour, my daughter uses them as bands for her pony-tail. Hope this helps.
By jan nash
Snowmen Hats
Some where in ThriftyFun, there is a tip on making hats for snowmen/women/families. I think the family was made out of empty creamer bottles.
Maybe Susan can find it?
Editor's Note: Here it is:
By Vi Johnson
Make Fingerless Gloves
Crochet the cut end to prevent raveling, maybe in a contrasting color. Then use as fingerless gloves -- all the rage now! (Who would have thought a Madonna-inspired 80s fashion would come back!) Also, I used the tops of children's socks as sweat-absorbers for my feet when wearing some types of sandals and clogs. They didn't show and really helped. Now you can buy this type of thing in stores though.
By Mary
Homemade Rubber Bands
Add some elastic fold over and stitch in place. Now, you have some hair scrunchies to hold hair in pony tails and they make good rubber bands for things you don't won't ruined and need to keep bundled up.
Extend Gloves or Protect Glassware
If you live in a colder climate and have children, you can sew them onto the top of the cuffs of their mitts & gloves to make them longer. Manufacturers are notorious for making mitts and gloves that end at the wrist.
Sew the bottoms closed and use them to put glasses and stemware into for safe keeping, or in your R.V to keep them "bang" proof while travelling.
By Irene
Make Pet Clothing
You can make sweaters for small pets like puppies or small dogs and cats too. Just cut slits for the front legs. Works great!
By Karen
Using the "Widow" Socks
I just got this idea while reading others. One suggested I fill with rice to make a hot-moist pack. But, make it big enough to go around your hands and maybe fingers. I had been trying to find a hot pack just for my fingers. With your questions and answers; I got mine too. thanks to all!
I'm going to get my "Widow" (no mates) sock bag out now and make me some.
By Karen
Use As Cuffs
Use the tops to make sleeve cuffs. You need to use long sox, fold it back on itself, hand stitch the cut edges or machine zig-zag to keep from fraying. I've added these 'sock cuffs' to the inside of a winter jacket in which the sleeves are big and open. The inside cuff keeps the wind out. Add cuffs winter pajamas, keeps them low on the leg, also good on sweat pants.
By Ray
Arm Coverings
I slip old sock tops over my arms when I garden or clean. It protects your arms from scratches or spray paint splatters.
By Charlotte in Louisiana
Several Uses For Sock Tops
Cat or dog toys: Sew across one end, stuff (add a little catnip to the one for the cat). Also may make it smaller in size, by stitching up the middle vertically, then across the middle horizontally before stuffing, for smaller dogs or cats.
Quickie kneepads: My DMIL uses the tops of my husband's socks, under her slacks, in layers of two or three to protect her knees while berry picking.
Easy bottle/can cover: You can either make this a cosy or a tote. If you sew across the bottom and add a string, cord or ribbon to the top, it becomes a water bottle tote. If you leave it open and just slide it onto the bottle, your drink stays cold a little longer and it is easier to grip if the bottle/can if it starts to sweat.
Patches for elbows on old sweaters and sweatpants: Got an old comfy sweater or sweatpants you just can't bear to part with in spite of holes in knees and elbows? Use the sock tops to make patches for either the inside or outside of torn area.
Draft snake: Sew a few of the sock tops together (still in tube shape) until you get a good length for stopping a draft at the base of a window or door. Add some eyes and a tongue just for fun if you like.
Fun money hoarder: Stitch across the bottom of the sock top. Get a small inexpensive embroidery hoop (about 2 inches across). Stretch top of sock over bottom ring of hoop and snap on top ring, pulling the top edges until tight. Add a hanger and hang it up. When you get change you want to save, toss it into the sock hoarder. I add google eyes to hoop so it looks like a creature eating the change you throw in.
By Mary Lou
If you have more ideas, feel free to post them below.
Answers
July 23, 2008
0

found this helpful
Best Answer
Make a holder for your i-pod with the cuff of an athletic sock. I turned the cuff inside out & hand stitched it at the bottom. It's a cozy, protective container for electronics. I've purchased leather holders with arm bands, etc... but this cheapie is by far my favorite. It slips nicely into jacket pockets, too.
By Kat (Guest Post)
July 30, 2008
0

found this helpful
Best Answer
I have used mateless or worn out socks and sock tops for dog toys for years. Take cotton socks, slit down the length of them on both sides but leave the toe intact and unfold so it is twice the length. Knot 3 of these together and braid tightly, knot the other end or sew firmly. Makes a great tug and chew toy (best for dogs that aren't inclined to chew up your things, or you could have more odd socks than you bargained for). For sock tops, slit down one side and sew or knot a few together to get enough length.
March 14, 2013
0

found this helpful
Best Answer
I love to use sock tops as drink container covers!
By Angie (Guest Post)
July 25, 2008
0

found this helpful
I want to say thank you to everyone who responded to my request. God bless and have a good weekend.
Read More Answers