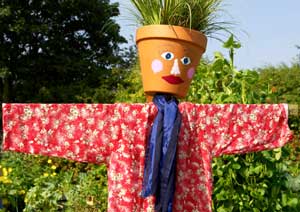 Use an old scarf for a scarecrow or a snow man!
In the Garden
I don't know of any craft ideas but they can be used to tie tomato vines to the cages to keep the plants from bending over, keeping the plants growing upright.
By badwater
Accessories
Dresser scarves or a pretty runner under candles for a romantic type dinner. You could also make some wonderful throw pillows for sofa or bed. How about a handbag? You can twist and wrap scarves for interesting looks on your head. They can be used for accessories around the neck with cool pins, like in the 60's & 70's. Scarves are all the rage again as dressing accessories.
By sajoro
Silky Scarves
If you are saying silky scarves- why not use them as gift sachet bags? Cut, hem, (Or iron-fuse tape 3 sides, fill with scented petals, stitch up fourth side, add a tiny bow. OR.. Fold them to overlap in triangles to make a special valance for a window treatment.
Make (or buy in a thrift store or lawn sale) frame(s) and make mat(s). Staple the scarf to a piece of poster board to keep the material taut- slide behind the mat...instant wall art!
Braid the scarves into one-of-a-kind drapery tie backs.
Line a plain wooden box from a craft store after you have stained or painted it, to be used for jewelry, recipes, or whatever comes to mind, depending on the size of the scarf, the box, and your imagination. Just use pinking scissors, spray adhesive, and a ruler.
Get a piece of plexiglass and place the scarf under it for a changeable dressertop, desk blotter or table centerpiece.
You also could braid them into an interesting wreath if all else fails.
By Catie
Woolly Scarves
If you mean woolly scarves, you could cut them up to use as dusters, or as stuffing for toys, teddies etc. If all else fails, just give them to charity.
Throw Pillows
You could also use them as throw pillow covers. Just sew them up and fill with stuffing and close up ends...enjoy
By Ruth Kennedy
Window Treatment Accents
I've seen off white long drapery with tab type tops which fit through round curtain hangers with colored scarves fitted through them in a decorative way to liven up a room with neutral colors. This particular color of the scarves was dark lavender. I honestly thought a decorator had designed the room. Just my daughter's friend's immagination at work. LOVELY TO THE HILT. I WAS SO IMPRESSED.
By
Curtains
I sewed mine together to make a quilt like curtain.
By cinthya
Blanket
Either wolly or silky I think it would be neat to weave them (if you have many) and have a heavy or light weight blanket!
By krista
Plate Covers
You can make plate covers; sew buttons on the corners; drape over plates filled with food to keep warm and to keep flies away! Good for outdoor entertaining. You can also use old scarves as dresser scarves or use as table runners or on the center of the table for a centerpiece.
By JOSE