I have a box of silk scarves I used to wear with suits when I was working. Are there any ideas on how I can "repurpose" them? Perhaps craft usages.
March 14, 2010
0

found this helpful
Silk scarves can be made in to a wonderful hair ornaments like flowers, hair bows or even a scrunchie or silk "hat" or turban. The flowers are super easy to make. Scarves can also be tied around your waist or made into a halter to tube top. Se below for even more ideas:
Directions to make a Silk Rose:
*these look best when made in a solid color or a tiny pattern
Simply fold the scarf in half (if you like, you can iron a crisp fold line) & cut this folded section off of the scarf so the folded piece now measures about 2 or 3 inches wide. Next, take a needle & thread & along the raw edge sew a simple "in & out" running stitch along the bottom so you can easily pull on the thread to gather -up the fabric... Now pull in the thread to gather the raw edge of the fabric then simply roll up the gathered edge like you would a jelly roll while stitching the bottom (the gathered edge) to itself so it stays put. Now simply sew or glue on a pin back, barrette or small hair clip & you can wear this silk rose in your hair or as a brooch. I like to pin a black rose to a black fabric headband. It looks nice on me (when I'm wearing a simply black outfit) even though I am in my mid 50's.
* You can use the extra fabric left-over from making the flower to make a matching headband by just folding the fabric over so you can't see the the raw edges because they are on the bottom, then tying it behind & under your hair in the back of your neck. Now clip the flower to the head band.
Making Fabric Flowers:
http://www.goog f8bc9ba0718e9555
Some other ideas:
You can also make a fabric basket out of scarves or use them as a fancy way to wrap a special present, or make lavender-filled sachets. You can also use old scarves to wrap around clothes hangers to protect your special garments. You can even cut the scarves into strips then knit or crochet another scarf with the strips! Scarves make wonderful linings for handmade purses. Never throw them away, if you place knots at the ends, they even make great cat or dog toys.
Different Ways to Wear a Head Scarf: (scarves aren't just for your neck)
* click on the photo for directions
http://www.tzni cgi-bin/tying.pl
Square Scarves as trendy Hair Pieces:
http://www.scar trendy-hair.html
--->You Tube:
10 ways to wear scarf:
www.youtube.com/watch?v=6Iunk1gN1h8
5 ways to tie scarf:
www.youtube.com/watch?v=-Xch4ADSlK4
Ssarf gift wrapping how to:
http://weheartt f-gift-wrapping/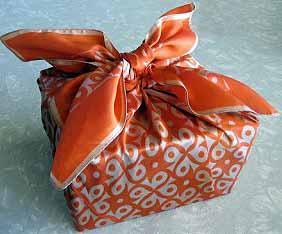 March 15, 2010
0

found this helpful
If some of them have pretty or interesting prints on them you could get a piece of wood the appropriate size and use a piece of quilt batting the appropriate size, then lay the scarf face side down, put the quilt batting on top of that, then place the wood on top of those items. Fold one edge over the wood and use a staple gun to fasten it. Then go to the opposite side, and turn that edge over, making sure you have it pulled really tight, continue doing that until you have all four sides fastened. Then apply a hanger of some kind to the back side and you have a piece of art for your walls.