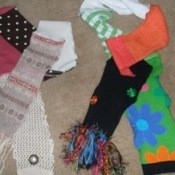 Don't throw out those sweaters you have outgrown or no longer wear. Instead, turn them into one-of-a-kind scarves. (Note: lightweight sweaters work best)
Approximate Time: About 1 hour
Supplies:
2-3 old sweaters
sewing machine
scissors
yarn
large button (optional)
ruler
piece of cardboard
crochet hook
Instructions:
Choose the sweaters you would like to use. You can either make it with coordinating colors or, if you would like it to be a little more funky, mix and match with stripes, solids, patterns, etc. Cut the sweaters into sections of fabric that measure 12x4 inches.
Use sewing machine to zig-zag stitch around all four sides of each piece to prevent raveling. Lay pieces, end to end, in the order that you like. Slightly overlap pieces and pin sections together to secure. Using sewing machine, sew pieces together, using a 1/4 inch seam allowance.
Instructions for Fringe:
Cut a piece of cardboard to the finished length of the fringe. For a 3-inch fringe, cut a 3-inch wide piece of cardboard. Wrap the yarn around the cardboard about 12-14 times. Cut the yarn in a straight line. Now you'll have several pieces of yarn that are double the length of the finished fringe.
Push the crochet hook into a loop on one end of the scarf, fold a piece of yarn in half, so you have a loop at the top. Insert the crochet hook through the loop and pull it through the scarf. Remove the crochet hook and bring the ends of the fringe through the loop. Pull the ends to secure fringe in place. Continue this process across one end of scarf. You can fringe the other end of the scarf as well, or sew on a decorative button instead.
By Rachel's Mom from Wilkesboro, NC
Comments
Read More

Comments