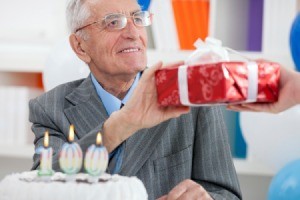 It is nice to give your friends and loved ones of all ages useful gifts. This guide contains nursing home gift ideas.
Ad
---
Solutions: Nursing Home Gift Ideas
Read and rate the best solutions below by giving them a "thumbs up".
We all have someone on our gift list who is hard to shop for because they already have it all, or have limited space, such as someone in a nursing home or assisted living home. Most often, without being too nosy, you usually have an idea of their income as well. Here are a few gift ideas (many can be used year around, not just at Christmas time), of items they will really appreciate, want, use, and that won't take up a lot of space.
How about a box of envelopes, tablet of paper, pens and book of stamps? You could even preaddress a few of the envelopes with your name and address so you get a letter or two! You can also include a pad of return address labels.
For someone in a confined space, a wall calendar is nice, one that you have made with family photos appropriate for each month. Then, on the calendar you can write birthdays and other special days for them.
Are they on prescriptions? Many seniors are, and even if they have good insurance or Medicaid or Medicare, the co-pays can add up. Get them a gift card to their pharmacy, one that can be used on OTC and their RX co-pays.
Pay a month (or more) of internet or their cable TV for them, or their trash service.
Do they like to eat out? Get them some gift certificates for their favorite restaurant and remember some deliver, so check that as well for those who no longer get out and drive.
How about a box of food? Something non perishable, that contains items in the sizes that they like, such as a few cans of soup, tea or coffee, canned fruits, veggies, PB, jelly, or small canned ham. Just remember to watch the package size. If the household is 2, you want enough for both, but if it consists of one, you don't want food to go to waste. Make sure it can be frozen.

For someone on food stamps or a very limited fixed income, this is a real blessing. You might also include in that box a couple of Rubbermaid food storage type containers.

Along that same line, after a holiday dinner, package up some of the leftovers in small containers for them to take home and freeze. A senior lady at my church once told me her only food money was the $70 a month she received in food stamps. I asked her how did she make it on that? She laughed and said she was blessed to have local family who had at least one birthday a month with a family dinner. They always picked her up and took her to the dinner, and sent her home with leftovers enough to get her through the month. She said the secret was to freeze them and rotate them so she wasn't eating the same thing over and over.
A photo album is a good idea. Start it off with a few photos in it, and encourage other family members to send a few each month to help fill it up.
If they have a VCR or DVD player and family that lives away, make some home movies and send to them to play.
Other ideas include, flashlight with extra batteries, portable radio and weather radio, smoke alarms, fire extinguishers, auto club dues (if they drive), pay some on their cell phone, or if they have no cell, get them a throw away phone or add them to your cell plan.
Do something to spend time with them where you pay the way, such as a movie, dinner out, or go to their favorite outing spot.
If money is an issue on your end, issue coupons for each month, such as January: good for one dinner at our home, February: good for using coming to your home, and we bring the popcorn and board games, March: good for a drive to where you used to live and listen to your old stories (and record them!), April: good for a picnic with the grandkids.

Also add coupons for services they might use, such as washing their car, cleaning their carpets, windows, and mini blinds for them, mowing their lawn, working in the garden, painting, etc. Be creative; just look around and see what needs to be done, that due to finances or physical labor needs to be done and do it for them.
By April from Plattsburg, MO
My sister-cousins and I make gifts bags for the Senior nursing home every Christmas and the seniors love these. We use items from freebies and small items we collect on sale, off-season, or after a holiday. [non-perishable]. We also put coupons for different items we make such as bath oils, soaps, socks, booties, etc. We all feel wonderful for giving and receiving. Don't forget there are also men involved.
By Marilyn from Metairie, LA
I live in Senior Housing/low income housing. I do not have a car nor do a lot of the people that live here. Although we have a marvelous Council On Aging that has a bus for different trips there are still places that we are unable to go.
Today probably the best and most thoughtful present is to promise to run errands, go out for a meal or to take someone for an appointment. I know that everyone is really busy with parents and children, but remember the person who seldom gets out. Anyone can give a gift of a sweater or a robe, but to give of oneself is the best gift of all.
By Irene from Boston
It is not easy to find a gift for elderly friends and relatives. I give them stationary, a ball point pen and stamps.

By Jean Sterling
Give a "thumbs up" to the solution that worked the best! Do you have a better solution? Click here to share it!
Questions
Here are questions related to Nursing Home Gift Ideas.
Our Ladies' Auxiliary likes to make little baskets for the Veterans in our nursing homes and have run out of ideas for items. Most of the Vets cannot have candy and lots are in bed most of the time. I am looking for suggestions of small things for them, no sharp objects like pins allowed. All ideas are welcome. Thanks.
By GrandmaS from MD
Ad
---
---
Best Answers

By Linda [38]03/31/2010
We do Christmas baskets every year for our nursing homes. We put lotions, combs, socks, toothbrushes/paste, fruit, etc.
---
Best Answers

By jill [9]03/26/2010
My mom is in a nursing home and they love magazines, books, newspapers and videos. I am taking a bunch of costume jewelry to the ladies. I also take my dogs to visit them and they love that more than anything. She is in a brain unit (dementia, Alzheimer's) and my dogs have gotten some of them that never speak to talk to us. How about arranging for some animal visits. My son takes his guitar and plays music for them. It isn't about things you can give them but things they might enjoy. And take a camera and share pictures on your next visit.
My grandpa just lost his wife (my grandma) three months ago. I don't know what to get him for Christmas now. When my grandma was alive I usually got them a gift card to go out to dinner somewhere nice. Any ideas of what to get him would be appreciated. Thank you.

April from Henderson
Ad
---
---
Most Recent Answer

By Vicki [21]12/01/2011
Give him the same gift card and make a cute note saying you will be his date when he uses it. He will be thrilled, I imagine.
I need gift ideas for an invalid nursing home resident.

Kim from Oak Hill, WV
---
Most Recent Answer

By G. Lomax [5]01/09/2010
The majority of nursing home residents can no longer see well enough to read, but I found one gift that delights them all. Visiting an antique store during a trip once, I found old magazines from the 40's and 50's and even as early as the 1920's. I bought a stack of them for my Mom, who is also a resident, and she was completely delighted. She can't see well enough to read, but looking at all the old ads took her back to a time of great happiness in her life. She enjoyed many hours of happiness looking through those old magazines.

I have just begun a nursing home visitation program near my home doing room to room visits. I am hoping to find craft instructions to make silk flower corsages for the ladies with pins they cannot harm themselves with. I think that will be a big hit as well.

Visiting with the elderly is highly rewarding and though you go in thinking you will bless them, often is it you who leaves feeling blessed.
I really need input ASAP. I work at a nursing home and I really want to make the holidays extra special for all. Not everyone has family so not everyone gets a Christmas gift. I want to get something for everyone. I was going to get a big screen T.V. but the nursing home just bought one. I will be raising the money and I will guess an amount around $800-$900. Please give any ideas. I am looking for one big gift if possible but any input would be great. Thank you! Melissa

Melissa from PDC, Wisconsin
---
Most Recent Answer

By bubbly01/12/2010
I work in a nursing home and they all fight for the news paper. We have a copy of 3 different local papers, but it seems they are never enough. A years subscription to local papers will be used every day of the year. Better yet, spend some time there every week and discuss the news too! Company is 1st on everyones list.
I work in a nursing home, and I'm in charge of Father's Day gifts this year (for 20 men). I was thinking of gift bags of some sort, but not sure. Any suggestions?
By Andrea from Wildwood, FL
---
Most Recent Answer

By sbuttons67 [5]06/12/2013
Last year money was tight, so instead of buying a fathers day gift for my hubby, I printed off 'certificates', from the children. Some were promises from the children; clean out the rabbit cage, wash the car, from me I gave him 'me make a meal of your choosing'... the list is endless. We even had one for the children to be quiet whilst he enjoyed a whole episode of his favourite programme in peace!

My group, PT Force, is visiting a nursing home. I want to make a craft for them, but I'm "baffled". What should I make?
By Matthew G. from Reseda, CA
---
Most Recent Answer

By Suntydt [75]05/15/2012
Is this something you want to make for the residents or something you want to help the residents make?

My first thought was a hand fan. You could use paper plates and popsickle sticks (tongue depressors are larger and would be easier for them to handle) and staple them together or glue them together. Decorate the plates before adding the handle.
My church group always takes some kind of remembrance to the nursing home locally for Valentine's Day. Can someone give me some ideas that are not too costly. We need about 25 items to take to the home.

Thanks,
Sylvia
---
Most Recent Answer

By Linda (Guest Post)02/04/2005
How about really frilly, old-fashioned cards with doilies, glitter, lace, whatever you have on hand. Don't do food due to special diets. A scented lotion or hand cream would be nice for the ladies since "hospital issue" is yucky if you can afford that. Check the dollar stores for some2/$1 tubes of pretty fragrances. Or how about plants in pots you decorate that residents can care for.