Painting After Removing Wallpaper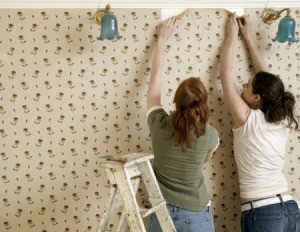 Drywall can be uneven after wallpaper is removed and need some smoothing. This guide is about
painting after removing wallpaper
.
Questions
Ask a QuestionHere are the questions asked by community members. Read on to see the answers provided by the ThriftyFun community or ask a new question.
I've removed wallpaper from drywall and am getting ready to texture. Is there any treatment I need to do before I texture?
July 26, 2016
0

found this helpful
Don't think this posted...
I hope you have found the spray on texture. That's all you need...easy peasy! At Home Depot or Lowes or any home improvement store. Good luck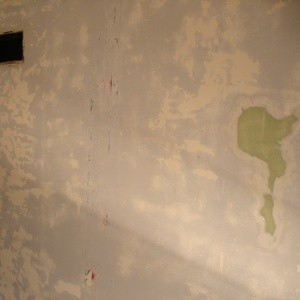 When removing the wallpaper the old paint also came off in many areas. Can I feather, prime, and use flat paint to get a better look?
By Bill from MI
January 26, 2011
0

found this helpful
If by 'feather' you mean a light sanding to even everything out before priming and painting then the answer is yes. I suppose if you mean texturing, well, that answer would be yes too. Be sure the rest of those little flakes of remaining wallpaper are gone before priming. ;-)
January 27, 2011
0

found this helpful
I agree with removing paper with vinegar. Than wash the walls and paint them with KILZ. Use two coats of the KILZ and than add the desire paint to your walls. Have Fun.
January 27, 2011
0

found this helpful
I just did this exact thing. I sanded by hand all the drywall to as smooth as a surface as I could get it. You have to treat the drywall as unfinished at this point. I then had to do some seam repairs, so I did that and sanded those down. Then I used a primer called 1-2-3 and did 2 coats of that. Then I painted. It turned out beautifully. Lots of work, but it's wonderful. Good luck.
August 31, 2016
0

found this helpful
Wash walls with what
Related Content
(article continues below)
Once you remove wall paper what do you have to do?

By Rena
January 18, 2015
0

found this helpful
I had to spray a texture to match other walls. At big box stores- just a can of texture spray. Then painted. Good luck!
July 25, 2016
0

found this helpful
Size and texture a wall after removing wallpaper?
Is it absolutely necessary to prime the wall after wallpaper removal and before painting? Is a paint with primer in it acceptable? The drywall is 10 yrs old and was previously primed and painted.
By Cheri W. from Fond du Lac, WI
April 23, 2015
0

found this helpful
In my limited experience, if the wall was previously primed and painted there is no need to prime it again after you remove all the wallpaper and glue residue. The only time you need to prime a previously painted wall is if you are trying to cover a colour that is very dark or strong with a lighter colour. Red walls always need to be primed unless you are repainting them red. A very dark brown or grey, for example, would likely require priming if the new coat was off-white.
I recently used the fabric softener method to remove old wallpaper and it worked wonderfully. What steps do I have to take if I want to paint the room? Do I need to prime the walls? - Sharon
April 6, 2005
0

found this helpful
Yes...prime the walls. I was surprised when I took my wallpaper off in the kitchen and dining room. It had been put directly on the sheetrock wothout a primer, so when we took it off the top layer of the sheetrock came off with it. We ended up texturing the wall, sanding and then we were able to paint. Huge mess, but it was worth it all at the end.
April 10, 2005
0

found this helpful
What is the method of fabric softner for removing wallpaper would you share this with us please...
Tonya
November 20, 2006
0

found this helpful
First of all,make sure the walls are totally free of any wall paper, paste, etc. Then use Kiltz on all the walls, then use primer(to make paint sticks well) then paint. Sounds like a lot of trouble, but it is well worth the effort in the long run, been there done it, had to redo it,then learned my lesson, so trying to save you the work, and expense as well. Good luck
April 22, 2008
0

found this helpful
I found another awesome way to remove wall paper and border! Using white vinegar and water works like a charm! The paper just peels right off!
Read More Answers
How do you get a wallpaper border off the wall so you can repaint?
By Glenda from Belleville, IL
June 23, 2010
0

found this helpful
I've taken down patches of wall paper using a wet towel ( paper towels, wash rags etc. work as well ). Soak the towel in some water and place it on the wall paper you wish to remove and then press the iron on there until you see steam coming off the towel. Pull away the towel and with a putty knife or old credit card peel away the paper. I know this may take some time depending on the size of the room and the amount of wall paper but it's all I had lying around the house so I had to get creative. Best of luck and if you find an easier way let me know! :)
June 23, 2010
0

found this helpful
Some wall paper borders just pull off. I had a neighbor at one time, that was into borders and whenever she saw one that she liked, as long as it was the right type, she would get it and pull the old off to replace it with the new. I have also seen on some decorating shows where they mix fabric softener and water together and spray it on to loosen the wall paper.
June 23, 2010
0

found this helpful
I typically use DIF. You mix it with water and then spray it on, let it sit for a few minutes (but not too long) and then peel away. Here's more: http://www.oldh … -wallpaper.shtml
When you go to repaint a bathroom and after you have removed the old wall paper do you have to sand the walls and what do you do with the seam tape that is partially coming off? Do you have to remove the old tape tototally or just put new spackle over it?
Thanks.
By Marie J
January 26, 2013
0

found this helpful
I just completed this task...my bathroom walls were smooth after removing the vinyl wall paper (and the paper backing and the glue - took forever - finally started spraying with pure vinegar and it came off super easy). If there is any tape that needs to be reglued or adhered more thoroughly, I'd go ahead and do that. I had one spot that I used a tiny bit of E6000 glue on.
Then I got some spray texture from one of the big box stores (home fixing) and sprayed it on the walls. This will make the paint look better and you don't have to do anything to any imperfections on the wall. Glossy paint will show every dip and dent if left smooth. It was super easy and quick...didn't even worry about overspray - it wiped off the floor and molding real easy. Waited for it to dry then painted over it all. Looks fabulous! Good luck!
My walls are damaged after years of papering. I now want to paint them. Is there an easy way to repair them is it expensive to get them skimmed.
By Helen from Inverness Highland
March 31, 2011
0

found this helpful
We renovated an old house with damaged walls. As we could not get them smooth enough to look good with ordinary paint, we used a sand paint. It did an amazing "cover up" job. Of course you do have to get the old paper and paste off first, as with any paint.
Has anyone had the primer peel off with the wallpaper leaving spots of bare sheetrock? How do you get it smooth again in order to paint? Is it safe to sand and risk ripping the sheetrock paper? I really don't want to use wallpaper again but I think thats the only way to get a smooth look otherwise. Re-sheetrock...help?

Tina from New City, NY
October 16, 2006
0

found this helpful
You'll just need to patch it with some mud, smooth it out and lightly sand it before painting. Pretty much like filling in holes from nails but with a little more detailing. If you don't the defect will show through and leave an ugly mark on your wall! You can find the patching material at WalMart, Lowes or Home Depot and its not hard to do at all.
July 4, 2007
0

found this helpful
That is awesome
I have another trick for removing wall paper. After perforating it try (if you have one) steaming it with a shark steamer. It is really easy and works like a charm.
© 1997-2017 by Cumuli, Inc. All Rights Reserved. Published by
ThriftyFun
.
Page
generated on January 16, 2017 at 10:13:22 AM on 10.0.0.148 in 4 seconds. Use of this web site constitutes acceptance of ThriftyFun's
Disclaimer
and
Privacy Policy
. If you have any problems or suggestions feel free to
Contact Us
.