Drywall can be uneven after wallpaper is removed and need some smoothing. This guide is about painting after removing wallpaper.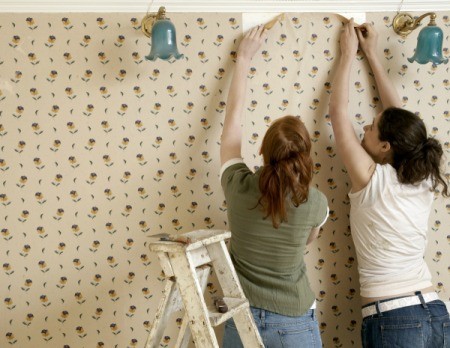 I recently used the fabric softener method to remove old wallpaper and it worked wonderfully. What steps do I have to take if I want to paint the room? Do I need to prime the walls? - Sharon
---
Most Recent Answer
By guest (Guest Post) Flag
April 22, 2008
I found another awesome way to remove wall paper and border! Using white vinegar and water works like a charm! The paper just peels right off!
---
How do you get a wallpaper border off the wall so you can repaint?
By Glenda from Belleville, IL
---
Most Recent Answer
---
Has anyone had the primer peel off with the wallpaper leaving spots of bare sheetrock? How do you get it smooth again in order to paint? Is it safe to sand and risk ripping the sheetrock paper? I really don't want to use wallpaper again but I think thats the only way to get a smooth look otherwise. Re-sheetrock...help?

Tina from New City, NY
---
Most Recent Answer
By guest (Guest Post) Flag
July 4, 2007
That is awesome
I have another trick for removing wall paper. After perforating it try (if you have one) steaming it with a shark steamer. It is really easy and works like a charm.
---
Is it absolutely necessary to prime the wall after wallpaper removal and before painting? Is a paint with primer in it acceptable? The drywall is 10 yrs old and was previously primed and painted.
By Cheri W. from Fond du Lac, WI
---
Most Recent Answer
By Louise B. 6 2,509 Flag
April 23, 2015
In my limited experience, if the wall was previously primed and painted there is no need to prime it again after you remove all the wallpaper and glue residue. The only time you need to prime a previously painted wall is if you are trying to cover a colour that is very dark or strong with a lighter colour. Red walls always need to be primed unless you are repainting them red. A very dark brown or grey, for example, would likely require priming if the new coat was off-white.
Once you remove wall paper what do you have to do?

By Rena
---
Most Recent Answer
By Linda Lou Whitfield F. 6 31 Flag
January 18, 2015
I had to spray a texture to match other walls. At big box stores- just a can of texture spray. Then painted. Good luck!
When you go to repaint a bathroom and after you have removed the old wall paper do you have to sand the walls and what do you do with the seam tape that is partially coming off? Do you have to remove the old tape tototally or just put new spackle over it?
Thanks.
By Marie J
---
Most Recent Answer
January 26, 2013
I just completed this task...my bathroom walls were smooth after removing the vinyl wall paper (and the paper backing and the glue - took forever - finally started spraying with pure vinegar and it came off super easy). If there is any tape that needs to be reglued or adhered more thoroughly, I'd go ahead and do that. I had one spot that I used a tiny bit of E6000 glue on.
Then I got some spray texture from one of the big box stores (home fixing) and sprayed it on the walls. This will make the paint look better and you don't have to do anything to any imperfections on the wall. Glossy paint will show every dip and dent if left smooth. It was super easy and quick...didn't even worry about overspray - it wiped off the floor and molding real easy. Waited for it to dry then painted over it all. Looks fabulous! Good luck!
My walls are damaged after years of papering. I now want to paint them. Is there an easy way to repair them is it expensive to get them skimmed.
By Helen from Inverness Highland
---
Most Recent Answer
March 31, 2011
We renovated an old house with damaged walls. As we could not get them smooth enough to look good with ordinary paint, we used a sand paint. It did an amazing "cover up" job. Of course you do have to get the old paper and paste off first, as with any paint.