Paying Child Support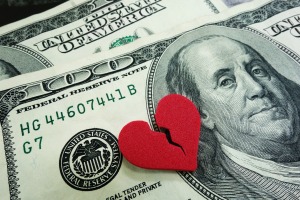 Child support is an ongoing periodic payment ordered by the court for the financial benefit of children. It is typically paid by the absent or noncustodial parent. This is a guide about
paying child support
.
Solutions
Share on ThriftyFunThis guide contains the following solutions. Have something to add? Please share your solution!
Win the war in the end! Pay your child support. Non custodial parents: when your children are grown they will respect you so much more if they know you paid your part to get them raised.
If you are married to someone that owes child support, make it your responsibility to see that your step children are taken care of financially. If you owe back child support that means the custodial parent has given you a loan, pay them back.
Of course, the custodial parent is not spending the money exactly like you would spend it and they might appear to have more than you but if you pay you can ultimately hold your head up and your place as their parent (notice this is non gender). If your circumstances have changed since your order, file the necessary paperwork and have your child support revised (you can do this without an attorney), but do you part!
By notwrong
Read 9 Comments
Questions
Ask a QuestionHere are the questions asked by community members. Read on to see the answers provided by the ThriftyFun community or ask a new question.
My son has paid court ordered child support payments every week for many years, without missing one payment. When it comes to filing his income tax yearly, why is it that he cannot claim his children, or deduct the Monterey payments from his taxes?
By dollyddg
January 9, 2012
1

found this helpful
Child support payments are never enough to raise a child. Have some sympathy for the Mother of the child unless she's unfit and that's a whole different story.
February 5, 2016
0

found this helpful
Really this is a very simple answer! Child support has not been named correctly because it doesn't even come close to supporting the child financially! I really get upset when non- custodial, visiting parents, no matter how well intended, complain! Child support, unless it pays over 51% of every bill the custodial parent pays out is just a financial bandaid on a gaping financial arterial bleed in most cases! That's just the money side! What about the emotional needs of these kids and the time the CP spends 24/7 with the child, available to the child. Middle of the night go a rounds with fevers and vomiting, long battles with homework, dealing with changing teenage hormones! I'm not trying to imply that raising kids is awful, in fact I was a single Mom to four boys and after that went back and have two foster kids for the past five years. I received almost none of my child support due to no lack of effort on my part. The system back then wasn't as helpful like it is now. If your son wants to deduct his kids tell him to anty up and pay 51% of their upkeep like their mother is. Then I'll feel for him! I'm sure he's a great guy but I'm also sure he can do better or quit whining to his mom!
Read More Answers
My husband and I pay child support for our 2 kids who family has. He just got on SSI and I still work. Do I still have to pay child support since he receives SSI and family has guardianship of them?
April 11, 2017
0

found this helpful
if you don't want these children you should relinquish all rights to them and let their relatives or others adopt them outright. then your financial obligations will cease.
July 15, 2017
0

found this helpful
the website you sited is not the ss website. It is the website of a business giving advice.
Read More Answers
I receive SS disability. I remarried in 2015. We have a marriage contract. Can my husband's ex take him back to court for more child support and include my SS disability as additional income?
February 15, 2016
0

found this helpful
I believe you should talk to a professional too. Typically when one remarries, the new spouses income is counted.
January 13, 2017
0

found this helpful
It depends on your state laws. See an attorney.
Read More Answers
February 27, 2015
0

found this helpful
How can I get off paying child support? I only receive $800 dollars after they take it out. I can hardly pay my bills.
By Elbert from Lake Worth, FL
February 28, 2015
0

found this helpful
Sorry, Elbert, but you're not getting any sympathy as they're your children too. And your responsibility. Grow a pair and get with the program! How do you think your kids will feel knowing you're trying to duck your obligation? Good example?
Economizing isn't difficult when you set your mind to it. Get a roommate? Cut down on drinking (if you drink). If you smoke, quit. Learn to cook (it's much less costly than eating out). Take on a part-time job (something you really enjoy)?
Good luck!
February 28, 2015
0

found this helpful
Are these your children? One assumes so. And if so, why would you not feel it necessary to support them? Has their mother married a millionaire? If you all lived together, what would you do? Toss one out in the street so that you could have more money to spend on whatever-- cable TV, internet, iPhone, cigarettes, beer? I'm sorry, no one on this site is going to sympathize with someone wants to "get off of child support". These are your children, and you should provide for them. Period. If you are left with only $800, ask for advice on how to economize. Many of the people on here will be happy to help you out with tips and ways to stretch your dollars.
Read More Answers
August 27, 2013
0

found this helpful
Child support is taken out of my pay twice a month, but some months I get a extra paycheck and child support is taken from that too, when I have clearly met my obligations. What can I do about this? I would have liked to place that money in my kids savings under me.

Thanks.
By Erin S
August 31, 2013
0

found this helpful
Hi - if you are paying child support through your local court agency then they may be able to help you. I am not really sure they can change the way money is removed unless you go to a one time payment at the beginning of each month.
January 13, 2017
0

found this helpful
I would think that would be an HR issue for the people in payroll
Read More Answers
My fiance has been paying child support for a child he's not sure is his. He also doesn't know where the mother is located. How does he go about finding out where the money is actually going?
By Machelle from Atlanta, GA
April 23, 2010
0

found this helpful
Where does he send the money? It must be an agency if he's not sending it directly to the mother. The agency indeed makes sure the money gets to the mother for the child. Unless he goes to family court for child visitation it really isn't any of his business what the actual address of the mother is (and maybe not even then depending on the circumstances). And it's really not any of his business how every penny is spent because the child is living with her and not him and children are expensive! Perhaps if he goes to family court he could demand a paternity test (and she would have to comply) to put any questions to rest about whether the child is actually his or not. No offense meant but he doesn't sound like he really cares about the child but rather his money :-(
April 24, 2010
0

found this helpful
OK, I'm having a problem. Legally, if he is current on his child support and has no other issues (like being an abuser, pedophile, etc), he has rights to the child, including visitation. Where was your fiancee when all these decisions were being made? Was he disinterested then? As for the money, it is going to the mother, to spend on the child as she sees fit, whether it be for clothing, food, a savings account, rent to keep a roof over the child's head, school supplies--just whatever. If your fiancee has legitimate questions, he needs to attain legal counsel.
Read More Answers
I adopted 2 kids ages 8-10. My wife left and I now pay child support. Can I get my child support lowered, as she collects survivor benefits for both children in New Brunswick, Canada?
October 9, 2015
0

found this helpful
My first response is no, as you did adopt the children. I strongly suggest you discuss your question with an attorney who specializes in child support laws in the US and in other countries. It may be that the your ex-wife conveniently did not tell the Canadian agency provider of the survivor benefits that you adopted the children and are paying child support.
However, again, even if Canada stops paying survivor benefits, you will still be required to provide child support.
October 11, 2015
0

found this helpful
Addendum-Child support amounts can be changed if your income has changed or you have had significant medical, etc., expenses. I suggest you discuss your options with an attorney experienced in child support laws.
Read More Answers
September 26, 2013
0

found this helpful
I am a single father; I have 4 children in my life. One of my children is disabled and lives with me. Another one lives with his mom. Then I have twins and they live with their mother as well. OK, here is my question. I pay child support for my 3 kids and I was sent info from the child support office that I need to raise my payments for my twins. OK, I know it's 25% for the 2 kids, and I pay a certain percentage for my other child.
Now 3 years ago I got my oldest child and she no longer resides with me. My oldest is handicapped and due to that the mother gave her to me cause she couldn't handle the expenses, ie. medication, therapy appointments, and 5 to 6 medical appointments a month because of her medical condition.
What are my options as far as me getting shafted with tons of money being dished out when I have to spend a lot just to keep my oldest child alive? What will the percentage be instead of 25% plus with my other child that I pay child support for as well?
By Bryan C.
September 26, 2013
0

found this helpful
The families that I have known of that are in situations like yours, if the each have one child neither one pays child support. I'm wondering if the mother of the kids had asked for a modification of child support. That being said if she did, you should have been notified of the hearing and then a moderator would decide the case, but it wouldn't be right away. I would go to your child support office and talk to them about it. If nothing else ask for a modification of child support.
September 28, 2013
0

found this helpful
-Each state will have its own formula. Call your state's HHS Department.
-Apply for social security disability benefits for your eldest. Speak to the hospital social worker and your child's caseworker for help.
-Visit DrOzshow.com and see what lifestyle changes and nutrition may enhance your daughter's independence from her condition.
Would I be asked to pay child support if I make more money than my ex? However, I have my son 84% of the time.
September 20, 2016
0

found this helpful
An answer would depend on several legal factors that you have not presented here: federal & state rules, the particulars of the current child support order, etc. You should contact your attorney and/or the child support agency for an answer.
Related Content