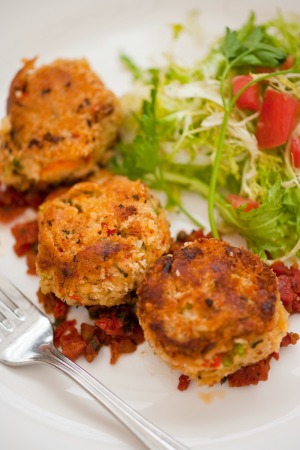 Imitation crab is actually made from fish and flavored to taste like crab. This less expensive substitute for crab can be used in many recipes calling for crab. This page contains recipes using imitation crab.
Ad
---
Recipes
Read and rate the best recipes below by giving them a "thumbs up".
I use Zatarains crab cake mix and a package of imitation crab meat when I make crab cakes. I just use the basic recipe on the box. The imitation crab meat substitutes really well for real crab and the crab cakes taste really good.
By Betty from Philadelphia, PA
This is a favorite of mine! Love even the imitation crab meat. Fairly low calorie dish, too. Very good!
Ingredients:
2 Tbsp. flour
1 cup skim milk
10 oz. imitation crab meat
2 oz. grated cheese
2 tsp. margarine
Directions:
Make a white sauce by microwaving flour, milk and margarine 2 minutes on high. Microwave 2 minutes more, stirring after 1 minute. Add cheese and stir. Add crab and microwave 2 minutes. Serve over 2 cups cooked pasta.
Cooking Time:
6-8 Minutes
By Robin from Washington, IA
Share Your Feedback: Have you tried this recipe? Do you have your own variation which you would like to share? Click "Share a Recipe" above!
Questions
Here are questions related to Recipes Using Imitation Crab.
I picked up a package of fake crab meat at the store and am not sure what to do with it. Recipe anyone? Thanks.
By Judy from IA
AnswerWas this interesting? Yes No
Ad
---
---
Best Answers
By Marcie [1] 09/14/20090 people found this helpful
I have an easy and tasty one.

1 can cream of mushroom soup, undiluted
1 8 oz block of cream cheese, softened
1 soup can about 3/4 full of milk

Combine in pan over moderate heat. Feel free to add pepper or garlic powder if you like. Once it's bubbling slightly, add imitation crab meat and a 10 oz box of frozen peas that have been thawed. Cook until the peas are heated through.

Usually I serve this with cooked rice mixed in, but it is also good with pasta. A great way to use up leftover rice or pasta. Very creamy and tasty. My cousin's fiancee, who is a picky eater, even loves this!
---
By christi [93] 09/15/20090 people found this helpful
I mash it up mix with a block of cream cheese put a small scoop into wonton wrappers, close up and deep fry, look up recipes for crab rangoon to find different versions of this.
---
By Susan Meadors [3] 04/20/20100 people found this helpful
I have made crab cakes with fake crab, and they were very good. Just follow a crab-cake recipe from the internet or your favorite cookbook. Another favorite "recipe" of ours is seafood salad, a tossed salad from the grocery with fake crab added. There's no cooking required with that one--it's our go-to recipe when I have time to go to the store on my way home from volunteer work, but no energy or time to cook.
---
By melissa mccurdy 06/27/20100 people found this helpful
Chopped garlic say 3 cloves in melted butter ,then add crab to heat and serve on crackers. So easy and very rich.
---
Does anyone have a recipe for what I think was called "Crab Bake"? I recently had this at a buffet in a Chinese restaurant. It consisted of chunks of imitation crab legs and cheese in a white sauce and was served in a casserole dish. My family really enjoyed it and I would like to try it at home. Thanks for your help.

Mike from PA
AnswerWas this interesting? Yes No
Ad
---
---
Most Recent Answer
By Jennifer Nelson [1] 04/15/20100 people found this helpful
Can you use butter? I don't like margarine.

Thanks!
---