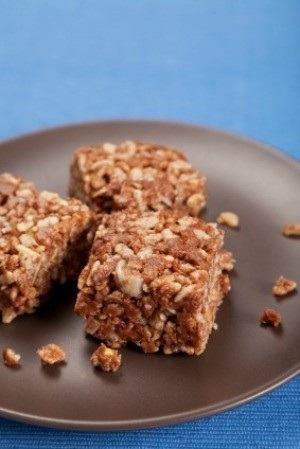 There are many recipes using Rice Krispies in addition to the traditional cereal and marshmallow treats. This page contains recipes using Rice Krispies.
Ad
---
Solutions: Recipes Using Rice Krispies
Read and rate the best solutions below by giving them a "thumbs up".
Light and fluffy bite size treats.
Ingredients:
3 large egg whites
1 pinch salt
1 cup confectioners' sugar
2 cups sweetened shredded coconut
2 cups rice krispies
1/4 cup cornstarch
Directions:
Separate the eggs when they're cold but wait until they're at room temperature for the most volume when whipping. Position racks in the upper and lower thirds of the oven and preheat to 200 degrees F. Line 2 cookie sheets with parchment paper.
Beat the egg whites and salt with a whisk until thick and foamy in a large bowl. Sprinkle in the confectioners' sugar and beat at high speed until firm and glossy, about 5 minutes.
Toss together the coconut, rice cereal and cornstarch in a medium bowl. Gently fold in to the egg mixture until combined.
Drop rounded teaspoons of the mixture about 1 inch apart on to the cookie sheets. Bake until firm and dry to the touch, about 1 hour. Allow to cool completely.
Source: Tried these for the first time last year and I think found the recipe at the Kellogg's Rice Krispies recipe site.
By Deeli from Richland, WA
Ingredients
Rice Krispies
1 stick margarine, melted
chicken pieces
salt, opt.
*Need foil-lined pan.
Directions
Put Rice Krispies on waxed paper or plate and crunch up a little. Dip chicken pieces in margarine and then Rice Krispies. Put on foil-lined pan. Salt, if you want. Bake at 350 degrees F for about 1 hour. You don't have to turn the chicken so you can go on with something else and not watch it closely.
By Robin from Washington, IA
These are the best ones I've ever eaten!
Ingredients
4 1/2 cups regular rice krispies
1 1/2 cups cocoa rice krispies
3 Tbsp. oleo
10 oz bag of marshmallows
Directions
Melt butter on stove, melt marshmallows letting them singe just a smidgeon (kind of like campfire marshmallows just barely singed light brown, careful!). Mix in all of rice krispies. Pat out in buttered 13x9 inch pan. These were what I thought going to be a boo-boo when they got singed a little. But boy I had a Eureka moment, I thought this is like my beloved campfire marshmallows. Wow, do I ever love them and will make them this way from here on out! Family is gobbling them up quickly, lol!
By Lori from Marion AR
Ingredients:
1/2 cup butter or margarine
3/4 cup brown sugar
4 cups Rice Krispies
1 cup coconut
1 cup chopped nuts
1/2 gallon vanilla ice cream
Directions:
Melt the butter and the sugar. Pour over the Rice Krispies, coconut, and the nuts. Press 2/3 of this mixture into a 9x13 inch pan. Freeze this until firm. Remove the box around the ice cream and slice into 1 1/2 inch slabs and spread over bottom. Cover with remaining mixture. Freeze.
By Robin
Give a "thumbs up" to the solution that worked the best! Do you have a better solution? Click here to share it!
Questions
Here are questions related to Recipes Using Rice Krispies.
When I was younger I used to go to my friend's house and spend the weekends. My friend's step-mom used to make a dessert, that was so good. It was made with Rice Krispies, ice cream, and chocolate, but I can't remember what else.
The Rice Krispies were mixed with something to make the bottom layer (maybe mixed like Rice Krispies treats?). I think the ice cream was softened then put over the bottom layer, then put back in the freezer to harden. Then you melted chocolate and drizzled it over top of the whole thing and froze again to harden the chocolate.
She always made it in a 13 inch x 9 inch pan. Have any of you ever heard of something like this? Thanks for any help you can give me.
By Cindy from OH
AnswerWas this interesting? Yes No
Ad
---
---
Most Recent Answer
By it's.only.me [169] 08/04/20110 people found this helpful
I haven't tried any of these recipes. Maybe one of them is what you are looking for. Good luck.

Rice Krispies Ice Cream Bars

3 cups crushed Rice Krispies
1 cup grated coconut
¾ cup finely chopped pecans
½ cup brown sugar, firmly packed
½ cup butter, melted
½ gallon vanilla ice cream
Topping of your choice

Combine Rice Krispies, coconut, pecans, sugar and butter. Spread half of the mixture on the bottom of a 9x13" cake pan. Pat into place.

Carefully cut open the sides of the ice cream container. Slice vanilla ice cream and place on top of mixture. Spread other half of Rice Krispies mixture on top. Freeze.

To serve, slice into bars and serve with chocolate syrup or other topping of choice.


Crispy Rice Ice Cream Bars

2 1/2 cups crisp rice cereal
1/2 cup melted butter
1 cup flaked coconut
1/2 cup chopped nuts
1 cup light brown sugar
1 quart softened ice cream, flavor of your choice

Mix the cereal, butter, coconut, nuts and sugar together in a bowl.

Spread half of the mixture in a 9x9x2" pan. Spread the ice cream over the top of the cereal mixture.

Spread the remaining cereal mixture over top of ice cream. Place in the freezer to set. Cut into squares and serve.
---