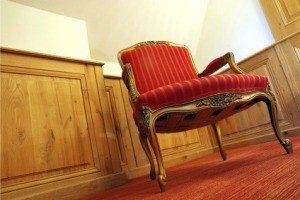 Heavy furniture leaves dents in the carpet that may be difficult to remove when you rearrange the furniture. This is a guide about removing furniture dents from carpet.
Ad
---
Solutions: Removing Furniture Dents from Carpet
Read and rate the best solutions below by giving them a "thumbs up".
If you move furniture from carpets and dents are left behind, try putting an ice cube or two into the dent and let it melt and dry. If it doesn't work after the first try, do it again. I've tried it lots of times and most often, it works well.
By Dusty from Silver Spring, MD
Give a "thumbs up" to the solution that worked the best! Do you have a better solution? Click here to share it!
Questions
Here are questions related to Removing Furniture Dents from Carpet.
I have a commercial type carpet in my upstairs apartment which I rent out. The person left at the end of the month and I now see marks in the carpet caused by an elliptical machine. Can anyone tell me how to get these out or fade them out?

Thank you.
By Carolyn from Port Chester, NY
Ad
---
---
Best Answers

By anne [13]11/07/2009
Take a washcloth or towel and place it over the dent. Using an iron on the steam setting, passover the dented area. While it's still warm and moist, rake it with a comb or brush. Do this several times. The fibers are crimped and folded down, so they need to be "lifted".
---
Best Answers

11/07/2009
There are special 'carpet rakes' to help with that but a heavy duty plastic bristle hairbrush will work too and costs a lot less money. You'll need to gently rough up the dented portion of the carpet, vacuum, and repeat. Eventually the worst of the dent will come up. I've used this technique before and it worked well for me. Hope it works for you.
Can anyone tell me how to get the dent imprints out of the carpet when I move a piece of heavy furniture?

Lynn from VA
Ad
---
---
Best Answer

By (Guest Post)05/02/2007
I use that SCUNCI steam cleaner. The kind you use for cleaning. I place on the small attachment, steam the carpet, rake through it with my fingers, and no more indent. Works GREAT!!
I need to remove carpet dents from an all wool carpet. Wool is not supposed to be wet so the ice cube method won't work. I am also afraid to try the steam as it might shrink the carpet. What else can I try?
By D.C. R.
---
Best Answer

By Sheilah Link [5]06/18/2012
I think you have been misinformed about water and wool. It is agitation when wet that shrinks wool. Same with steam. When wet, tease the carpet up with an old dental pick or some such tool.
How do you get carpet fiber to rise as a result of indentations caused by furniture?
By James from Philadelphia, PA
---
Most Recent Answer

By elainehychko01/09/2014
Steam iron worked awesome but I also wet the towel layed it over the dent and then steamed it with the iron worked awesome.

How do I remove furniture indentations from carpet?
By Barbara from Boston
---
Most Recent Answer

By Aruna2104/17/2010
Use a fork (the tines) to fluff it up. I read that somewhere a long time ago and it has always worked for me.
Archives
Thrifty Fun has been around so long that many of our pages have been reset several times. Archives are older versions of the page and the feedback that was provided then.
Does anyone know how to remove furniture dents from thick carpet?
Beth
---
RE: Furniture Dents in Carpet
First make sure how your carpet fiber is to be cleaned, then make sure you have a wet vac or a carpet cleaner machine. Get a wet cloth with what ever your carpet can stand, dampen not soak the area, then use the vac or cleaning machine to pull the carpet back up. I have done this every 30 mins or so until carpet looked lifted. May not lift padding but carpet should look better. (10/07/2004)
By gglo
RE: Furniture Dents in Carpet
I heard you can put ice cubes on that spot. Never tried it, but you might. (10/07/2004)
By Jayne
RE: Furniture Dents in Carpet
I've also heard of using the tines of a fork rubbing them gently back and forth over the 'dented' areas - claims to raise the fibers back in place. (10/08/2004)
By CATS719
RE: Furniture Dents in Carpet
To take the marks from furniture out of carpet, put a soft towel over the marks and use a steam iron. Let the steam penetrate the towel and the nap on the carpet will come up. Just a quick brush with your hand will make it look good as new. (10/09/2004)
By Arlene
RE: Furniture Dents in Carpet
I used a Scunci Steamer and a fork. Took awhile, but it did the trick. (04/08/2005)
By Scharfdog
We have Berber carpet and have re-arranged furniture. We now have carpet dents in the carpet and cannot get them out. How do we remove carpet dents from berber carpet?
charlievon
---
RE: Removing Carpet Dents
Try letting an ice cube melt in the dent. This should help revive the spot. (03/07/2005)
By Genny
RE: Removing Carpet Dents
I have heard that if you put ice cubes in the indentation that this will lift the pile of your carpeting. Just leave them melt overnight. Hope it works for you. (03/07/2005)
By sewingmamma
RE: Removing Carpet Dents
If the ice cube doesn't work you can lift them with the steam from a steam iron BUT you have to be careful you don't burn the carpet. Put a cloth over the dent and hold the iron above to cloth to allow the steam to penetrate. Lift the cloth occasionally and scrape the dent with your nail to lift the pile. Repeat until the dent is reduced/repaired then leave to dry out thoroughly before walking over it. (03/07/2005)
By Jo Bodey
RE: Removing Carpet Dents
I always used the ice cube, then after it melts, you use an old fork to gently pull the carpet fibers back up -- sort of "fluff" the carpeting. (03/14/2005)
By Becki in Indiana
I recently moved some heavy furniture in my living room. How do I get rid of the imprints in my carpet from the couch?
Marcie from Prairie du Sac, WI

---
RE: Furniture Dents in Carpet
I've used the ice cubes for many years, as I routinely move the furniture in our home around. Just put an ice cube into each dent, let it melt, blot up excess water, and fluff with a fork. You may have to vacuum a couple of times, but it works. (01/31/2007)
By RaineAnn
RE: Furniture Dents in Carpet
I tried the ice cubes but it wasn't successful. I then used a wire brush and a fork to lift the carpet. Then a hair dryer and a fork which was more successful, then vacuumed over it. Hasn't cleared it completely but looks a lot better. I think this is just where the under-lay has been flattened. (02/22/2007)
By Tom
RE: Furniture Dents in Carpet
The iron worked perfectly. Set the iron to "cotton", then put a t-shirt over the dents and steamed a couple of times. Each dent only took about 30 seconds to fix. (03/15/2008)
By Stan
RE: Furniture Dents in Carpet
Place a very damp dish or wash cloth in the microwave. Heat it as hot as you can. Get a cup or small bowl. Place the cloth in the bowl and invert the cup over the indentation and let stand for a few minutes. Remove the bowl and brush with an old tooth brush. (02/03/2009)
By Mary C.
I was moving furniture, now have carpet dents. I need to remove them, having new furniture delivered in an hour. The carpet is Berber.
Jodi from KY
---
RE: Removing Carpet Dents
I just got Martha Stewart's Homekeeping Handbook and it says to place ice cubes where the pile is crushed and the fibers will swell as they absorb the water. Follow up by blotting the area with a dry towel and vacuum to straighten the fibers. (12/15/2006)
By mef1957
RE: Removing Carpet Dents
The ice cube method works well for removing furniture dents, but make sure that the water doesn't damage the carpet, carpet backing, or subfloor.
If you use an iron, make sure to put it on "steam" setting and don't place it directly on the carpet or it will burn the fibers. Use a brush to pull the fibers and blend them in with the rest of the carpet. (10/02/2008)
By LV_JENN
RE: Removing Carpet Dents
Let me tell you, Mr. Skeptical (me) tried the steam/towel method. I used it on some dents that were from furniture that hasn't moved in 4 yrs. It worked great. (03/29/2009)
By Cntrymscdj
I would like to find out how to remove deep furniture dents from carpets.
Thank you.
---
RE: Removing Carpet Dents
There are special "carpet rakes" to help with that, but a heavy duty plastic bristle hairbrush will work too and costs a lot less money. You'll need to gently rough up the dented portion of the carpet, vacuum, and repeat rough up and vacuuming (maybe a few times) and eventually the worst of the dent will come up. I've used this technique before and it worked well for me. Hope it works for you. (11/07/2009)
By Deeli
RE: Removing Carpet Dents
Take a washcloth or towel and use an iron on the steam setting. While it's still warm and moist, rake it with a comb or brush. Do this several times. The fibers are crimped/folded down and need to be "lifted". (11/07/2009)
RE: Removing Carpet Dents
Put an ice cube in the dent and leave it till it melts. It will soften the dent and then run over with a brush. (11/07/2009)
By PICO
RE: Removing Carpet Dents
A regular dinner fork works great, quick and easy and no wet! Just gently scrape the dent and it loosens the fibers. (12/07/2009)
By tekc96