The small jars that spices are sold in can be repurposed for a variety of things. This guide is about reusing spice bottles.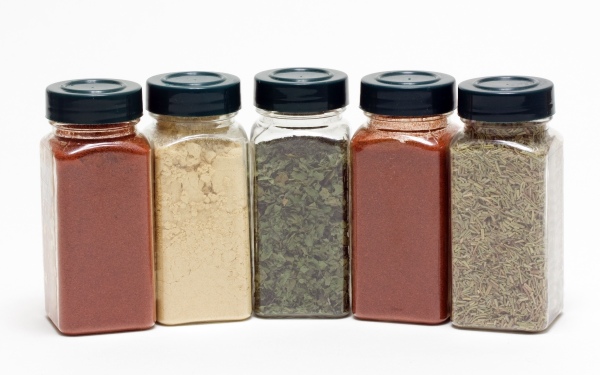 Filter

: All Articles
Sort

: Relevance
Recycle those bigger shaker bottles that spices come in. I reuse them and fill with cinnamon sugar or flour (for that quick shot you need to make great gravy).
It is so much handier to have one bottle to grab while I'm cooking than having to go to the pantry for the canister of flour. I also like to use them to make my own spice blends. This saves so much time when you're putting dinner together.
By aloham58 from Onalaska, WA
I make jewelry. While at the craft store the other day I checked out the bead storage section. The bottles, etc. were very expensive. So I decided to improvise. I cleaned out my spice rack of old spices to reuse the plastic clear and semi-clear bottles for bead storage. It works great, except I don't know how to get the smell of some of the spices out of the plastic bottles and how to get the labels off! Any suggestions? Help!
By Maw-Maw from Athens, GA
January 10, 2011
0

found this helpful
Soak in a sink of hot bleach water. If stickers dont come all the way off which they should and they do leave a sticky residue use funiture polish believe it or not. The oils from the polish remove the sticky feeling on just about everything non porous that has sticker residue.
January 11, 2011
1

found this helpful
I use vinegar for the smell. Just put the vinegar in the bottle, and leave it for the day, and then wash with your dishes. I use a product called "goo gone" for the labels.
January 11, 2011
0

found this helpful
Any of those ideas will work for the spice odors. For labels I can usually peel off the top layer of the paper, then I soak it in water until I have only glue. A spray with Pam spray and a sit over night will melt the glue right off.
January 4, 2016
0

found this helpful
Goo Gone will remove labels. Fill with vinegar or baking soda until odor is gone
Read More Answers...
When I'm cooking, I found that getting black pepper out of a paprika container is much easier than using the little glass pepper shaker I keep on the stove top. Instead of going shake - shake - shake - shake - shake - shake, I just go sprinkle - sprinkle, and I'm done. I keep it handy in the cabinet above the stove.
I accidentally left the first one on the stove top while cooking and the heat warped it. It leaned a little but was still usable. I don't use much paprika so I had to wait a long time to get a new container with the larger holes.
If you decide to try this, don't leave it on the stove top when cooking.
Does anyone have any ideas for reusing glass spice jars? Thank you.
By Sheilah
December 1, 2009
0

found this helpful
Maybe use to store buttons, needles, safety pins, paper clips, or for food like those small amounts of extra tomato paste, chopped chives etc in the fridge?
December 1, 2009
0

found this helpful
Great for packing things in for lunch (salad dressing, peanut butter, etc.).
December 4, 2009
0

found this helpful
I used spice bottles and baby food jars as well as storage for washers nuts bolts nails screws etc. I use a 1/2" x #3 screw to fasten the lids to the bottom of a cabinet above my work bench. (I have 20 spice and 16 baby food jars in my layout) Once attached I simply twist the jar onto the lid and I have the perfect out-of-the-way place for all those little odds and ends. I bought color coded labels for mine (red for nails blue for screws etc.)
January 4, 2010
0

found this helpful
I use mine to store small amounts of paint that I mixed for a certain project. Usually it is acrylic paints that came from a craft project.
Read More Answers...
When spice bottles are empty, the plastic ones you get, wash them out with hot water and soap, remove labels and let air dry. When dry, you can store sewing pins, needles, buttons, small nails, tacks, anything small.
By Barbara from Meeker, OK
I use empty plastic spice containers to hold baby powder. Works great.
By Bon from Northfield, NH
Save your empty spice bottles (the ones with the holes in the top). They are perfect for holding kids' small paint brushes or the fine paint brushes you use for arts and crafts.
To keep salt and pepper (or other spices) from spilling when traveling, camping, or picnicking re-use the smaller spice containers with lids. They're usually plastic, they have the shaker tops plus lids to keep the salt/pepper/spices from falling out all over everything.

By Meari

Editor's Note: Small spice containers are also great for putting your bulk spices in. For example, if you buy a large quanity of Cumin, just transfer it to your small Cumin spice container. It's easier to handle and already has the proper label on it.
Answers:
Reusing Spice Containers
You can also unscrew the tops off your shakers and place a small piece of plastic wrap over the opening and replace the tops. This will prevent spilling in transport. Just remove the plastic wrap before using and replace before transporting again.
(07/05/2005)

By Renee in TN
Reusing Spice Containers
I have often saved spice containers over the years, both glass and plastic and they are handy for many purposes. Besides using for bulk spices, they can be used for spices you grow and dry yourself. If you have one with the shaker top insert, it could be filled with baking soda to use for cleaning purposes. Last year I made up a real nice meat rub and put in a recycled spice jar and gave that to hubby on father's Day along with some BBQ recipes and such I printed from the internet. I have also used an empty plastic spice bottle for powdered laundry detergent to take on vacation. The uses are endless! (01/15/2006)

By Debbie52