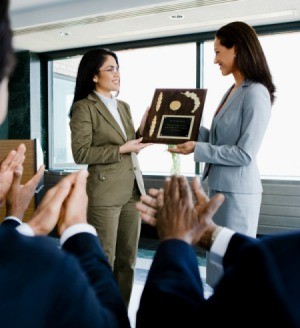 Writing an acceptance speech can be difficult to do, even prominent figures have their own speech writers. This is a guide about speech ideas for receiving an award.
Solutions
Share a solution for this guide today!
Questions
Here are questions related to Speech Ideas for Receiving an Award.
I am going to receive 15 year service award present and would like to express my thanks. I am looking for something quick and short. I am a shy person.
By M. Maponga
---
Most Recent Answer

By Lelia Jo Cordell09/14/2011
First, congratulations on your award! Next, Garnetgirl's got a great idea! If you have trouble with saying all that, though, a simple "thank you" should do. (btw, Garnetgirl, I like your idea of going into the bathroom beforehand for a little "pep sing," lol!)
I will be receiving an award for being the best business student. What can I say?
By Eve from Vanderijlpark, SA
---
Most Recent Answer

By Grandma J06/23/2010
Being humble when accepting an award is always gracious. Trying humor can insult those whom you wish not to offend.
This sounds like a school based award, I would ask a school counselor to read what you plan to say, it will keep you comfortable, and out of trouble with your words.
If you have someone to thank for giving the award, you thank them first.
Then you give credit to parents, friends, teachers, etc pick those, or if 1, it is o.k. to say their name at that point. A hint from watching awards on TV, it gets boring when you have a who's who list and try not to miss a person. You insult those who are left out. Keeping it simple is always best.
Make sure your smile sounds appreciateve!
I will be receiving an award at work soon and would like to express my thanks to my coworkers. I am very shy and would like to know what to say after receiving the award. I am looking for something quick and short. I read in a book that the 2 words "thank you" is really all that is needed. Can you advise?

Onesummer
---
Most Recent Answer

By Janice C.01/13/2008
Congratulations on your award. You have a good employer who recognizes good people and obviously wants to keep you.

How about something like "Thank you for this award for ______. I'm very pleased and honored to win it this year. It means a lot to me. Thank you to my supervisor (name) and my co-workers (names, names) for helping me to do my job well."

I feel it will be more professional if you mention the award and how pleased you are to receive it, rather than to say how shy you are, with the possible inference that you do not deserve the award. Trust the people who are giving the award. They say you deserve it, so you deserve it. Congratulations again.
I am going to receive a high achievement award all over from my country. I am 16 yrs old . What should I say?
By Shahar