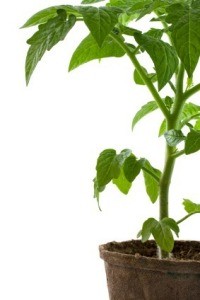 There are lots of leaves, but no tomatoes. This guide is about tomato plants not producing fruit.
Ad
---
Questions
Here are questions related to Tomato Plants Not Producing Fruit.
I have planted seeds for cherry tomatoes in pots. I have lots of blossoms, but no tomatoes. Can you help?
Hardiness Zone: 9a
By Joan from Southport, NC
I planted a cutting made from an Anna heritage tomato plant. The plant is loaded with blossoms, but no tomatoes.
By Don from Fresno, CA
AnswerWas this interesting? Yes No
Ad
---
---
Most Recent Answer
By riepaints2 01/09/20150 people found this helpful
While it's true tomato flowers become fruit, they must first be pollinated. Do you spray your garden? If there are no bugs at all in the garden, your tomatoes won't be pollinated unless you do it by hand. My daughter hates bugs and has the same problem, which is wild considering I am an avid organic gardener. No pesticides in my garden. Good luck
---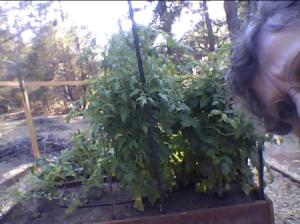 Why are my tomato plants growing, but not producing fruit?
By Sandy F
AnswerWas this interesting? Yes No
Ad
---
---
Most Recent Answer
By Gloria Z [10] 07/29/20130 people found this helpful
It could be your tomatoes are planted in soil that is nutrient poor. Do you rotate your crops or just replant tomato's yr after yr in the same place? Also, have you been putting calcium into the soil? Lack of calcium will effect how many tomato's your plant produces and cause end rot as well.
---
I have very healthy looking tomato plants with plenty of flowers, but have yet too see any fruit. It is the middle of July and do not understand why my tomatoes are not producing any fruit yet. The plants are all very healthy looking. Does anyone have any ideas? Thanks
By Sharon
AnswerWas this interesting? Yes No
---
Most Recent Answer
By Jill [4] 07/12/20110 people found this helpful
If you are having a hot summer, just be patient. Most varieties of tomatoes won't set fruit if the nights do not cool off enough. Keep the plants healthy, and once things cool off a bit, you will get fruit.
---
We have a small tomato plant garden with 4 heirloom tomato plants planted about 18 inches apart. The plants have grown well and produced flowers, but have only produced 5 tomatoes.
We have shaken the plants and used cotton tipped Q-tips to pollinate the flowers, but this has not produced any results. We would appreciate any suggestions for getting a few tomatoes this season. We live in the 4 corners area of New Mexico and have used a watering schedule for the plants through out the drought in our area. Help.
By Ron
AnswerWas this interesting? Yes No
---
Most Recent Answer
By David M. [1] 08/12/20130 people found this helpful
How hot has it been? Tomatoes don't tend to set fruit when it is hot for a very long spell.
---
My tomatoes are big and healthy and have some bloom, but no fruit. Everything else in the garden is great.
By Cleta
Solutions: Tomato Plants Not Producing Fruit
Do you have knowledge about this guide topic? Feel free to share a solution!
Archives
Thrifty Fun has been around so long that many of our pages have been reset several times. Archives are older versions of the page and the comments that were provided then.
Question:
I planted tomatoes from seeds in May. The plants have lots of blossoms, but there is only one green tomato on only one of the 7 plants. Is there something that I should do to stimulate the plants? Thanks for your suggestions.
Hardiness Zone: 7a
Josie from Tulsa, Oklahoma
Answer:
Josie,
Most tomatoes take anywhere from 30-60 days to mature from seed, and several environmental factors can affect their ability to set fruit. Heat is one those factors. Once daytime temperatures reach into the 90's and nighttime temperatures hover near the mid 70's, tomato plants have trouble setting fruit because high temperatures render the pollen sterile.
There are a couple of strategies to combat this problem. The first is to grow varieties that mature earlier, before the Oklahoma summer heat sets in. Smaller tomato varieties (e.g. cherry) usually need less time to mature, while larger tomato varieties take longer. The smaller varieties are also more likely to set fruit better in hot weather. You could also buy established seedlings or start yours indoors several weeks before transplanting in order to give them a jump on the season.
If your plants still haven't set fruit by the time the intense heat sets in, try to keep your plants healthy and consistently watered and once the temperatures drop, they should resume setting fruit. Other factors that prevent tomatoes from setting fruit include low temperatures (below 50ºF), a lack of sunlight (less than 8-10 hours), inconsistent watering, damage from pests (e.g. thrips), or too much nitrogen fertilizer.
Ellen
About The Author: Ellen Brown is our Green Living and Gardening Expert. Click here to ask Ellen a question! Ellen Brown is an environmental writer and photographer and the owner of Sustainable Media, an environmental media company that specializes in helping businesses and organizations promote eco-friendly products and services. Contact her on the web at http://www.sustainable-media.com
---
RE: Tomato Plants Not Producing Fruit
If you only planted them from seed in May, you are too early to expect ripe tomatoes. Give them a little more time. I planted my seeds on St. Patrick's Day (March 17th) and nurtured them indoors until the first week of May. I think I will harvest my first cherry tomato tomorrow or the next day. The large tomatoes are still hard and green. I live in the high desert part of New Mexico. As far as the comment about tomatoes not setting the first year, the second responder is correct, they are annuals and bear the first and only year. The second responder might be watering too much. If you do that you get a lot of plant and not many tomatoes. Cut back on the watering some and expect a better harvest. (08/01/2006)
By Katie A.
RE: Tomato Plants Not Producing Fruit
I have had this problem before. I was told to knock the tops of the tomatoes out. This puts them into shock and then they set on fruit. They are annuals, so they grow, fruit and die all in one year's time. There is no second year for them. From a KSU Master Gardener (08/02/2006)
By gdeer61
RE: Tomato Plants Not Producing Fruit
I live within an hour of you. I always either buy established plants or start mine indoors earlier so I can set plants out by the beginning of May. The plants must have enough time to mature, bud and set fruit before the heat of our summer sets in. It gets extremely hot here in the summer, and tomatoes will flower, but not set fruit in the heat of our summers. My tomatoes are usually finished by the end of July or the first of August. If your plants survive our summer, about half of mine routinely die even though I set mine out early, water, and mulch them, they will flower and set tomatoes later in the season after it cools. These tomatoes won't quite be ready before our first freeze, but you can pick them green and allow them to ripen on their own. (08/03/2006)
By Susanmajp
RE: Tomato Plants Not Producing Fruit
Well, I actually caught a bird eating the new growth off much of my plant one day. That explains why there are no more blooms. I remember that "Blossom Set" worked well years ago. My plants are actually in a sort of "hole" downhill from the Apple tree about 4 feet away, so I may have foolishly planted my whole tiny new garden patch just too close to the 8 yr. old Apple tree. I'll keep trying different places.
The plant actually grew out some new green growth after I added egg shells to the soil around it. I have had no other pests, because I also remembered to plant Basil about 6 in. from the plant. Companion planting works really well for us, but it still produced poorly because of the stress of the heat. I can water deeply in the early morning, the plant really perks up, but by 3 pm and hot sun, the leaves are wilting. I might consider transplanting it into the shade this week to try to salvage and extend it's growing season by planting it deeper still. Hope I don't kill it, then again it wouldn't be a great loss under the circumstances. One of the best gardens I ever saw was under a huge old tree, protecting it from the hottest hours, but the soil had to have been enriched and required extra water and fertilizer. (08/03/2006)
By Lynda
RE: Tomato Plants Not Producing Fruit
I had a year where my tomato plants were beautiful, very large and healthy looking but no fruit. I was told to water them with apple juice. It worked. I had loads of tomatoes by the end of the month. (06/26/2008)
By Jesse
I have a healthy tomato plant. It put on 4 tomatoes right at first and now it has loads of blooms, but the blooms are just drying up and there are no more tomatoes. Please help.
Hardiness Zone: 6a
By penny2009 from Camdenton, MO
---
RE: Tomato Plants Not Producing Fruit
Maybe you need some bees. (06/03/2009)
By crunchberry
My tomato plants are blooming, but no tomatoes are forming.
My tomatoes are blooming, but not setting fruit. Please help.
Hardiness Zone: 10a
By Ingrid
---
RE: Tomato Plants Not Producing Fruit
I believe this usually happens if they are not getting enough sun and too much water. I think it is a little early to grow tomatoes. I usually buy plants in April (I am in Santa Monica, which I think is zone 11?) and get fruit in mid-July. (02/24/2010)
By gamehen