Tomato Plants Not Producing Fruit
There are lots of leaves, but no tomatoes. This guide is about tomato plants not producing fruit.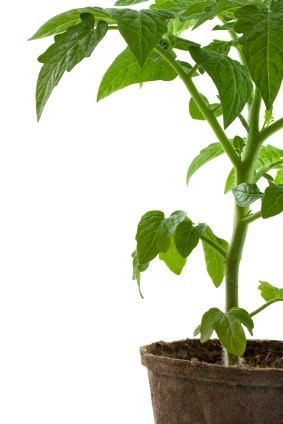 Filter

: All Articles
Sort

: Relevance
I planted a cutting made from an Anna heritage tomato plant. The plant is loaded with blossoms, but no tomatoes.
By Don from Fresno, CA
November 5, 2014
0

found this helpful
Best Answer
Sorry if I do not understand your question but the fruits are not independant from the flowers. Tomato flowers become fruits just like strawberry flowers become strawberries. If your tomato plant is loaded with flowers you just have to wait. Just cut off the top of the plant to make it bushier.
Hope this help!
Catherine
January 9, 2015
0

found this helpful
Best Answer
While it's true tomato flowers become fruit, they must first be pollinated. Do you spray your garden? If there are no bugs at all in the garden, your tomatoes won't be pollinated unless you do it by hand. My daughter hates bugs and has the same problem, which is wild considering I am an avid organic gardener. No pesticides in my garden. Good luck
November 5, 2014
1

found this helpful
It may be due to the heat. Some heritage tomato plants are fussier than others.
I am growing tomatoes in a container but have plants over 5 feet tall and only one tomato so far. What am I doing wrong and how do I fix it?

Gerry
By guest (Guest Post)
Flag
July 14, 2005
0

found this helpful
Best Answer
Another thing you might check is to see if you need to "sucker" your tomato plant. Look between the main stem and branches that are growing off of it. If there are new branches growing in the crotch of the main stem and the first initial branch, you might want to pinch these off or "sucker' them. This will force your plant to set blossoms and then fruit because it will know "it is done growing." We try to leave five to eight initial branches and then begin suckering all the new starts. Our tomato plants are loaded with good viable fruit.
July 14, 2005
0

found this helpful
Best Answer
Overwatering also causes the plants to grow big with few tomatoes. That is what happened to me when I planted mine in a flower bed and then watered them along with the flowers. You can wait to water until the plants just start to wilt. It might be only once a week, depending on your weather.
June 21, 2016
0

found this helpful
my tomatoes plants have no blooms at all one has has small tomatoes on it the rest have no blooms at all but they are growning tall except the one that has tomatoes on it and its a real small plant and its not growning at all . thanks
Read More Answers...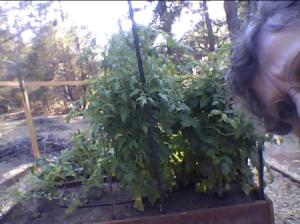 Why are my tomato plants growing, but not producing fruit?
By Sandy F
July 26, 2013
0

found this helpful
Best Answer
Could be lack of bees to pollinate plants.
July 29, 2013
1

found this helpful
It could be your tomatoes are planted in soil that is nutrient poor. Do you rotate your crops or just replant tomato's yr after yr in the same place? Also, have you been putting calcium into the soil? Lack of calcium will effect how many tomato's your plant produces and cause end rot as well.
I have very healthy looking tomato plants with plenty of flowers, but have yet too see any fruit. It is the middle of July and do not understand why my tomatoes are not producing any fruit yet. The plants are all very healthy looking. Does anyone have any ideas? Thanks
By Sharon
July 12, 2011
0

found this helpful
Best Answer
If you are having a hot summer, just be patient. Most varieties of tomatoes won't set fruit if the nights do not cool off enough. Keep the plants healthy, and once things cool off a bit, you will get fruit.
July 12, 2011
0

found this helpful
If there are no bees to cross pollinate, you won't have any tomatoes!
July 12, 2016
0

found this helpful
Tomato plants are self pollinating.
We have a small tomato plant garden with 4 heirloom tomato plants planted about 18 inches apart. The plants have grown well and produced flowers, but have only produced 5 tomatoes.
We have shaken the plants and used cotton tipped Q-tips to pollinate the flowers, but this has not produced any results. We would appreciate any suggestions for getting a few tomatoes this season. We live in the 4 corners area of New Mexico and have used a watering schedule for the plants through out the drought in our area. Help.
By Ron
August 12, 2013
0

found this helpful
How hot has it been? Tomatoes don't tend to set fruit when it is hot for a very long spell.
I have 2 tomato plants growing in my garden, next to each other. One is a Better Boy red tomato plant, and the other is a yellow tomato plant. They are both big and healthy, no signs of any damage or sick leaves. The red tomato plant has at least 20 tomatoes right now, and the yellow tomato plant has not produced any tomatoes at all. Just wondering what could be wrong? the plant appears completely healthy otherwise. It did produce a few flowers, not many, but they died off fairly quickly.

Hardiness Zone: 6a

By Gina from Cincinnati, OH
My tomato plants are very healthy, but have not produced fruit.

Hardiness Zone: 9a

By Pam from Jacksonville, FL
Answers:
Tomato Plants Not Producing Fruit
Mix 1/8 cup of Epson salt with 1 gallon of water and give them a drink. Tomatoes thrive on magnesium. (05/26/2010)

By bkvander
Tomato Plants Not Producing Fruit
Last year my tomato plants were healthy as could be, but I wasn't getting any tomatoes. I found out that I was watering them too much. Also they were very leafy and so I cut a lot of the leaves off and lo-and-behold they started producing tomatoes. Give it a try. (05/26/2010)

By Jamessgirl
My tomatoes are blooming, but not setting fruit. Please help.

Hardiness Zone: 10a

By Ingrid
Answers:
Tomato Plants Not Producing Fruit
I believe this usually happens if they are not getting enough sun and too much water. I think it is a little early to grow tomatoes. I usually buy plants in April (I am in Santa Monica, which I think is zone 11?) and get fruit in mid-July. (02/24/2010)

By gamehen
My tomato plants are blooming, but no tomatoes are forming.
I have a healthy tomato plant. It put on 4 tomatoes right at first and now it has loads of blooms, but the blooms are just drying up and there are no more tomatoes. Please help.
I planted tomatoes from seeds in May. The plants have lots of blossoms, but there is only one green tomato on only one of the 7 plants. Is there something that I should do to stimulate the plants?
Related
© 1997-2016 by Cumuli, Inc. All Rights Reserved. Published by
ThriftyFun
.
Page
generated on August 21, 2016 at 9:30:48 PM on 10.0.2.241 in 5 seconds. Use of this web site constitutes acceptance of ThriftyFun's
Disclaimer
and
Privacy Policy
. If you have any problems or suggestions feel free to
Contact Us
.