August 31, 2013
0

found this helpful
Go to the farmers supply store and get syringes. I think the one mL ones are the best the smallest ones. I may be wrong... Take out the needles if they are in there.
Now here is a review of this product that you can buy for dogs, the large size and then use a little of it at a time for your cats.
Amazon Verified Purchase (What's this?)
This review is from: Bayer Advantage II Blue 4-Month Flea Control for Dogs 55+ lbs. (Misc.)
The drug in Advantage II for Dogs and Advantage II for Cats is exactly the same drugs (Imidacloprid and Pyriproxyfen) at the exact same concentrations.
If you buy this "Large Dog" package, you get four 4ml tubes. If you then empty those into a vial or vials, you can use a syringe (without needle) to apply the right dosage to your dogs and cats. In fact, if your cats are under 10 pounds, you can get 10 cat doses out of each of these vials. That's a real bargain!
I am a former Vet Tech and can assure you I have been doing this for years (with Advantage first, and now Advantage II) with zero problems.
Use the following chart and you will be fine.
Cats up to 9 pounds - 0.4ml
Cats 10+ pounds - 0.8ml
Dogs 11-20 pounds - 1.0ml
Dogs 21-55 pounds - 2.5ml
Dogs 55+ pounds - 4.0ml
But I have found that I like using lufnuron, I might have spelled it wrong. It is kind of la flea birth control rather than a flea killer. I buy it from amazon, and they come in capsules. The good thing is that when you open the capsules, you mix it with a little cat food liquid or even water, small amount of water and give it to them once a month. Here is the address of where I buy mine:
http://www.amazon.com/Capsules-flav ... AY6X7IM/ref=sr_1_sc_3?tag=thrif06-20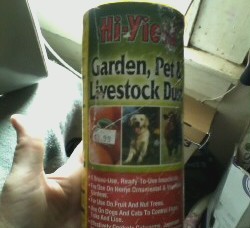 September 18, 2016
0

found this helpful
My daughter is a vet technician. Both she and the vet discourages over the counter flea drops, powders and shampoos. They have been known to make the animal ill and cause death. Spend 7 dollars on capstar tablet. The results are amazing. I had to buy them. My cat was infested by a family members pet. I gave her the tablet. Contained her in bathroom. Every night when I came home from work dead fleas was on the towel I Laid down. Capstar spray is amazing.