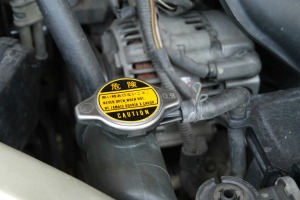 The weather is cold and of course your heater is not working properly. Determining the cause of the problem can be time consuming and frustrating. This is a guide about troubleshooting car heater problems.
Ad
---
Questions
Here are questions related to Troubleshooting Car Heater Problems.
I've changed my heater core and thermostat, but I still have no heat and the temperature gauge goes up. What else should I check?
By B.T.
AnswerWas this interesting? Yes No
Ad
---
---
Best Answers
By Louise B. [6] 02/17/20140 people found this helpful
Apparently you have done some work and spent a bunch of money on parts all for nothing. I am sorry if I am not being helpful, but my son is an automotive technician, and he has trained to fix problems like yours. He is often upset when people tell him what they want done, and then are unhappy because that doesn't fix the problem. At least you did the work yourself. Why don't you take it to a shop and have a trained mechanic fix it for you? Wouldn't that be cheaper in the long run? Tell them the problem and let them solve it!
---
By Grandma J [54] 02/17/20140 people found this helpful
What Louise said, but if you know something about what you are doing, make notes to tell the person who finally is scheduled to fix it. For several decades my husband has fixed and done autobody to the family cars. And 2 of 3 sons went to college tech for these same programs.

Neither of my 2 sons are employed in the programs above, use the info to keep their own things working correctly. Anyway, not sure if this is winter where you are, and the urgency of fixing the car is more than in summer time. If you are starting to fix things now instead of in the fall doing a full check list, I have to shake a finger at you. Catching something that should have been maintence back then was preventable. That being said, other things happen. Did you flush your radiator when doing the things you listed? Did you get things put back in the order they came off? Often a huge mistake. My guys use their phones and take photos as they are undoing, whether rebuilding and engine/tranny or just maintenence on different family cars.
I need help with the heater in my 1989 Mazda b 2600. The heater is not blowing hot and cab is staying cold. If anybody can help with suggestions it would be great.
By Jeff from Virginia Beach, VA
AnswerWas this interesting? Yes No
Ad
---
---
Most Recent Answer
By Chasity [2] 12/11/20090 people found this helpful
Same with me, just needed antifreeze or water, and I had froze all that time!
---
I have a '98 Mazda B3000. How do I get air out of the cooling system to make the heater work? It stays cold after and while driving over 50 miles at a time after replacing the water pump and thermastat and trying to bleed air by cap and hoses to heater core. What's next?
By Keith from Powelton, WV
AnswerWas this interesting? Yes No
---
Most Recent Answer
By Louise B. [6] 01/20/20150 people found this helpful
Take it to a shop, and get a mechanic to check it out?
My 2002 Pontiac Aztec has an issue with heat. When it is set on window vent and or window and floor vents no heat comes out! When I set it on the vents located on the dash (where the air blows out straight at you) there is heat. I live in Minnesota and can't be without the defrosting vent with this -0 temps and wind chills. My husband says I'm crazy that can't happen. I need a logical explanation. Please help. Thanks.
By Cindy M.
AnswerWas this interesting? Yes No
---
Most Recent Answer
By Louise B. [6] 02/11/20140 people found this helpful
This is likely a very simple fix for an automotive technician. Take it to a shop and have them book it in for a quick check. This is not something that you can fix yourself.
The heater motor makes a howling noise at times for few minutes or longer. Other than that it works good.
By Ken from Penticton, BC
AnswerWas this interesting? Yes No
---
Most Recent Answer
The AC/heater fan works correctly, but does not change the temp to hot or cold. Nor does the air compressor come on.
My blower motor will not run except on low. I can unplug the relay and replug it and the blower motor will run only in the hi position. If I turn the switch to any other setting it stops blowing and will not restart unless I unplug the relay and plug it back in with the switch setting on hi. I have replaced the relay, resistor, and the switch and nothing works
By Johnny from Jackson, TN
My 2000 Hyundai heater only blows on floor or on vent, but not on defrost.
By Wayne
Solutions: Troubleshooting Car Heater Problems
Do you have knowledge about this guide topic? Feel free to share a solution!