I've found a use for those clip type hangers that come with new pants or skirts from the store. I use them for hanging my skirts in the closet. But don't like to use them for my pants because of the clip mark that's left on them.
So I keep them handy in the laundry room. Now when I wash my slippers but don't want them to go through the dryer, I clip one slipper to each end of the hanger. I also use it to hang my steam mop pads after washing. Also, any unmatched socks that come out of the washer or dryer get clipped to one.
In the closet it's a great way to store scarves and sash type belts. During cold weather I have crocheted scarves and matching hats and mittens. I clip the mittens to one end, hats to the other end and drape the scarf over the middle, keeping each set together and easy to grab.
I love to feed the wild birds so I hang one of these hangers outside with a small bird treat on either end. I disguise the hangers with silk foliage and flowers. The birds love it.
By Cricketnc from Parkton, NC
January 7, 2013
0

found this helpful
I used to throw them away myself, but my sister clued me in to many uses for them. They are great for hanging out small hand washables too! I had not thought about the birdseed, but now I will try that as well.
Read More Comments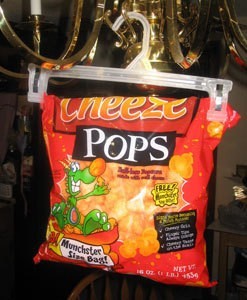 Just as useful as clips, which I sometimes run short of because of having too many snacks open at once, is the hangers with clips! Also, if you are short of shelf or cabinet space, you can hang the snacks on a nail on the back porch out of the way and possibly rodents won't get to them as easily!
By guest (Guest Post)
September 17, 2008
0

found this helpful
I use the pants hangers. to hang up my recipe while I am preparing the recipe. I hook the hanger on the cabinet door above the counter, now the printed recipe is at eye level as I work. You can also hang small cook books, if they are not to heavy.
Read More Comments