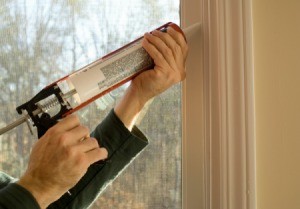 Some time and money spent winterizing your home can translate into energy savings over time. This is a guide about winterizing your house.
Ad
---
Solutions: Winterizing Your House
Read and rate the best solutions below by giving them a "thumbs up".
I save the leftover plastic and tape used for winterizing your windows to use as shrink wrap, rather than the expensive shrink wrap you buy at your local craft stores.
By CINDI2011 from Hicksville, NY
Free home winterization and free light bulbs: In many areas your power company may provide low income homeowners with a free winterization home inspection and certain power-saving fixes for the home. In other areas they may provide winterization kits for your windows free.

These kits can include: Plastic window and door covers, weather stripping for windows and doors, switch plate insulators, along with compact fluorescent bulbs and other goodies.

Even if you're not low income, in many areas you may be able to pick up free florescent light bulbs from your local home center or drug store. Last year I "bought" 8 bulbs at Home Depot, all I had to pay was the tax! I got 8 light bulbs for around 60 cents! At my local Walgreen's they were doing the same thing. You got the light bulbs free, you just paid the tax they didn't have limit, so I stocked up! The ones at Walgreen's were limited to the 60 watt, but Home Depot had larger wattage bulbs too. The cost of these light bulbs was picked up by our local power company, the cashier just scanned a special coupon into the register. If you are interested, call your local power company or ask at Home Depot or Walgreen's the next time you stop in.
By Cyinda from near Seattle
Tips For Winterizing Your Home
Furnace Inspection
Consider getting your furnace (HVAC) inspected by a professional
Remove all combustible materials away from the furnace
Change your furnace filters monthly
Fireplace
Cap your chimney to keep out rodents and birds
Contact a chimney sweep if your chimney hasn't been cleaned in awhile (especially important if you use your fireplace regularly, creosote builds up and becomes a fire hazard)
Inspect your damper for proper opening/closing
Doors And Windows
Inspect exterior doors and windows for cracks-seal
Install weather stripping
Replace cracked glass
Cover windows with plastic to seal out cold air
Roof/Gutters/Downspouts
Install extra insulation in attic if temperatures regularly fall below 32 degrees
Check flashing to assure water cannot enter your home
Clean debris out of gutters
Clear debris away from downspouts-spray with a hose to flush out anything caught in the downspout
Foundation
Rake away all leaves and vegetation
Seal up entry points to keep small animals from entering the house or nesting under your foundation
Inspect for pest infestation
Secure crawlspace entrances
Equipment
Drain gas from your lawn mower
Winterize boat
Tune-up or service snow blowers
Replace rakes and/or snow shovels
Purchase icemelt, sand or kitty litter
Smoke Detector/Carbon Monoxide Detectors
Test to make sure they work
Buy a fire extinguisher or replace yours if it is greater than 10 years old
By Diana from Prospect, KY
Give a "thumbs up" to the solution that worked the best! Do you have a better solution? Click here to share it!
Questions
Here are questions related to Winterizing Your House.
I forgot to winterize my garden hoses, they are still attached to the outside faucets of the house. It's been snowing and in the 20s for days now. What should I do? I'm afraid of my pipes freezing.
By Kathy from Wooster, OH
AnswerWas this interesting? Yes No
Ad
---
---
Most Recent Answer
By Betty [104] 01/13/20100 people found this helpful
I have mine covered and they froze solid but I have not had any pipes to burst.
---
I'm new to this, but was wondering if anyone had tips on winterizing an old house, i.e. windows, etc.?
By Jamerson
AnswerWas this interesting? Yes No
Ad
---
---
Most Recent Answer
By Allison 11/20/20090 people found this helpful
You really need to go around the house and make a list of all the problem areas. (We're in year three of ours and still fixing here and there!). Insulation should be first, then sealing drafts--check the bottom of doors, too, as you can buy sweeps that block the air flow. Plastic is good covering, as are thick drapes.

We have double hung windows that actually move in and out a little so we put wood blocks inside the sill, between the screen and window, to keep the inside window pushed in. You have to get creative.

Here's more:
http://www.thisoldworkshop.com/winterize.htm

---