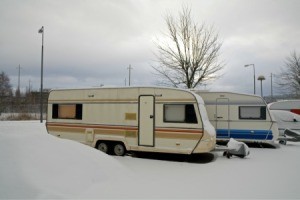 My husband and I spend the winters in the southern states, living in a travel trailer. We have a string of days where the weather is very cool and that is when I do my cooking and baking, enough to get us by for several days' meals. It eliminates the need to keep our electric heater running and warms up the unit at the same time.
I also leave the dish water in the sink and put the plug in the bathtub when taking a shower, until the water has become cold. That adds moisture to the air, which makes it feel warmer.
By anne from Green Bay, WI
Answers

January 20, 2010
0

found this helpful
If you have any plants either inside or outside, and your dish washing soap is phosphorous free, you can water the plants with them!

January 24, 2010
0

found this helpful
Thanks for the good idea! We too are "snowbirds"
Answer

this Question

Any ideas to insulate my mobile home? The floors and walls are cold and I am restricted on money.
By Lorraine from Bristol, CT

Answers

May 28, 2009
2

found this helpful
Go to a thrift store or the attic of a friend or relative, or go to www.freecycle.com and get curtains or decorative sheets to put up on the wall. Line them with old blankets. You can hang them with push pins. While you're there, get loads of rugs to put on all of your floors, even on top of carpet as heat will be lost downward. While you're at it, cover the inside of your windows with plastic, you can buy inexpensive plastic storm windows at the Dollar Store, and make "draft-dodgers out of old fabric to put at the bottoms of ALL of your doors (interior as well as exterior).
Keep the doors to unused rooms shut. Wear heavy socks and put plenty of snuggly blankets and throws on your furniture to snuggle up with in the evening.

May 28, 2009
1

found this helpful
Newspaper is a great insulator. Apply it to the walls like you were making a paper-mache pinata. After you have a thick layer built up, you can paint it or cover the whole thing with fabric - see the DIY tips on how to make fabric stick to walls. My neighbor was renting and wanted temporary wallpaper and used the fabric technique - it was amazing. So your place will be warm and fabulous. (But don't smoke inside).

May 30, 2009
1

found this helpful
Call your local Community Action Agency. Ask about their Weatherization Program. If you're income elegible, which it sounds like you are, they will inspect and insulate your home for free!
It's my belief that all of these Non-Profit Agencies have been given more money through the Stimulus Package.

Cricket
Bronze Post Medal for All Time! 205 Posts
May 30, 2009
2

found this helpful
I also live in a badly insulated mobile home. It took me a long time, but I took one wall at a time, took down the entire wall, and replaced the insulation with better grade and more of it. Then I replaced the wall board (I forget what it's called). As each room got done, I repainted or wallpapered. Now my home is a lot better insulated and my electric bill has gone way down.
It sounds like a lot bigger job than it really is. I did all this by myself. But by breaking it down to one wall at a time, it made it a lot easier, plus the cost was a lot easier to bear too, because I didn't have to pay for it all at once, or put it on a charge card with exorbitant interest rates.

Paula Jo C.
Bronze Feedback Medal for All Time! 119 Feedbacks
May 30, 2009
1

found this helpful
Go to the "community action agency" found in the county office of your area court house; they have helped my friend with her mobile home issues. Ask a clerk in the court house where these folks are and they can point you in the right direction. Good luck and keep us posted on what you do.

May 30, 2009
1

found this helpful
Dear Cumberland: Please don't advise paper in the walls. It gets wet and even if it doesn't, it is a horrible fire hazard.
Heat rises, so do go to the local community action agency and get an energy audit.
If you qualify you can get the belly board redone, which is a band of sheathing under the trailer that holds in the insulation. Chances are yours has been eaten away by critters and or time. Good luck.

May 31, 2009
1

found this helpful
Thank you for your responses. I will call tomorrow to see if someone can help me.
I'll keep everyone posted as this goes.

Cyinda
Bronze Post Medal for All Time! 213 Posts
June 1, 2009
0

found this helpful
Here's some tips that I've posted that may help you::
I hung new throw rugs on my walls (as tapestries) for insulation...
You can also buy those stick-up carpet tiles (or use double-backed carpet tape on the back of carpet samples then hang on the wall as "art")
www.thriftyfun.com/tf69185361.tip.html
Insulate windows with bubble wrap year round:
www.thriftyfun.com/tf79474132.tip.html
In our area they have help for free winterizing:
www.thriftyfun.com/tf61517779.tip.html
There's a powder you can add to paint that's supposed to help insulate
---> insulating additive for paints:
www.hytechceramics.com/
www.nansulate.com/energy_efficient_diy_insulation.htm...
Since you live in a mobile home (like I do) I thought you might find this info valuable too:
Spray & forget siding, roof & deck cleaner:
www.thriftyfun.com/tf50865041.tip.html
* Here's some great tips from other ThriftyFun readers:
Winterizing Your Steel Doors
www.thriftyfun.com/tf27563179.tip.html
Do It Yourself Weatherstripping
www.thriftyfun.com/tf399620.tip.html
Insulating walls:
www.thriftyfun.com/tf77753791.tip.html

June 3, 2009
0

found this helpful
I called CL&P for help. It costs $75 dollars for them to come in to inspect. They do not install anything for insulation. I have to get a contractor to write out the price and they will rebate me about 8% of the cost.
Wanted to get this info back to all of you that were trying to help me.

January 24, 2010
0

found this helpful
If you have central heating, turn your heat up to about 72 degrees during the day. Your rooms may still feel cold. If so, get some space heaters for the rooms you spend the most time in such as your living room and your bedroom. You can get good space heaters at Fred Meyer for about $40 to $60 dollars. Get ones with a digital thermostat that will turn off and on automatically.
Run them only when your home. Insulating your home better is a long term goal you can work on as you get the money and have time. You can beef up the R-factor of your crawl space by adding some foam board insulation if you don't have a skirting with a high R-factor. Remember to cut vents in it if you do this. Good luck.
Read More

Answers

I need some advice about a mobile home/trailer. Here's the situation. I bought my father a mobile home back in 93. It is a nice well maintained home, but it is now 30 years old. My father recently passed away and now I have this trailer to deal with.
I was there yesterday and the kerosene furnace is almost out of fuel. Kerosene is around $3 a gallon here, so I would like to put a minimal amount in the tank for now and possibly winterize the home, drain the water, close it up until it's sold.
I was told I can expect to use around 4-5 gallons a day to heat it. I simply can't afford to waste this money heating an empty home. Does anybody have any thoughts on how to go about this, what do I need to do, who I should contact? The expenses are going to start piling up shortly (fuel, taxes, lot fees, etc.).
I have other issues with this, but I will post them separately. I'm 20 minutes south of downtown Pittsburgh in case anybody here needs a nice, cheap place to live. Thanks for reading!
By Sandy from Pittsburgh, PA
Answers

January 27, 2011
0

found this helpful
I would call a local mobile home sales company, and ask them how to winterize it. They should be able to help you do that so that you don' t have to heat it for the remainder of the winter. People do it all the time for "hunting camps". Good luck, and condolences on your father.

Myrna
Bronze Feedback Medal for All Time! 168 Feedbacks
January 27, 2011
0

found this helpful
Wrapping heat tape around the water pipes helps keep them from freezing...You can get bails of hay/straw and pile up around the ouside frame of trailer, You can apply plastic around the windows and you can buy it cheaply at Walmart on the roll for a lot less than the window kits. You could close off some rooms where heating isn't necessary with a wall of plastic sheeting (again off the roll) and that helps a lot. Put rolled rugs under the door of rooms that are closed off for the winter and insulated drapes or curtains over the windows to the rooms you are having to heat. Leave bathroom cabinet doors open so heat can get to the pipes to help keep from freezing up too until you decide to drain the water lines and/or shut off the water supply. Set several mouse traps around in each room so mice cannot chew/damage/make nests.

January 28, 2011
0

found this helpful
Thank you for responding. I called the mobile home guy that my Dad used for repairs (he was disabled) and he said with the older pipes you are better off not winterizing because of corrosion of the pipes. To do it while it's really cold and snowy would probably cost me as much as the kerosene I had delivered yesterday, $345 for 100 gallons. OUCH! I turned the heat down to 60 and I plan to visit several times a week until it's sold. I just pray that it is soon.

January 28, 2011
1

found this helpful
I feel for you young people who never were required to learn how things are done.
Just drain the water and drain pipes, including sink and toilet and shower traps, and cut off the utilities. Can't drain those traps? Fill them with car windshield-spray solution or rubbing alcohol. I grew up in northern Minnesota. We built a small summer resort and had to winterize ten cabins every single year! There was no money to call in the so-called "professionals". When that happens a person learns rapidly.

(Guest)
Gold Post Medal for All Time! 846 Posts
January 28, 2011
0

found this helpful
Listen to tomatoehanger and phooey with the professionals because most of them have a self serving agenda! Since you have just put in oodles of new kerosine you'll be able to prove to a serious buyer, who actually places a real offer to purchase, that the heating system works and all you have to do to prove the plumbing works is to turn the water back on again and drain and turn off again until the closing papers have been signed! Just make sure everything is documented and signed in writing by the buyers and possible inspectors that you proved the heat and plumbing works fine! Good luck to you for a speedy sale!
PS - God Bless your heart for having purchased the trailer for your daddy!
Read More

Answers