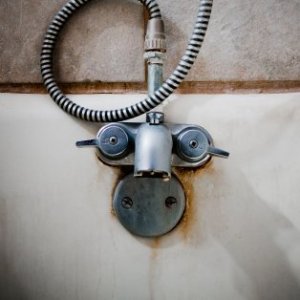 Rust stains can get on your tub either from old plumbing or from metal objects left sitting around the edge. These stains can be removed from your tub by using the proper cleaning products. This is a guide about removing rust stains from a bathtub.
Ad
---
Questions
Here are questions related to Removing Rust Stains from a Bathtub.
How do you get rust and other stains out of a bathtub without scratching the tub?

By Jenna from Salem, OR
Ad
---
---
Most Recent Answer

By Zetta04/07/2011
I second the vote for the Magic Eraser. Generic equivalents work as well.
Plastic bottles of Clorox that were left in a porcelain tub for a long period left rust stains in the tub. Why?
By Jarvi from Minneapolis, MN
Ad
---
---
Most Recent Answer

By Jack Russell08/15/2014
Chlorine, the active chemical in bleach, is an oxidizer. Rust is oxidation. Chlorine causes rust to appear much faster than mere water based moisture.
How do I remove rust stains from a bathtub?
By Joseph Di T.
---
Most Recent Answer

By rchapuli05/02/2014
I was surprised at how well The Works works. Rust on my fiberglass tub just kinda disolved away after 10 minutes. I was also surprised at how useless CLR and bakingsoda/vinegar were. Just beware The Works smells strongly of rotten eggs buts it's worth it.
How do you clean rust from a porcelain bathtub?
By Anastasia from Berkeley
---
Most Recent Answer

By MelBunny [1]08/16/2012
Just don't use bleach, it will set the stain in.
How do I remove rust from my cast iron tub?
By Patricia D.
I have a white porcelain bathtub that was heavily stained with rust when rusty drain clearing cable was left spread in tub. Sprayed the tub, sprinkled Bar Keepers Friend on stain. Wet cloth and lightly scrubbed the tub. The rust disappeared 90% first application. Repeated day latter only traces of faint rust shows I am not sure how many times I can use BKF, their web site says remove after one minute.
By UncleDaveM
Solutions: Removing Rust Stains from a Bathtub
Do you have knowledge about this guide topic? Feel free to share a solution!
Archives
Thrifty Fun has been around so long that many of our pages have been reset several times. Archives are older versions of the page and the feedback that was provided then.
How do you remove rust stains from a bathtub?
dixie35481 from Alabama
---
RE: Rust Stains in the Bathtub
As far as I am concerned it depends on what your bathtub is made out of. For my metal tub I really like to use CLR in the yellow spray bottle, which I purchase at Walmart. But my tub surround is fiberglass and the CLR doesn't really do the trick for that.
For the tub surround I use something in a purple bottle with a green top. It is called Kabam or Kazoom, or something like that. If you look for the see through bright purple bottle with a green top you found it. I buy it at Walmart. If you have a big build up, it will take more than one application and some scrubbing. Once you actually get it cleaned, if you just spray it on and wait a minute you can wipe with a sponge and rinse.
Good Luck (03/29/2006)
By dpcw
RE: Rust Stains in the Bathtub
Did you try Bleach? I would open a window and pour the Bleach wherever the rust is and let it sit. When it's done, hose it down with your shower. (03/29/2006)
By JILLSAVES
RE: Rust Stains in the Bathtub
There is no better product than Wink rust remover. It makes the rust disappear right before your eyes. I use it all the time and recommend it highly! (03/29/2006)
By Robin
RE: Rust Stains in the Bathtub
If it is enamel or porcelain, try using a pumice bar. I have an area around the sink overflow that gets rusty and the pumice bar takes it right off. (03/29/2006)
By Katie A.
RE: Rust Stains in the Bathtub
I use Clorox Cleanup. It's great for tubs and sinks and is non-abrasive. (03/30/2006)
By Claudia- MD
RE: Rust Stains in the Bathtub
I know this sounds a little crazy, but it works. It's called "The Works" toilet bowl cleaner. We have well water and it has a lot of iron in it. I just squirt The Works on it and let it sit for a minute and it wipes right out. I live in a mobile home so I have fiberglass sinks and tubs and it has never damaged them. Make sure it is the toilet bowl cleaner though. They make another product for soap scum and lime scale, but it doesn't work for rust. Good Luck! (03/30/2006)
By nana6x
RE: Rust Stains in the Bathtub
Hi,
If you live in the states there is a cleanser called ZUD, it is in a container like Comet Cleanser. We can't get it in Canada anymore, but my friend got me some in the states. Works really good and fast. (03/30/2006)
By sandy
RE: Rust Stains in the Bathtub
As Nana6x said, The Works, works very well. My conditions are like hers. I've left the stuff on over-night w/o problems.
Another idea, when you have the time. Use a fine/small grain of sandpaper; used it when I was out of the former and wasn't going into town anytime soon. The rust build up can be so thick but I've not seen any 'wearing' on the fiberglass tub. It does a fine job; also works on stainless steel kitchen sinks. (05/11/2009)
By gator10tx
I have rust stains on an old fiberglass tub. What type of vinegar do I use to remove the stains? Apple cider or white vinegar?
By Linda145 from AR
---
RE: Rust Stains in the Bathtub
Not sure about vinegar, either one shouldn't hurt to try. If that doesn't work try a product called "Iron Out" you can find it at stores like Lowe's or Home Depot. Good luck. (10/29/2009)
By willsmaw
RE: Rust Stains in the Bathtub
I am thoroughly amazed at how well The Works did on my tub. My husband just squirted some on a sponge and wiped the rust in one swipe. it created a very clean stripe down the wall. We have been scrubbing and scrubbing at this tub, trying to get the rust stains off the wall and tub itself. We tried Lime Away, CLR, and Kaboom. None of them worked, and you were worn out just trying. Thank you for the suggestion of The Works. I'm so glad I found this site. (10/31/2009)
By merejoy
How do I remove rust stains from the bathtub?
By Kim from Hartford, CT
---
RE: Rust Stains in the Bathtub
If this is a metal or cast iron tub, Bar Keeper's Friend (found near the Ajax, about $2) works well. (01/07/2010)
By Lisa Kay
RE: Rust Stains in the Bathtub
I have used a product called Whink. It works on just about anything but is pretty toxic. Can be found in most grocery stores. (01/08/2010)
By HalfWhit
How do I get rust stains out of a fiberglass tub?
By Linda from Nevils, GA