Homemade Garden Decorations
Solutions: Homemade Garden Decorations
Read and rate the best solutions below by giving them a "thumbs up".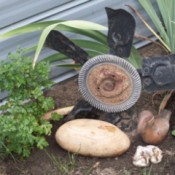 I love to use old primitive looking things that I find, in my garden. This was found on the side of the road and I thought it looked like a flower, so I added it to my garden and throughout the summer, I started placing little flowers around it. I like unusual things in my garden, things, others might just throw away.
By Katie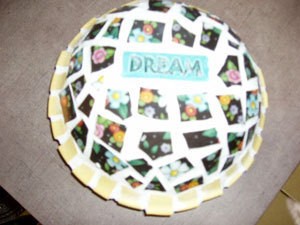 Make a mushroom cap out of concrete poured into a small plastic bowl, dried and cover it will broken plate "tiles" and grout! Pour concrete into a plastic ice tea cup and make the stem. Let dry, remove plastic cup, seal with glue and water, cover with tiles. Wait a day and grout. Place mushroom cap on top of the base. You''ll have an inexpensive and whimsical garden decoration. The picture is just of the completed top.
By Kim from Walnut Hill, FL
Editor's Note: Also a good way to use up your favorite broken pottery and dishes.
Share Your Feedback:
Once you try any of the above solutions, be sure to come back and give a "thumbs up" to the solution that worked the best for you. Do you have a better solution? Click "Share a Solution" above!
Questions
Do you have a question related to this page?
Photos
Here are photos related to this page. Rate the photos that you like the best.
Click here
share a photo.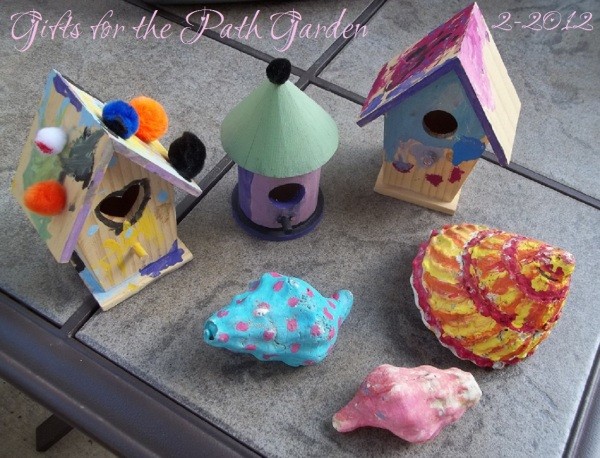 Looks like someone has been busy decorating in the "Path Garden" again. Hubby found these last Saturday. He hung two of the bird houses in trees, put the smallest on a pole back in the garden, and placed the shells back where they were left.
READ MORE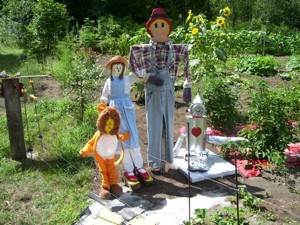 My husband and I thought we would make gardening more fun by having a Wizard of Oz Theme. Our favorite is the tin man, made with various "junk" from around the house like an old teakettle, trash can and funnel. This year we are planning an Alice in Wonderland Theme.
READ MORE