Here I painted a pot black and yellow and filled it with flowers using coffee filters.
Approximate Time: 2 hours
Supplies:
clay pot
yellow, green, and black acyrilic paint
coffee filters
food coloring: red, blue, yellow
paint brush
pictures of bumble bees
glue
floral organizer
wire for stems or stems from old flowers
floral tape
Instructions:
Clay Pot

Paint your clay pot yellow.

When dry paint black stripes onto your pot. This makes the pot have a cute bubble bee look.

Coffee Filter Flower

Fold two coffee filters into thirds on each side.
Fold the other 5 in half again.
Take your 5 filters and cut into a petal shape. It will look like a heart shape cut along the fold you will then have two hearts each 2 layers.
Then cut the other two folded into thirds into a petal shape. These will look like three petals when opened.
Take your wire and bend into a hook at the top,and put it through the one petal center you folded into thirds and fold your hook tightly closed.

Place glue on your hook to hold it onto your flower.
Then fold flower at one side to middle and fold the other side to the middle glue as they meet in the center.
Take the other filter you folded into thirds and put a pleat in the middle apply glue at bottom of your flower.
Keep all flowers even as you wrap around your wire glue on the next one. Fold 4 of your coffee filters at the bottom about 1 inch. It should look like a triangle at the bottom.

Put glue across the bottom and roll around your flower not to tightly, and pinch at the bottom to hold onto your stem.
Roll next three around your flower the same way. Fold rest of your petals up 1/2 inch. They should look like a triangle at the bottom, glue it onto your flower do the rest the same way. Then your flower is done.

Flower Leaves

Wrap your wire with floral tape.
Paint a coffee filter green, let dry.
Then cut out an oval shape for leaves.
Fold in half and in half again
Cut the top of each side into a leaf shape
Cut the tip off the bottom to open the center.

Then unfold and slide up the bottom of your stem and glue to flower.
Coloring the Flowers
Mix blue food coloring into a cup and open the middle of your flower and paint food coloring in there and into the rest of your layers you only need a little bit it will spread.
Do the same with red, and yellow food coloring.
Put your floral organizer in your pot and arrange your flowers. To cover your organizer I painted coffee filters with red food coloring to put in the pot around the flowers. The last step is to glue bees around your pot.
By Coville123 from Brockville, Ontario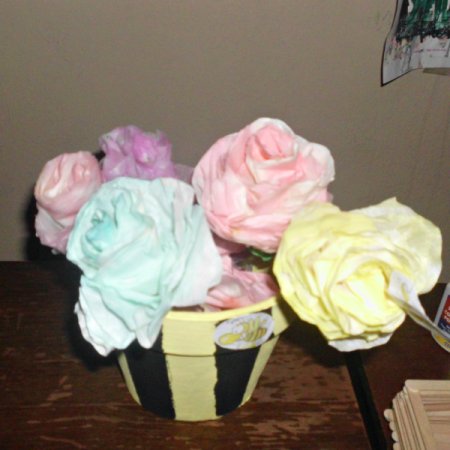 March 16, 2012
0

found this helpful
Here are some of mine. When we find a pencil that won't sharpen right, we use them for these little flowers!
Yours are so beautiful! They look like roses...mine look like carnations!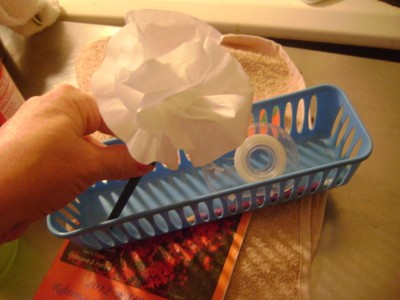 March 17, 2012
0

found this helpful
Love the carnations I will have to try one!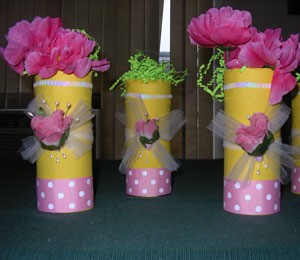 We needed some cute vases for a baby shower, but funds were running low. So, I bought some Monetta Luxury cream wafer cookies, $1.00 a can at The Dollar Tree. I removed the cookies (and served them at the baby shower). I covered each can with a large size yellow napkin from Wal-mart (also $1). They fit great. No cutting involved.
I used a glue stick on the edge to secure the napkin. Then I hot glued a styrofoam ball inside each one to stick the flowers in. I added ribbon, rose buds, sequins, tulle and teardrop pearl beads. I attached them with a hot glue gun to the outside. I filled each one with bright green paper grass and pulled it up so it stuck out of the top about 2 inches. To some of the others, I added pink flowers inside them. They were a big hit at the shower and added wonderful touch. I added them to the guest tables and the Mommy and Daddy to be table. Everyone loved them. They were so easy to make.
You could really decorate these for any occasion. I am keeping them to do something for Thanksgiving and Christmas. We have a huge sit down dinner at my house for these holidays.
By Tammy from Herrin, IL
March 31, 2009
0

found this helpful
Sweet! Very creative! I love that you can reuse the containers.
April 1, 2009
0

found this helpful
Yes! Kudos to you for recycling as well as saving money on an item that will only be used for that occasion. Baby showers can be expensive, so the more ways that money can be saved the better. Thanks for including the picture. They're really pretty and festive.
April 4, 2009
0

found this helpful
Very fresh and pretty! great tip so many ideas too, using a pringle potato chip can
all kinds of ideas. Thank you for idea and inspiration!