Solutions: Making Covered Hangers
Read and rate the best solutions below by giving them a "thumbs up".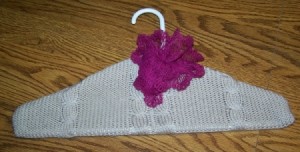 If you are like me you like to hang coats and nice blouses on fabric non slip hangers.
Approximate Time: 1 hour
Supplies:
old sweater
one hanger
sewing machine
needle and thread
pins
wide lace
scissors
marker
Instructions:
If you have an old sweater laying around here is a way to put it to good use.
Lay your hanger on the back of the sweater with the hook at the neck, draw around it.
Now carefully flip the hanger so the hook is pointing in the opposite direction and the bottom of the hanger is laying on the line you drew for the bottom. trace around the curves and top edges. Cut it out 1/2 inch outside this drawn line. Pin the fabric together before sewing.
Refering to the photo start sewing at one pin and continue around the bottom and back up toward the hook. Turn the cover right side out slip the hanger in, it will be a tight fit but if you back stitched good it will hold. Pin the opening shut and hand sew it shut.
Take around 8 inches of wide lace and gather it. Run your needle through the base from one side to the other several times to secure all of the fabric together. Now start untwisting your lace which will loosen the fabric so you can fold some of the outer edges back as petals. Just keep playing with it until you like what you have. Pin it to your hanger at the hook and then sew it down.
By Ann from Loup City, NE
Share Your Feedback:
Once you try any of the above solutions, be sure to come back and give a "thumbs up" to the solution that worked the best for you. Do you have a better solution? Click "Share a Solution" above!
Questions
Here are questions related to
Making Covered Hangers
.
Nylon Strip Covered Clothes Hanger
I would like to find the directions to cover a clothes hanger with wide nylon strips. My kids learned to do this in 4-H or school, but I don't know where these directions are. Thank you.
By Donna M
---
Most Recent Answer

By Kaelle
01/20/2012
Not sure if this is what you were looking for but check out these links:

http://craftygardener.blogspot.com/ ... /11/braided-covered-coathangers.html

http://www.craftown.com/artpat11.htm

http://pm-betweenthelines.blogspot. ... iy-colorful-wire-clothes-hanger.html
Related Guides
Related Posts