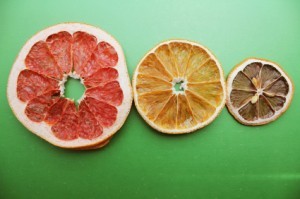 Dried grapefruit is a tasty healthy snack. It also makes a nice spicy addition to some dishes when powdered. This is a guide to drying grapefruit.
Questions
Here are questions related to Drying Grapefruit.
I have a grapefruit that was started from seed, I do not know the variety. It is about 18 inches in height now and pretty healthy. The leaves are like a double leaf, in that there is a smaller section near the stem then a larger leaf beyond that. Currently it is in a 4-6 inch pot indoors, but it is exceeding it's home now. I can't just let it die so I would like to know how to care for it and help it live.
By Gale from San Rafael, CA
---
Most Recent Answer

By michele06/12/2010
I bought a house with a grapefruit tree that had never given fruit in 7 years. We did not get fruit until 3 years later. But now, 7 years after that, I usually fill at least 15 of those 30 gallon tubs each spring. I take the fruit to school to school for my students and parents to have. I play rock 'n roll all summer long in the back yard while I'm in the pool. I'm sure that's what makes it produce so much fruit.
Solutions: Drying Grapefruit
Do you have knowledge about this guide topic? Feel free to share a solution!
Archives
Thrifty Fun has been around so long that many of our pages have been reset several times. Archives are older versions of the page and the feedback that was provided then.

By Ellen Brown Q: Ellen,
I have a grapefruit tree that I actually rooted from a seed that was germinating inside a grapefruit I bought. It is now outgrowing its pot. Does it have any chance of bearing fruit?
Hardiness Zone: 7a
Bekkicat from Charlotte
A: Bekkicat,
There is always a chance, but the odds are not exactly in your favor-especially growing it indoors. Grapefruit bought at the supermarket are usually the result of hybrid plants developed by breeders. Once these plants develop the appropriate desirable characteristics, they are propagated asexually in order to reproduce copies of the parent plant. A few of these "clones" turn out to be sterile, but many will produce fruit. If you do get a fruit producer, the grapefruit probably won't exhibit the same size and flavor characteristics as the grapefruit you took the seed from, but that doesn't mean it won't be good. Who knows, you may stumble upon something even better! I'm currently growing a Granny Smith seed from a great apple I ate this past summer. My advice would be to move your plant to a bigger pot, be VERY patient (it can take years) and keep trying!
About The Author: Ellen Brown is our Green Living and Gardening Expert. Click here to ask Ellen a question! Ellen Brown is an environmental writer and photographer and the owner of Sustainable Media, an environmental media company that specializes in helping businesses and organizations promote eco-friendly products and services. Contact her on the web at http://www.sustainable-media.com
---
RE: Growing a Grapefruit from Seed
I also planted a seed from a grapefruit I bought at the store. I started it in a pot and transplanted it into the grown. That was about 3 years ago. Its now about 14 feet tall and I got a large crop of very good grapefruit from it. They are about the size of a navel orange, but very sweet. (03/22/2007)
By Barbara
RE: Growing a Grapefruit from Seed
My wife planted a grapefruit seed about 10 years ago. A friend gave it to her as it had sprouted in the fruit. She grew it in a pot in the house. Shortly thereafter I planted an orange and lemon tree (and the grapefruit tree) from the valley of course they were grafted and produced fruit the first year.
The grapefruit tree made a beautiful tree. All it made was thorns. I trimmed the lower limbs down so I could mow. This spring it finally bloomed. My daughter called us. We were in Florida for the winter. It probably has 500 to 1000 fruits on it now they are ruby red and really sweet. The only problem is I thought the tree would never make and let it grow without pruning. It is now over 20 feet tall. Trees will grow from seeds, but it will take many years. I know this tree is 10 to 12 years old and this is the first year to bloom and produce. So if you plant one don't give up on it as I did. (12/02/2009)
By ejsavage