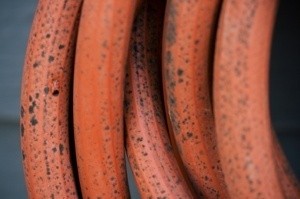 Before throwing away a leaky water hose, there are a number of ways it can be reused. This is a guide about uses for old garden hose.
Ad
---
Solutions: Uses for Old Garden Hose
Read and rate the best solutions below by giving them a "thumbs up".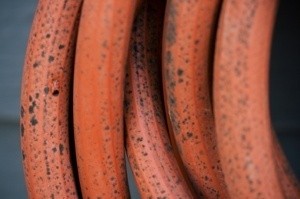 Don't throw away your old garden hoses there are many uses for them.
Cut chunks to use around trees when keeping them from leaning, just run wire or rope through the hose and tie to a stake in the ground.
Cut a piece the length of a flower pot, cut holes out of it so water will run out. Place in the middle of your pot and fill with dirt. Water in the hose and you won't wash out the dirt. Works great in strawberry planters so you don't knock the blooms off the plants.
If you have dogs that bother you when you walk take a short piece of hose with you, it is light weight and easy to use.
If the hose has a leak, purchase spigots made for drip hose, lay your hose through a flower bed or garden, drill holes where you want it to drip and insert more spigots. Works great along a row of bushes, you can leave it year round. Just drain it in the winter.
If you have to run an electric cord outside, slit the hose lengthwise, press your cord into the hose and the hose will protect your cord. Just cut it the length of your cord.
Use if for a cushion if your car barely fits into your garage, secure it to a board on the wall where your bumper will touch instead of your bumper hitting the wall, or on your boat dock, anyplace you need cushion.
Make a loop, attach to the ceiling in the garage and hang bicycles, tools or what ever without scratching them.
Attach a board to the wall of the garage, screw the hose to the board, make a loop large enough for a shovel handle, put in another screw, repeat as many times as you want.
Extend a funnel with a chunk.
By latrtatr from Loup City, NE
Use pieces of a leaky garden hose to cover a metal handle on a bucket. Trim to handle size and slit the hose down one side. Slip it over the handle and secure with electrical tape.
Source: my grandparents
By duckie-do from Cortez, CO
Editor's Note: Be sure to check with your local fire department to find out if you are allowed to burn this. Be cautious when breathing the fumes from a bonfire. Although the colors may be beautiful, they also might be toxic gas.
My husband takes old garden hoses and cuts them in about 10-12 inch lengths. He sticks the pieces in a 5 gallon bucket for storage and sets them in the garage for future bonfires.
When we have a bonfire, he takes a piece of the hose and places it inside a piece of copper tubing. After a long day of work in the yard, we take a dip in the pool and have a bonire.
Throw the piece of copper tubing in the fire. As it heats up it creates the most beautiful flames: red, blue, green, orange, purple, etc.
After the fire has burnt out, salvage the copper tubing and stick it in the bucket with the garden hose pieces to use it over and over again. You and your beautiful flames will be the talk of the bonfire.
My garden hose has been left outside neglected too many times but it still has a purpose as saw blade covers! Cut the hose to the length of the blade and slit down the side so that it can be slid over the blade as protection. It could also serve another way in the garden to mark out a curvy edge for plants rather than a straight one. Just toss it out along where you want it and move it a little bit to make nice curves for the flower beds or garden rock!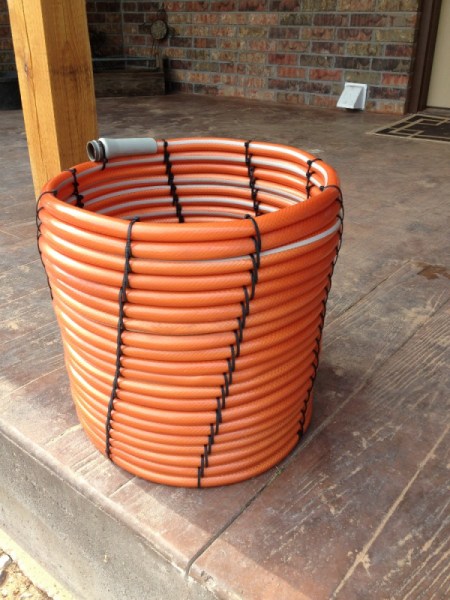 Rancher Girl here from A Building We Shall Go! I converted an old garden hose and some zip ties into a garden hose basket. I will show you how! Follow the link below.
Link: http://abuildingweshallgo.blogspot.com/2013/07/1-old-garden-hose-and-201-zip-ties.html
By bobesue [2]
If you have an old or cracked garden hose lying around it's pretty easy to turn it into a drip irrigation hose. Use an ice pick or other sharp implement to poke holes in the hose. Then cut some scrap fabric into strips and tie those around the hose where you have punched holes. Then cap one end of the hose, hook the other end to the faucet and turn the water on low.

By Fisher
Use your old garden hose as a border for your garden. It keeps rabbits out because they think it's a snake.
Source: My great grandfather
By Jenny R. [1]
Wheelbarrows with wooden handles often have splinters on the handles. To stop the splinters, measure the length and the thickness of the handles. Go to you auto parts store and request a water hose that has a diameter smaller than the wheel barrow handle and a length just an inch longer than the combined length of both handles. The inside diameter of the hose can be as much as a quarter inch smaller than the handle. Cut the hose in half; put soapy water inside the hose(s). Use the side of a hammer head to tap each hose on.
By CVwashingtonjr from Prince George, VA
Give a "thumbs up" to the solution that worked the best! Do you have a better solution? Click here to share it!
Questions
Here are questions related to Uses for Old Garden Hose.
How can I recycle an old garden water hose that has a hole in it? I am not interesting in trying to repair it but can I use it for something else?
By Betty from Lubbock, TX
Ad
---
---
Best Answers

By kathleen williams [23]04/08/2010
If you have fruit trees, put it in them to keep birds away.
---
Best Answers

By Robyn Fed [388]04/08/2010
I have seen people who have to tie their small trees up, use it to cover the string so the string doesn't touch the tree branches. They do that at the parks over here, all the time. I like the soaker hose idea, it uses less water.
---
Best Answers

By Cyinda [214]04/07/2010
I made a sprinkler out of mine. You can also make a slow-drip hose to water your outdoor plants & flowers.

First dry out the hose, then take an old soldering iron & use the end of the hot soldering iron to poke holes in the hose every 1 or 2 inches. Wait several seconds between holes for the iron the reheat. You can buy a soldering iron for around $5 & if you wipe all the rubber off the soldering iron while it's still hot you can still use it to solder with later.

You can use this hose to slowly feed your plants & you can even bury it underground if you like & just drip the water slowly. Or you can use it as a sprinkler above ground. I made mine for an area where I was going to have a ditch dug for additional wiring & used it to wet & soften the ground before digging.

Before using your new hose, cover the end of it with Duct Tape or a screw-on hose attachment that you can close to keep the water in so the pressure will build up & make the water squirt out of the hose. It works best if you align the holes (when poking them) along only one side of the hose. Place the holes up for an above-ground sprinkler & down for an underground drip-feeder.

If you want to make a drip-water hose, you'll have to first know where you are going to bury it. Simply measure the area BETWEEN the plants & don't poke holes where there are no plants. Underground drip-watering is a very effective way to water your plants & conserve water because hardly any water evaporates so you can also water during the warm part of the day.

You need more holes further away from the spigot & less holes closer, because there is more water pressure closer to the faucet.

You can also repair almost any hose.
They sell all the pieces to repair them at Hardware stores & also at Big Lots (the liquidation store).
---
Best Answers

By Dave [1]04/07/2010
Add some more holes and use it to make a soaker hose for your flowers or garden.