Solutions: Uses for Old Garden Hose
Read and rate the best solutions below by giving them a "thumbs up".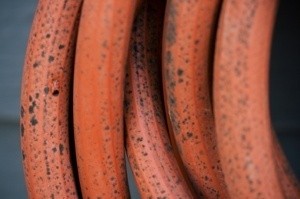 Don't throw away your old garden hoses there are many uses for them.
Cut chunks to use around trees when keeping them from leaning, just run wire or rope through the hose and tie to a stake in the ground.
Cut a piece the length of a flower pot, cut holes out of it so water will run out. Place in the middle of your pot and fill with dirt. Water in the hose and you won't wash out the dirt. Works great in strawberry planters so you don't knock the blooms off the plants.
If you have dogs that bother you when you walk take a short piece of hose with you, it is light weight and easy to use.
If the hose has a leak, purchase spigots made for drip hose, lay your hose through a flower bed or garden, drill holes where you want it to drip and insert more spigots. Works great along a row of bushes, you can leave it year round. Just drain it in the winter.
If you have to run an electric cord outside, slit the hose lengthwise, press your cord into the hose and the hose will protect your cord. Just cut it the length of your cord.
Use if for a cushion if your car barely fits into your garage, secure it to a board on the wall where your bumper will touch instead of your bumper hitting the wall, or on your boat dock, anyplace you need cushion.
Make a loop, attach to the ceiling in the garage and hang bicycles, tools or what ever without scratching them.
Attach a board to the wall of the garage, screw the hose to the board, make a loop large enough for a shovel handle, put in another screw, repeat as many times as you want.
Extend a funnel with a chunk.
By latrtatr from Loup City, NE
Use pieces of a leaky garden hose to cover a metal handle on a bucket. Trim to handle size and slit the hose down one side. Slip it over the handle and secure with electrical tape.
Source: my grandparents
By duckie-do from Cortez, CO
My garden hose has been left outside neglected too many times but it still has a purpose as saw blade covers! Cut the hose to the length of the blade and slit down the side so that it can be slid over the blade as protection. It could also serve another way in the garden to mark out a curvy edge for plants rather than a straight one. Just toss it out along where you want it and move it a little bit to make nice curves for the flower beds or garden rock!
If you have an old or cracked garden hose lying around it's pretty easy to turn it into a drip irrigation hose. Use an ice pick or other sharp implement to poke holes in the hose. Then cut some scrap fabric into strips and tie those around the hose where you have punched holes. Then cap one end of the hose, hook the other end to the faucet and turn the water on low.

By Fisher
Share Your Feedback:
Once you try any of the above solutions, be sure to come back and give a "thumbs up" to the solution that worked the best for you. Do you have a better solution? Click "Share a Solution" above!
Questions
Here are questions related to Uses for Old Garden Hose.
Uses for a Broken Garden Hose
How can I recycle an old garden water hose that has a hole in it? I am not interesting in trying to repair it but can I use it for something else?
By Betty from Lubbock, TX
---
Most Recent Answer

By kffrmw88
04/08/2010
If you have fruit trees, put it in them to keep birds away.