Uses for Yogurt Containers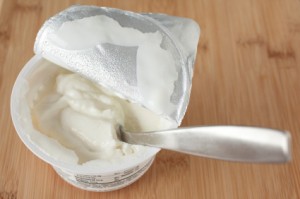 The number of empty yogurt containers you put into recycling can really add up, especially if you have children. However, these small handy containers have a myriad of uses other than holding yogurt. This is a guide about
uses for yogurt containers
.
Solutions
Share on ThriftyFunThis guide contains the following solutions. Have something to add? Please share your solution!
I reuse the tops of plastic containers, such as yogurt and sour cream and such, to hold trash bags closed. I came up with this idea after looking at the little plastic things that hold bread bags closed and deciding I wanted one of those for the garbage bags. I take the lid and cut it half way into the center. At the center, I make a small pea sized hole, then come out very close to the last cut. Now I can put this on the trash bag. The dogs can't get into it, but I can get into it in a hurry if I have to without untying the bag itself or twisting off those twisty ties.
By Robyn Fed from Hampton, TN
Read 1 Comment
I hate just recycling the yogurt containers in the recycle bins, so here are a few things I use them for:
To plant small plants to give away (poke holes in the bottom)
To store paper clips or other small things
I use them to measure my cereal. I am on Weight Watchers and most yogurts are 6 oz. which is 3/4s of a cup. Most servings of cereal are also 3/4s of a cup. I just put it in the cup and run out the door to work and eat the cereal without milk.
By laidback racing from Charleston, SC
Read 2 Comments
March 2, 2004
4

found this helpful
Fill empty yogurt containers 3/4 full of water and freeze. This makes very large ice cubes that will keep a drink cold for hours. They can also be used in vacuum bottles to keep drinks cold all day. To remove the ice, simply hold the container under running water for a few seconds. The ice will slide right out and the container can be refilled to use again.
Randal
Read 2 Comments
I have been doing a lot of paper gluing and then covering the objects with a solution of glue and water. The yogurt containers are perfect for mixing the glue with water in small amounts. They are also great for doing papier maché projects as one can mix smaller amounts for small projects, then just throw away the unused portion.
I save these containers for any project that I know I will only use a small amount of glue, paint or any other medium. Also perfect for mixing a new color of paint to try out before making a larger amount. One can even save the small bits for a couple of days if necessary by putting a piece of clingwrap over the top.
Read 2 Comments
I love turnip salad but have to limit the amount I eat as it contains vitamin K which I can't have a lot of due to taking blood thinner. So when freezing it, I freeze it in small amounts so it will not get wasted.
In the past, I have put it into zip lock bags and flattened them. This was good for stacking in the freezer plus it thawed easily but it was taking a lot of freezer bags. Recently, I started freezing the turnip salad in 6 ounce yogurt containers. After frozen, I dump the frozen turnip salad on a piece of Glad Cling Wrap, wrap it and put it into a gallon size zip lock bag. This bag holds several servings and when empty, I can reuse the zip lock bag.
I wash the yogurt containers and they are ready to be used again for freezing the next batch of turnip salad from the garden. For leftovers that are liquid, such as gravy, I use this same method for saving them for another meal.
By hate litter from NC
Read 3 Comments
I know most yogurt containers are recyclable these days, but I still dislike throwing out things that could be repurposed. I am reusing my empty yogurt containers for starting my spring garden seedlings.
The yogurt containers I use have bottoms that are easily cut out. The bottomless containers are placed on a flat plastic tray. Dirt, seeds, water, and fertilizer can be placed in the container. Voila, instant seedling starters. Then when they are ready to go into the garden, you just dig a hole and the place the container over the hole and push the new seedling out. Friendly reminder, don't let the seedling get too big or you'll have to cut the container off.
Read 1 Comment
January 2, 2005
1

found this helpful
I don't throw anything away. The other night my Brownies were making mobiles. Instead of buying hangers, I used the empty yogurt containers. Punched holes around the bottom and they hung stuff from it. By Connie
Read More...
I use them for craft projects. They are great as paint, water, or glue containers for the kids.
Read More...
I like to reuse yogurt cups for holding water when painting. I especially like to use the kind that come with the plastic dome lids (like YoCrunch or any other yogurt that comes with toppings). I cut a little hole in the middle of the lid. This helps minimize spilling disasters.
I open cans of fruit and divide it into yogurt containers. My husband looks forward to his fruit every evening as a snack. Sometimes there is enough for three or four days.
Read More...
Questions
Ask a QuestionHere are the questions asked by community members. Read on to see the answers provided by the ThriftyFun community or ask a new question.
I'm looking for interesting uses for everyday objects like yogurt containers.

Gloria from California
November 1, 2010
0

found this helpful
I found some Krylon spray paint made for plastic and painted my washed yogurt containers & lids for holiday cookie containers. No need to buy tins!
Read More Answers
Related Content