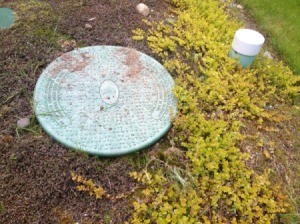 Homeowners with septic systems need to take care with the types of household cleaners they use that might enter their septic system. This is a guide about septic safe cleaners.
Ad
---
Questions
Here are questions related to Septic Safe Cleaners.
Is Vim cleaner safe for septic systems?
By Kay
AnswerWas this interesting? Yes No
Ad
---
---
Best Answer
By DCA 4 1,237 03/26/20150 people found this helpful
It is extremely difficult to find the "truth' in advertizing, product ingredient labels, etc. I tried various online search methods and could not find one clear statement about a VIM product and possible septic tank problems. A big problem with product and ingredient consumer labels is that there is essentially no government or "watch-dog" agency policing what manufacturers claim about their products. A very good example is a product label stating it is made from 98% "natural" ingredients. Many "natural ingredients" can be (and often are!) just water; so a product can be 98% "natural water" and 2% terrible and/or worthless ingredients.

Also, there are many products in the market that claim "natural" and "no animal testing". People believe and buy a product assuming no animal testing. However, these companies are simply stating their version of truth in advertizing, that they do not test on animals.

However, they are quite free to purchase a needed ingredient from a company that does test on animals as there is no other way to obtain it. The company can then claim "no animal testing" on it's product labels.

Re your specific septic tank question. I recommend you contact the company that services your tank for their input. Just because a product contains "natural, basic, essential, etc.," ingredients does not mean it will not damage something it is used in, on, with, etc. Caveat emptor!
Can anyone tell me if I am correct in thinking that you are not supposed to use biological washing powder if you have a septic tank? Does its use upset the system?
Many thanks.

By dobinson from Devon, England
AnswerWas this interesting? Yes No
Ad
---
---
Most Recent Answer
By Carol Swanson 35 213 06/09/20090 people found this helpful
I believe its safer for the septic system than regular detergent. REgular detergent interferes with the ecosystem in the tank and kills off the natural bacteria. Try to stay away from harsh cleaners that do that.
---
I bought a house in the boondocks, with private water and septic. What are the dos and don'ts? I love bleach as a disinfectant, is it okay to use?
By ThriftyFun.com Staff
Is Ivory liquid and bar soap septic safe?
By Linda
AnswerWas this interesting? Yes No
---
Most Recent Answer
What can I use to clean the toilet tanks? Right now they look black stained. I recently put in a water filtration system and expected to see clear water in my toilet tanks. Instead whenever I open the toilet tanks it is all black. I have a septic system, so I don't want to use anything that will cause a problem with the septic system. Any help would be appreciated.
By FRizzelli from Brookfield, MA
AnswerWas this interesting? Yes No
---
Most Recent Answer
By Deanj 917 06/09/20090 people found this helpful
The water that comes into the house is dispersed to all outlets, the sink, shower, toilet. If the water is not black in the kitchen or bathroom sinks then I don't think the water in the toilet tank is black either. When I took the top of the toilet tank off my tank to insulate the inside of the tank I also noticed black mold on the walls which made the water look black.

I took the tank off the toilet, took it outside and cleaned the tank with bleach. I then insulated the inside of the tank and replaced the tank. If you think the water is black and not from mold on the inside of the tank I suggest you scoop out a glass of water from the tank and hold it up to the light and see what the color of the water or when you flush the toilet look and see if the water is black or clear.
Is Poly-Zag toilet bowl cleaner safe for private septic systems?
By Fran from Fairbanks, AK
Should I use an Oxygen Powder in my toilets if I have a septic system?
By Barb from Jackson, NJ
I have a septic tank, is Snobol safe to use in septic tanks?
By Tina
Is the homemade laundry soap made with the recipe given in this site safe for septic tanks?
By Dolly Ann
Solutions: Septic Safe Cleaners
Do you have knowledge about this guide topic? Feel free to share a solution!
Archives
Thrifty Fun has been around so long that many of our pages have been reset several times. Archives are older versions of the page and the comments that were provided then.
We have a septic tank . The problem we have is the stains that are in the toilet bowls. We have to be very careful what we use to clean with due to the septic tank. Any solutions on how to clean without harming the septic tank?
Betty from Missouri Valley, IA
---
RE: Septic Tank Safe Cleaners
We also have a septic tank, so we use a very small amount of Lime-Away on a green Scotch-Brite pad and the stains scrub off pretty easily. We've tried using baking soda, but it doesn't work as well as the Lime-Away does with our hard water. Your water might be different. Good Luck. (10/27/2008)
By Theresa from CO
RE: Septic Tank Safe Cleaners
I use a little Comet in my toilet. First flush the commode. Then sprinkle a little Comet and then brush as usual. I also have a septic system. Another substance that wouldn't be as harsh for your septic tank would be baking soda or Borax powder used with the brush in the same manner. (10/28/2008)
By Carol in PA
RE: Septic Tank Safe Cleaners
I have had a septic tank for almost 9 years, and I use plenty of detergents, bleach and other cleaners. I've never had a problem with my septic system. We do put in the additive stuff that you buy to keep the system working. We've never had a backup or a field line problem at all. (10/28/2008)
By Barbara
RE: Septic Tank Safe Cleaners
I also have a septic tank, and to top it off, water that has high iron content. I had very bad stains. I found a miracle in the cleaner section of Walmart not too long ago. Bathroom Stone. This is not a cleaner, but a stone that looks and feels like pumice, but it's not. It's completely environmentally safe, and chemical free, and I swear by it. I promise you won't go back to chemicals and elbow grease. This is even better than baking soda, Comet, bleach, you-name-it. In case you're wondering, I don't work for this company. (10/30/2008)
By Penni from Hillsborough, NC
RE: Septic Tank Safe Cleaners
All that you need to be concerned about is "killing" the good bacteria in your septic. We have lived with ours for over 15 years. Once a month I put 3 packages of yeast, yes, powdered yeast down the toilet. It helps keep the good things doing what they're supposed to. We have only had to have ours cleaned out once and had no other problems. Don't spend the money on Rid. Just buy yeast. (11/18/2008)
By kokomo79
RE: Septic Tank Safe Cleaners
A pumice stick available at hardware stores and cheap will do the trick, with no chemicals unless you count elbow grease. (11/25/2008)
By texman